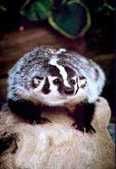 Joseph over at Immunoblogging has two posts on Mycobacterium bovis and gives a potential answer to Dave S.'s question here. In post one, Joseph notes (after the fold):

It's interesting to note that Mycobacterium bovis, which infects farmed animals dates back roughly to the time we domesticated animals proving that for a change, we gave one of our pathogens to an animal and not the other way around.
In part two, Joseph discusses mycobacteria in general, and why M. bovis is a threat to farm economies.
Part three discusses the role badgers play (or don't) in the transmission of M. bovis to cattle.
More installments to come–I'll update when they're published.
Image from http://www.neverwhere.org/~steve/graphics/badgers/badger_taxid.jpg