Those of you who have followed creationism/intelligent design literature over the years have probably felt as if you're living in an alternate universe sometimes. In that literature, many times it seems as if "up" means "down" and "highly supported by the evidence" means "a theory in crisis."
You may not have been following the comments to this thread on AIDS (and lord, I can't blame you), but if you have been, you've seen a similar phenomenon, where it's suggested that mutations found in RNA viruses are just due to sloppy lab work, essentially blowing off an entire field of research.
This, of course, has implications far beyond HIV. Phylogenetic analyses based on genetic mutations are used to determine relationships for all kinds of organisms–including humans. In infectious disease epidemiology, they can be used to pinpoint the origin of a virus, or to track and predict its spread, as I've written about previously. A new paper in Nature uses similar methodology to examine the introduction of influenza H5N1 into Nigeria.

For those of you who have been following the spread of "bird flu" (high pathogenicity avian influenza, serotype H5N1), you know that it's spread across parts of Europe, Asia, and Africa. (A map showing all areas with confirmed H5N1 in poultry and wild birds since 2003 can be found here). Nigeria was the site of the initial outbreak in Africa in February of this year, where the virus was isolated from a farm that raised chickens, geese, and ostriches. The new research examined H5N1 isolated from two different farms in Nigeria's Lagos state (in the SW part of the country along the coast). They compared these sequences to other viral isolates, including a third Nigerian isolate that came from a chicken in the northern part of Nigeria, in order to gain insight into the spread of H5N1 into the country.
If there had been a single introduction of H5N1 into Nigeria, which had then spread through the country, what you would expect to see is that all the Nigerian H5N1 isolates would group closely together in the phylogenetic tree; they would be more closely related to each other than the would to viruses from, say, China, or Italy. They didn't see this, however. Instead, they found that the Nigerian viruses (noted in red below) fell into three separate groups: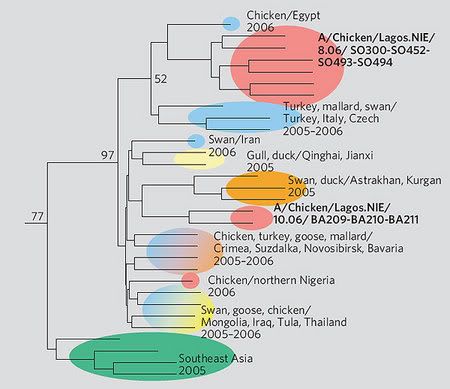 As expected, the isolates from the two farms grouped together (the large red oval at the top, and the smaller oval toward the middle), indicating spread through the farms from a common source. But this wasn't the case with the isolates from different locations within Nigeria. The isolates from one of the Lagos farms were most closely related to a virus found in a chicken in Egypt, while those from the second Lagos farm grouped with virus isolated from waterfowl in Russia and China. The third Nigerian virus, which came from a chicken in northern Nigeria, was most closely related to virus from waterfowl in Mongolia. Therefore, the authors conclue that there were at least 3 separate introductions of H5N1 into the country of Nigeria (and potentially more; the authors note that H5N1 has been found in 14 of the 31 Nigerian states at the time of writing).
One of the remaining controversies regarding the spread of H5N1 is what is the more important vector for introduction of the virus: migratory wild birds, or domestic poultry trade? The authors can't pinpoint either by this research, and indeed, the authors mention both, suggesting that the virus arrived "…perhaps at inland waters and key bird areas or through unprotected trade." And certainly, it could have been a combination of the two, and their data don't rule out either method of entry.
Finally, note the green oval, which represents strains of virus found in SE Asia, the epicenter of the outbreak. The tree shows just how divergent these Nigerian strains are to viruses circulating in that area, emphasizing again the rapid mutation rate of this virus. Thus far, 131 people have died from infection, and while there have been several small clusters of infection (such as the Indonesian one described here), the virus does not appear to have the ability to efficiently move within the human population. Some think it may never develop that ability, but with the continued spread and mutation of the virus, I think just about anything is possible.
Anything, except, writing it all off as just "sloppy lab work."
Reference
Ducatez et al. 2006. Multiple introductions of H5N1 into Nigeria. Nature. 442:37. Link.
Other posts in this series can be found here.
Image from http://www.nature.com/nature/journal/v442/n7098/images/442037a-f1.2.jpg