And the winner of today's bad headline award goes to:
Sexual lyrics prompt teens to have sex
Teens whose iPods are full of music with raunchy, sexual lyrics start having sex sooner than those who prefer other songs, a study found.

Whether it's hip-hop, rap, pop or rock, much of popular music aimed at teens contains sexual overtones. Its influence on their behavior appears to depend on how the sex is portrayed, researchers found.

Songs depicting men as "sex-driven studs," women as sex objects and with explicit references to sex acts are more likely to trigger early sexual behavior than those where sexual references are more veiled and relationships appear more committed, the study found.

Teens who said they listened to lots of music with degrading sexual messages were almost twice as likely to start having intercourse or other sexual activities within the following two years as were teens who listened to little or no sexually degrading music.
Does the actual paper live up to the claims of the news story?

The manuscript was published in the August 2nd issue of Pediatrics (link). Of course, the link between sexual behavior and music has come under scutiny in every generation, from the effect of Elvis' swiveling pelvis to that of slang used in rap music today. In the current study, the authors used a longitudinal study design (following teenagers over 3 years) in order to determine the effect their musical listening habits had on their sexual behaviors. This study design was important and overcame some limitations of prior studies because it allowed the authors to better tease out a cause from an effect. By only interviewing children at a single time point and asking questions about sexual behaviors and attitudes and the music they listened to, one can't determine a cause from an effect. In other words, data from a single time point can't sort out whether sexually active kids tend to gravitate toward music that's more sexually explicit, or if listening to sexually charged music leads to sexual activity. The current study sought to examine that more closely.
The authors conducted a telephone study with adolescents ranging in age from 12 to 17 in the first interview. They asked about sexual behaviors and activity, the amount of time kids spent listening to each of 16 music artists the authors had identified, and also about confounders and covariates that may obscure the relationship between sex and music. These included gender, race, parental status (including whether the teens lived with both parents, parental education level, parental monitoring, and disapproval of sexual behavior), and influence of friends. They also looked at the teens' grades in school and types of "deviant behavior" they had committted (such as breaking and entering, cheating, vandalism, stealing, etc.), and the importance of religion in their life. Finally, they asked about the teens' sexual readiness (such as whether they thought they were likely to have sex in the upcoming year, if they could talk to a partner about sex, etc.) They repeated this survey with the teens a year later, and then 3 years after the initial interview. They then crunched all the data in order to examine the effect, if any, that music had on teens' sexual behaviors.
What'd they find? First, I'll note that obviously, all music wasn't equal. As I mentioned, they chose 16 artists to question teens about. This alone introduces a huge bias into their study, since they effectively ignored about 99.9999% of all music out there by concentrating on these 16 artists (who they didn't specifically identify, although in the paper they mention lyrics from Ja Rule, Lil' Kim, and Ninety-Eight Degrees). Included was music from most genres, but rap was definitely over-represented. Of the 16 albums, only 1 was "hard rock," 2 were "alternative rock," 2 were "rap-rock" and 1 "rap-metal," 3 were just "rap," another was R&B, 2 were country and 4 were "teen pop." They had 2 independent technicians analyze each song in order to determine the percentage of each artist's songs that contained "sexual" or "sexually degrading" lyrics (defined as "lyrics depicting sexually insatiable men pursuing women valued only as sex objects.") While most songs had at least some sexual content, only rap variations or R&B were found to have "degrading" content according to their measure. As far as artist selection, they say they chose these from "lists of top billboard artists" and selected "those who were featured in teen magazines…and/or participated in teen-oriented music and entertainment award shows near the time of survey administration," but that also introduces a bias, excluding music kids may listen to that's not specifically "teen-oriented" but may also have heavy sexual messages. They also don't say whether the artists changed over the 3 years of the survey–from the language, it doesn't seem that they did.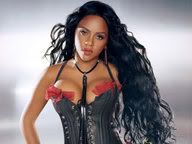 So, in a nutshell, what they found was that time spent listening to "degrading" sexual lyrics resulted in a significant increase in sexual activity, while listening to music that had "nondegrading sexual lyrics" was actually somewhat protective (but the latter varied depending on covariates that were included in the model). In their model, not a lot of other factors acheived stastical significance as factors affecting sexual behavior. Still, while this was the conclusion of the paper, there are many, many limitations (mentioned below), and certainly the authors didn't conclude that the music "prompts teens to have sex" as the headline proclaims above.
However, what's surprising in a study like this is that they didn't ask about other media that have also been demonized as contributing to teen sex. They note in their discussion that "teens who listen to music by artists who use degrading sexual imagery in their songs probably also watch music videos by these artists, in which case the effect of these songs is likely to be greatly enhanced." They could have asked about this and included it in their model, but didn't. They also didn't ask about other phenomena that have been linked to sex, such as types of movies watched, books read, concerts attended, or many other factors. For example, since they mention Lil' Kim (pictured above in modest digs, for her), certainly she goes far beyond her lyrics, and her whole persona is highly sexually-charged. Again, this type of extension of the music wasn't addressed. They note some of this in the 6 paragraphs they devote in the discussion to various limitations of the study. Yet, the conclude that their findings:
…suggest a need for intervention. Reducing the amount of degrading sexual content in popular music, or reducing young people's exposure to music with this type of content, could delay initiation of intercourse and related activities. This, in turn, may reduce sexual risk behavior and sexual regret. Intervention possibilities include reaching out to parents of adolescents, to teens, and to the recording industry. Parents could be encouraged to monitor the type of music to which their children are exposed, set limits on what they can purchase and listen to, and be careful not to listen to sexually degrading music when children are around. Parents could also be encouraged to discuss the sexual content of music with their children, offering their own perspectives on the sexual themes to which their children are exposed.
Of course, I think it's important that parents be involved and aware of the music their kids are listening to, and to discuss sex with their children. I recognize that, unfortunately, not all parents are able or willing to do this. But again with the recording industry? Like it or not, there's a market for this type of music. Warning labels are already placed on CDs containing "offensive" material, and edited versions are often available (how much those may affect a teen's understanding of the message, though, is questionable–one can usually figure out what's been bleeped). How far can, or should, the industry go to keep this material out of the hands of kids, especially when much of it is out of their control and rests also with the places where the kids buy their music, be it a physical store, over the internet, or from a friend?
Reference
Martino et al. 2006. Exposure to degrading versus nondegrading music lyrics and sexual behavior among youth. Pediatrics. 118:e430-441. Link.