Ok, so it is five proposals, not four…
Three are in, one should be heading off any minute now, eh?
And the last seemed to be in good shape. Could actually be done an hour or two early.
Must resist temptation to go back and "fix" any of the "done" proposals… it just causes trouble.
Hey, who got the highest GO number? We were at ~ 400 at about 3 pm, with five hours till the deadline!
For the uninitiate, today is the deadline for Hubble Space Telescope proposals.
These are primarily observing proposals, although there will also be a number of archival and legacy proposals which mine existing data and datasets. There is an increasing number of these, and much more that could be done if there were more resources. A tiny fraction of the proposals will be "theory" proposals, proposing to do modeling or analysis relevant to Hubble observations, but not directly working on specific current data or archival data.
Hubble is in a funny state right now – it, along with most other high end telescopes, usually spends much of its time doing spectroscopy. The beautiful images that receive the publicity are generally a minor part of the scientific activity, although the Hubble does have unique capabilties in high spatial resolution optical and near ultra-violet imaging, and in doing high precision relative astrometry.
But, right now there are no spectrographs operating on the HST, there is a tiny residual capability using imaging GRISM modes (where each picture is basically taken through a prism giving a "rainbow image", which provides a low resolution multi-object spectroscopic capability). Until the Cosmic Orgin Spectrograph is installed, and the Space Telescope Imaging Spectrograph electronics repaired on the upcoming repair and refurbishment mission, we hope, imaging is it.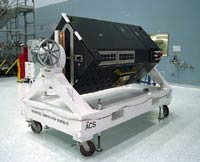 Fortunately, the Advanced Camera for Surveys is operational, fingers crossed (there are occasions when it is ok to be superstitious, knock on wood), and it is gorgeous.
So, like, hand out loads of time.
The Near Infrared Camera is also rather nifty, but a bit dated and it has a small field of view.Still has some uses.
So, dear TAC, give us an allocation or two…!!!
In the meantime, the general community can look forward to a year or two of a serious crop of pretty pictures as the ACS goes wild taking snapshots. Then it is back to spectra.