I like irreverent things. Wrong things. Smiley faces with drops of blood on their shiny yellow heads. Murderous, cherub faced dolls. Death rainbows. Bad horses.
'Wrong' things make me genuinely happy.
Thats why, despite its understated design, I LOVE our departmental T-shirts!!!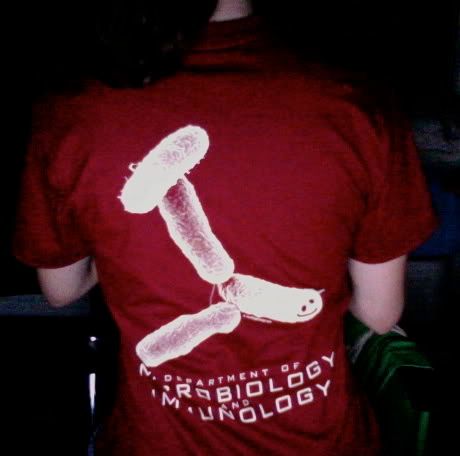 E. coli is a celebrity. Its always in the news for tainting this and contaminating that. Oh most E. coli are harmless, its just that some of them have been hanging out with naughty viruses:
E. coli is a gram-negative enterobacterium which diverged from the Salmonella lineage about 100 million years ago. Many contemporary E. coli strains are benign intestinal commensals; but a few strains have evolved into pathogens.
…
STEC causes diarrheal disease as well as more severe clinical manifestations, including hemorrhagic colitis and hemolytic-uremic syndrome. It is thought that the Shiga toxin Stx released by bacteria residing in the intestinal lumen is responsible for all these symptoms. The toxin traverses the intestinal epithelial barrier, enters the bloodstream, and damages vascular cells of the colon, the kidneys, and the central nervous system.
…
Key events in this process were the replacement of the rfb gene region followed by the sequential acquisition of first bacteriophage stx2 and then phage stx1.
hehehehehe Bacteriophages. Turning good bacteria 'bad' for 3 billion years. hehehehehe!
Anyway, love the shirt. Just a few poop-inducing E. coli.
… One is smiling.