*swoon*
Casey Luskin is as breathtakingly sexy in person as he is on film. Im going to pass out. Hes like a WOW gnome.
**SWOON!!!!**
Update: Shit. Im hungry.
Update #2: Casey is trying to justify 'cdesign proponentsists'. Srsly. Srsly.
Update #3: The next time I hear someone say 'Creationists are such good public speakers' Im going to hog-tie said person, drag them to Seattle, and make them listen to a presentation by John West or Casey Luskin. By the time we got to Caseys talk, a couple dozen people had left, and others were napping, playing on iPhones, etc. I was reading papers for work. It was that boring.
Why was it so boring?
All the material Casey presented was ooooooold.
Kitzmiller Kitzmiller Kitzmiller.
Im not saying Judge Jones plagiarized, but Judge Jones plagiarized.
ID is like SETI
cdesign proponentsists was part of the plan all along!
Bacterial flagella
List of people I have never heard of in my entire life who got EXPELLED!
EXPELLED!
CSI and irriducible complexity
JUNK DNA ISNT JUNK!
PARADIGM!
Literature bluff!
ACLU!
*yawn*
There were a few lol-worthy moments. One when he mentioned the ACADEMIC FREEDOM bill in OK failed (lol), and another when he gave a shout-out to AtBC. AtBC– if you dont know them, you should. They are The Watchers. The see everything. They know everything. And they call Casey Luskin mean names. looool! Seriously, Casey cried about how people call him mean names on the internet.
But then shit hit the fan, bitches. SHIT HIT THE FAN!

Casey put up a slide referring everyone to ERV, specifically, IDiots and ERVs. I was like 'Wow! So Casey is going to admit that William Dembski didnt actually 'discover' 'junk DNA' and that humans and mice evolved from a common ancestor, and that he doesnt know jack shit about science… wow! Refreshing honesty!'
Suprisingly, he didnt mention one word of the post.
For the next 8-10 minutes, Casey bitched and moaned about how MEAN we all were to 'whoisyourcreator', a rare individual who is actually a spammer/troll IRL, posting billboards directing people to her website. Her website?
The founder of the group, Julie Haberle, says God talked to her and told her she needs to do billboards to refute evolution. These billboards just direct people to her website, which she explains she built by taking snippets from Ken Ham and others and putting them together–it shows. There's nothing there but the tired old creationist nonsense we've seen so often.
So after it became clear Julie was just trolling for site hits (RAED MY FIVTY EVIDENCES AGAINST ERVZ!), ignoring other commentors responses, and I found out she deletes posts from her forum, I disemvoweled her and started teasing her.
So what did Casey present? He copy/pasted all of Julies disemvoweled posts, and screamed 'I BELIEVE IN FREEDOM OF SPEECH! ABBIE HATES FREEDOM OF SPEECH!'. He then, I shit you not, posted the /b/ pic I referred Julie to: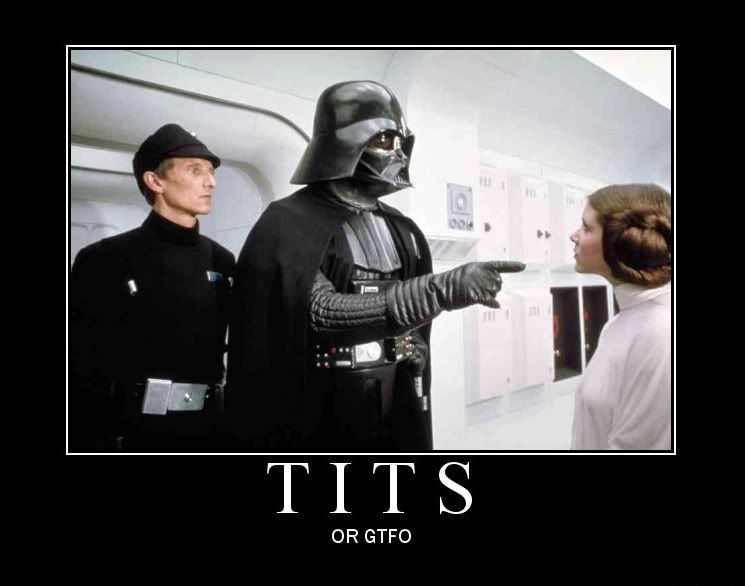 80% of the audience loled, 20% of the audience clutched their pearls.
Casey then screamed 'THIS IS HOW EVILUTIONISTS ARE! THEY MAKE NICE CREATIONISTS POST NUDE PHOTOS OF THEMSELVES ON THE INTERNET!! ABBIE HATES FREEDOM OF SPEECH!'
Now, heres whats fun. Julies posts havent been disemvoweled for months. I never updated sharpshooter when we upgraded, cause honestly, Id forgotten about Julie-Troll. So Casey must have been presenting those slides for 6 months to general audiences, and probably carefully forgetting to mention ERV is a woman to make it look like some skeezy man is asking a poor, defenseless Christian woman for pictures of her boobs to post comments. lol.
So I get up in the Q&A and clarify the situation, and call Casey to the floor for misrepresenting what happened, for misrepresenting me, and for misrepresenting ERV. He knew what was going on, but made a conscious decision to scream 'ABBIE HATES FREEDOM!' I asked him flat out whether he thought 'TITS or GTFO' was an honest request. 'Mumble mumble drink of water Who in the audience thinks that was inappropriate?' was his response. Then I took him to task for pretending like he gives a shit about 'freedom of speech' when he called me a liar on UD after the Behe-HIV adventure, but I was unable to defend myself because I was banned after 3 posts.
Then I tried to ask him my question. I was not allowed to do so. The entire time I was at the microphone, including the 30 seconds I tried to defend ERV, several pro-ID people were screaming over me in the audience. This includes the 'moderator' of this presentation, Don Ewert.
Long time readers of ERV will remember that name. Don is the IDiot who gave a presentation to the Baptist club about how 'the immune system couldnt have evolved' with 20 year old scientific papers (they didnt know how something evolved in 1985, that means we dont know how it evolved in 2007). Heres moar Don IDiocy.
Whats hysterical, is that after the presentation Don tried to be all chummy chummy with me, like I didnt know who he was, and like he didnt scream over me 15 minutes earlier. Stupid twat was like 'DIRP! I did retroviral research! AIDS research! I studid how HIV transformes B-cells!' Yeah, HIV-1 doesnt infect B-cells. But Im sure Don doesnt do science research anymore because hes 'persecuted for being a Creationist' lol.
Anyway, I said my peace to Casey, he mumbled something asinine, I flipped him off (*cue more lols and pearl-clutching*) and sat down.
Another nasty character was some law school student and Creationist (he believes humans were specially created) who also took part in the screaming. After the presentation, I patiently waited for a break in the conversation a friend was having to ask friend if he wanted to grab a beer. As I was waiting, Creationist law student came up to me "Is he your beta?" (implying Im an alpha male and my friend was my bitch, ie PUA)
Me *death eyes*– What the fuck is that supposed to mean?
Creationist law student– You need to teach your beta about the scientific method.
Me *not in the mood*– Boy, I spend my days trying to cure AIDS and cancer while those two fucks you just saw on stage would be unemployed if it werent for this manufactured 'controversy', so I really dont want to hear your shit about science or 'the scientific method'.
He and I go at it for a minute, and I finally get him to apologize for calling my friend 'my beta' and I calm down enough to explain some science to this guy and one of his friends. Its going very nicely when Creationist law student interrupts with 'Whats the structure of butane?'
Me– lol wut?
Creationist law student– You cant draw butane so I dont believe anything youve said.
Me– LOL! You want me to name the amino acids?
Creationist law student– YEAH! Name the five amino acids!
Me– LOOOOOOOL!
As poorly as some Creationists behaved last night, I have to give MASSIVE props to the Creationists who stood up for me. After Casey squeaked 'ABBIE HATES FREEDOM', Rhology, a Creationist commentor here who I think is brainwashed and part of a cult, went to the mic and said 'Actually, I post at ERV. Its a hostile environment, but she never censors me.' And several Creationists came up to me afterward and 'apologized' for Caseys sucker-punch. I do wish I could have bought them all a beer. I was reminded of a nice letter from a Creationist.
Anyway, Im sure you all are shocked to hear Casey Luskin is a slimy pussy. I know. News at 10, dog bites man. But it was a fun ending to a painfully boring evening!
Besides, there were two other people Luskin and West attacked relentlessly in their presentations and in their Q&As– Eugenie Scott and Barbara Forrest. I am truly, truly humbled to be targeted with those two women. It is an honor.
I guess Intelligent Design Creationists just REALLY dont like tits.