For the past month, I have been living in the lab trying to cram some of my data + new data for a grant submission. I am alive right now exclusively due to the calories consumed via Mountain Dew (classic, and a wide variety of exciting flavors they have added to the collection), because I otherwise didnt eat (too busy/stressed to eat real food). So Friday night, I came home from work, sat in front of the TV and ate an entire large pepperoni and artichoke pizza and several rootbeer floats. I then slept for like 14 hours.
Yeah, science is *nothing* like meth, children.
The grant was submitted on Friday, and I get to turn around and cram a few last experiments together for a couple of paper submissions.
So I decided that I was going to use this weekend to do absolutely nothing.
Nothing.
That didnt work. Bored out of my skull Saturday and Sunday.
Luckily, it was BEAUTIFUL today, so I just played with Arnie ALL DAY. He has been trapped indoors for the past few months because its been over 9000 degrees outside, so he totally ate it up. I now have one pooped puppy: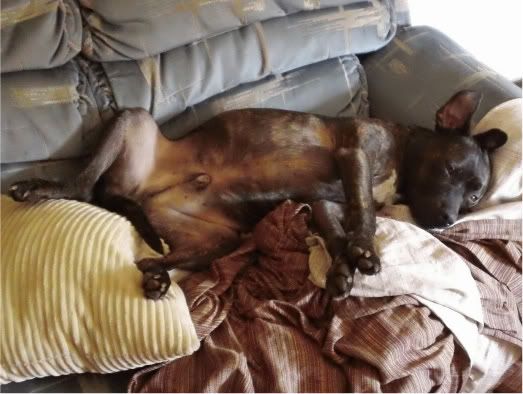 Arnie is an extremely elaborate nest builder. No 'turn around three times and plop down' for him. He will spend 5-15 minutes making sure everything is perfect.
This particular nest was constructed by ripping the slipcover off of the sofa, kicking the blanket onto the floor, and positioning the throw pillow in the appropriate puppy butt location (Note: Every pillow in my house has had a puppy butt on it. Arnie thinks that is what they are for).
I tried to get a pic of him sleeping with his tongue sticking out (example) which is the cutest thing ever, but when I walked over I just got a smooshy face shot: