I think it's been obvious for a while now that my enthusiasm for blogging comes and goes. Lately, it's been in a "goes" phase for longer than usual. But, I do have one piece of personal news that I feel compelled to share with all of you. Have you guessed what it is? (The title might have given things away.)
Meet Spider: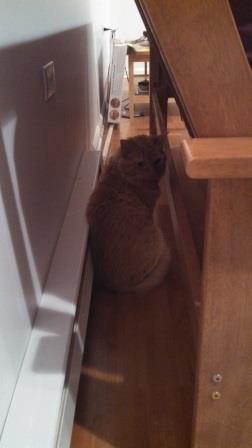 He's awfully cute, don't you think? I guess you can call him a rescue, in the sense that I rescued him from a colleague who suddenly has a two-year old and infant twins. Apparently Spider was very unhappy with all the noise and chaos, and my colleague felt it was best to rehome him. And that's where I came in!
Spider's not too happy in this picture. It was taken two days after I picked him up, and he was still very sad and freaked out. He walked out of the carrier, hid behind the futon, and has mostly been there ever since. Spider is twelve years old, and it's probably a bit harder for an older cat to make this kind of transition than it is for a younger cat. I wasn't too worried, though, since he was eating and using the litter box. I would leave treats for him at various places around the room, and when I came back to check on him a few hours later they would all be gone. Apparently he moves around when I am not around.
We're now on day six, and we have made considerable progress.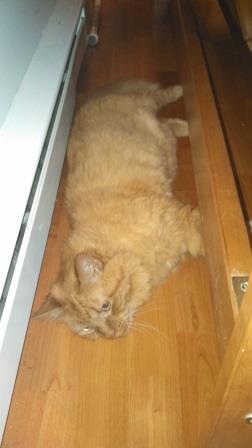 Okay, so he's still behind the futon. But moments before this picture was taken, I was petting him vigorously, and — are you sitting down? — he was purring! Score! He even showed me his belly at one point, which I interpret as a gesture of trust. And then there's this: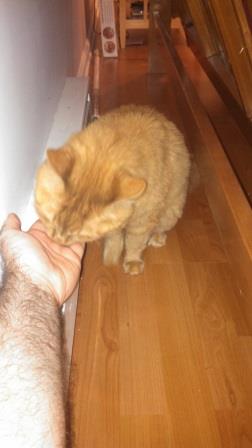 He's currently licking the last of the treat residue from my hand. This is new, since previously he would not eat out of my hand.
So, we're getting there, and I think in another day or two he will stop hiding behind the futon. But that's just the beginning, since I still have to introduce him to his new big sister, Emily: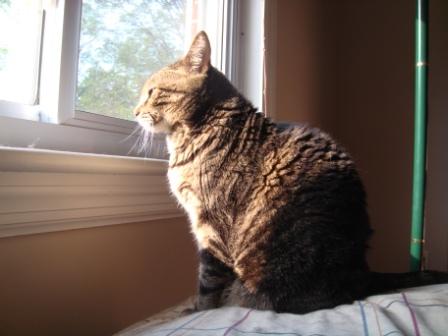 I fear there might be some fireworks. On the other hand, since they're both fairly timid cats, they might just spend all their time hiding from one another. The initial signs are actually promising. Spider is currently living in a large room in my basement. I let Emily into the room, just to see what would happen. They made eye contact under the futon. Emily clearly looked nonplussed, and got down into her crouch, but there was no hissing or growling from either cat. Then Emily left on her own after about a minute. Stay tuned!