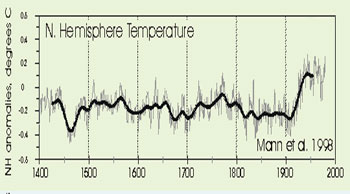 Chris Mooney is sick of the stick. The hockey stick, that is. I don't blame him. How often should we have to revisit the tired argument over whether today's climate is warmer than any time in the last 400 years or 1000? But here we are again, thanks to Joe Barton's House Committee on Energy and Commerce, which commissioned three statisticians with no expertise in climatology to give Mann's graph yet another once-over.
In the absence of anything else of substance to chew on this morning, I bothered to look at what Barton's three wise men came up with. Same old, same old, it would appear. But wait. Not so fast. Turns out there is way more at stake. From the Barton report:

In this case we judge that there was too much reliance on peer review, which was not necessarily independent. Moreover, the work has been sufficiently politicized that this community can hardly reassess their public positions without losing credibility.
Read that again.Three allegedly distinguished academics — Edward J. Wegman of George Mason University, David W. Scott of Rice University and Yasmin H. Said of Johns Hopkins University — have taken it upon themselves to to attack not just paleoclimatologist Michael Mann, whose work was largely vindicated by the National Academies of Science just the other week, but the tendency of climate scientists to rely on peer review.
Their argument, at its core, is that climatologists are lousy at statistics and so should be working more closely with us, the real experts:
As statisticians, we were struck by the isolation of communities such as the paleoclimate community that rely heavily on statistical methods, yet do not seem to be interacting with the mainstream statistical community. The public policy implications of this debate are financially staggering and yet apparently no independent statistical expertise was sought or used.
Dr. Mann isn't taking that lying down. Nor should he. He writes:
The panel makes the odd claim that there is "too much reliance on peer-review" which goes against every principle of current scientific practice. Barton in his 'factsheet' goes further and suggests that the anonymous peer reviewers themselves are in some way biased, a claim that he cannot possibly support since peer reviewers are in fact anonymous and this was not studied in the report
Indeed. While it is almost certainly true that any specific field of science is characterized by a small circle of researchers who spent a lot of time interacting with each other, that doesn't mean they can't do their jobs as scientists.
And yet that's exactly what we get in the (non-peer-reviewed) Barton report:
In our further exploration of the social network of authorships in temperature reconstruction, we found that at least 43 authors have direct ties to Dr. Mann by virtue of coauthored papers with him. Our findings from this analysis suggest that authors in the area of paleoclimate studies are closely connected and thus 'independent studies' may not be as independent as they might appear on the surface.
To my mind, this is about much more than the validity of one graph. It's about the very nature of scientific research in the 21st century. Much has been written of late about the flaws in the peer review process. But as others have noted, it's like what Churchill said about democracy — the worst form of government except for all the others. Are the authors of Barton's latest assault on the climate change consensus really suggesting we get rid of peer review?
Probably not. All we really get from them is "you should have talked with us first." But this sort of disdain for the scientific community is entirely consistent with the lack of respect for science that typifies the Republican and Bush approaches to public policy. I suggest we should be very concerned when any elected official with any significant degree of power supports the not so subtle message that scientists by their very nature, can't be trusted.
We have to nip this one in the bud, folks.