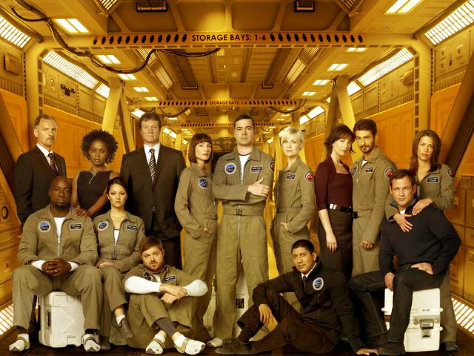 Just eight episodes into a 13-part first season, ABC has canceled suspended (see update below) Defying Gravity, a flawed but relatively honest attempt at hard-core science fiction. Why is this noteworthy? OK, this is a stretch, but I am reminded of attempts to reform the U.S. health insurance system and climate change legislation. In each case creating something that respects reality seems to be beyond the powers that be. And yet even the watered down compromise product that emerges from the sausage factory can't attract sufficient support. Further evidence that the American public is hopelesly polarized.

The six-year tour of the planets that formed the basic narrative premise of Defying Gravity was even more ambitious that the original Star Trek's five-year mission. Some critics dismissed that schedule as unrealistically brief, but given that the propulsion technology was never specified, I wouldn't be so harsh. There were, however, other serious violations of the laws of physics that made it difficult to give the show more than a lukewarm endorsement, especially seeing as the writers obviously went to great lengths to get the science correct, or at least not obviously impossible, in other areas.
The most repeated scientific gaffe was the instantaneous communication that the eight astronauts aboard the "Antares" enjoyed with mission control, despite the 30 million kilometers that separated them by the end of the show's run on Sunday night. Given the speed of radio waves is only 300,000 km per second, all such conversations should be hampered by 200-second delays for signals to travel in both directions.
Trek's Gene Roddenberry faced what he thought was a similar challenge to telling compelling stories on television in the 1960s, so he came up with "subspace" communications and matter-to-energy-to-matter "transporters" to avoid the need to shuttle the Enterprise crew members to planets and back. Not scientifically believable perhaps, but at least he recognized the limits that the forces of nature impose on space travel. The creators of Defying Gravity made no such attempt to explain superluminal communication.
Add to that the hackneyed unexplained (alien?) entity that's playing havoc with the Antares' mission and far too much emphasis on the sexual dynamics aboard the spacecraft, and it all made for a mediocre contribution to the genre. I also found what few glimpses of life on Earth circa 2060 we were granted to be virtually identical to the here and now, but as most such scenes involved a bar or training facilities filmed in a famous west coast Canadian university, that's not much to carp about. On the other hand, shouldn't iPhones of the mid-21st century be a little more sophisticated that today's?
And yet, I still wanted to like the show and kept giving it another chance. Great set design, engaging characters and refreshingly slow-paced scripts (not quite as slow as Mad Men, but still…) that represented at least one concession to the reality of life in space.
Apparently, I was in the minority. The show didn't appeal to enough viewers and there's no word on whether the last five filmed episodes will ever see the light of day. I suspect they'll pop up on the net (where I watching the series anyway) and/or DVD. I am left with the feeling that if anyone was ever to try to make a science fiction series set in space that actually did respect the laws of physics, even fewer people would watch it. Kind of like health insurance. We all know that the only way to cut health cuts enough significantly is to remove the profit incentive, but that's just not on the table. And on climate change, everyone with a grasp of the fundamentals knows that all the coal-fired plants have to be shut down over the next two or three decades, but that's not on the table, either.
Anyway, Defying Gravity could be the last gasp of hard-core sci-fi on network television. After all, Fox didn't even pick up Virtuality, an intriguing series pilot with more than a passing resemblance to Defying Gravity, but fewer violations of nature. Oh well. Back to good old books.
UPDATE: ABC is reportedly denying that it's deep-sixed the show, even though it called Sunday's episode the "season finale." The truth is they're probably trying to figure out how to best to minimize their losses after ordering 13 episodes but haven't yet reached a conclusion.
ANOTHER UPDATE: From Airlock Alpha, we learn that:
The show's publicist, Nicole Marostica, has recently confirmed that series has not been canceled and will in fact return to ABC's schedules once the network finds a place for it. Apparently, the decision to remove the series was not one of malice but instead the result of poorly timed scheduling as the new fall season has now commenced and "Defying Gravity" is currently occupying a sought-after slot.