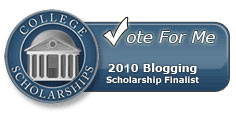 Every year, CollegeScholarships.Org offers a $10,000 scholarship for a student blogger. Students can nominate themselves or other blogging students by sending in a <300 word essay about why they blog and why blogging is important. This year, I decided why not? and threw my hat into the ring. Well guess what? I made the initial cut, and got chosen as a finalist! But to actually get the scholarship, I need your help. The winner is chosen by popularity, so I need votes, and a lot of them. Please check out the nominees, and if you feel like I'm the best, click the button to go to the voting page and vote for me, Christie Wilcox!
Here's the essay I submitted to get to this stage:
While I appreciate biology from a purely scientific standpoint, I strongly believe research is useless if you can't communicate it. There's a great quote by Jules Poincaré that says: "Science is facts; just as houses are made of stone, so is science made of facts; but a pile of stones is not a house, and a collection of facts is not necessarily science." In my mind, what turns facts into science is the integration of research into society, whether for purely educational purposes or society's benefit, and that the key to that is communication. That's why I decided to start a science blog in 2008. As a scientist, I really believe that it is my responsibility to engage non-scientists and the public in general in my endeavors to give my work meaning.
Scientists already share what we do with each other. That's what journals are for. I wanted to share what I loved with everyone, not just my like-minded peers. I feel it is important to take jargon-filled scientific publications and break them down in such a way that everyone can understand what is being studied and why it is important. In modern media, science is only talked about if it can be sensationalized. So-called "real" journalists seem to think experiments are only worth mentioning if they can be summed up in a catchy but untrue headline or are controversial. But every day I read papers no one hears about that are just so…. *cool*. Science is unbelievably cool, and I blog because I think that maybe if the rest of the world saw science how I do, they would think it was pretty cool, too. And maybe if they did, there would be more scientists doing unbelievably cool stuff for me to blog about!

PS: For those of you who arrived at this page and *haven't* read my blog before, here's some supporting info: I've been published in the Open Laboratory (anthology of the best science blogging of the year) in both the 2008 & 2009 editions, and am in the running for 2010. My posts have been finalists in the 3 Quarks Daily Science blogging prize for two years straight. I've had a number of posts chosen by the Research Blogging Editors for their Editor's Selections, and was a finalist in the first annual Research Blogging Awards for three categories, including blog post of the year. Recently, my post on the gulf oil spill won The Post With The Most. Snoop around, read a few posts (lots of good choices in the Editor's Selections list) and see what I do – and if you like it, I would really appreciate your vote in this scholarship competition!