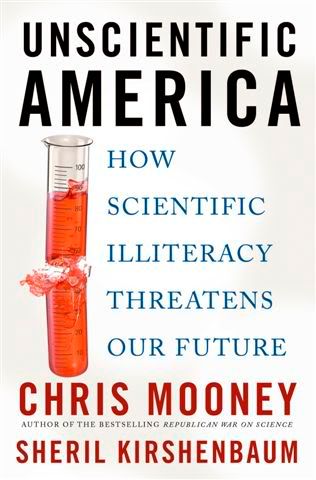 As I've been preparing my formal review of Unscientific America I've been struck by the question: who was this book intended for? Clearly it was a critique of science communicators to be sure (more on that later) but as I realized in going through my notes, Mooney and Kirshenbaum's strongest sections are those discussing the intersection between science and politics. This should have been perfectly obvious before even reading the book as it is just that intersection which is the focus of their long running blog (first here at ScienceBlogs and now at Discover).
Chapters 5 and 6 of their book are by far their strongest sections. Here they lay out the difficulties of placing important scientific information into the hands of politicians in a way that informs their policy decisions. As they explain:
Whereas good science is rewarded for being painstaking and nuanced, politics is the enemy of subtlety–political battles are fought in sound bites, decided in up or down votes. In this context, the politician often suspects that the scientist cannot see beyond his or her narrow specialty and spends too much time on minutia.

In this section, as in their analysis of the journalistic pressures facing science writers, Mooney and Kirshenbaum are in their element. Mooney worked as Seed Magazine's Washington correspondent and regularly wrote for Science Progress on scientific issues on Capitol Hill and Kirshenbaum worked as a congressional staffer following her research in marine biology. Their personal experience in the political realm makes their recommendations on finding a common ground between science and politics refreshingly informed. They have clearly seen how broken the current system is. As they explain the problem as it relates to climate science:
Groups arriving at her [Kirshenbaum's] senator's office to make their case on science-related legislation seemed completely out of touch with the environment on Capitol Hill. Technical experts touted significance values and statistical figures that were at times so obscure that even Sheril couldn't understand the data, despite her experience in academia. Other science lobbyists promoted idealistic solutions without a grasp of the socioeconomics or people involved in the situation. Meanwhile, those on the "other side"–global warming "skeptics" and oil lobbyists, to name a few–were articulate and well organized, with a far better understanding of how to appeal to a congressional audience.
It is in this context that the authors discuss valuable solutions to this divide. The Scientific Communications Act of 2007 (later absorbed into the America COMPETES Act) "would have directed the National Science Foundation to start making grants to help graduate students in science obtain training in communication." The initial bill would have provided funding to help those with the expert knowledge that our politicians and citizens need with the skills to properly communicate that knowledge in a politically effective way.
As it turned out, funding for this initiative was slashed. But it is for suggesting these types of solutions that Mooney and Kirshenbaum should be highly praised. They understand the large political ramifications that such small acts can have downstream. By providing funding for science communication, universities would need to find professors to teach the topic. This means that those scientists who have been actively engaged in this work as a side project can now be fully employed in it. Graduate students who receive training in communications can promote it on their CV's and their outreach experience would be important for their future job interviews as well as enhancing their opportunities for academic promotion or tenure. Each of these new scientist communicators would then be able to train their own students in turn.
If the teaching of science communication were to win federal funding, and being good at it were to lead to promotion, things in science could change in a hurry.
I think Mooney and Kirshenbaum are spot on with their recommendations here. While I have significant problems with other portions of their book (which I will follow up on in a subsequent post) I wanted to highlight where I think their book's strengths ultimately lie. I would have even liked to see this section expanded in more detail, as it's clear they have thought at length about these political realities and it would have been interesting to read their insights in more depth.