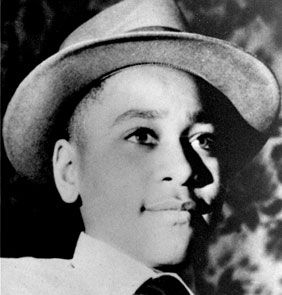 An op-ed in today's Los Angeles Times discusses the legacy of the murder that became a pivotal moment in the civil rights movement:
Fifty-four years ago today, Emmett Till, a 14-year-old Chicago boy visiting family in Mississippi, was abducted, mutilated and slain after he allegedly whistled at a white woman. Several days later, his horribly disfigured body was fished out of the Tallahatchie River. Many such tragedies had previously happened to black Americans and then been ignored.
At Till's funeral his mother insisted that the boy's coffin remain open so that mourners could witness the hatred of racism as it was inflicted on her child. I will not post the photo of his open coffin as it is profoundly disturbing. However, I urge you to take a look and fully understand the legacy of racism that we are still trying to overcome.