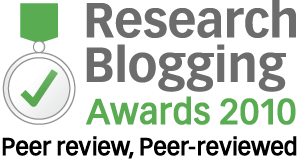 The finalists have been chosen in the first annual Research Blogging Awards for material written about peer-reviewed literature. Some of my favorite bloggers have been selected including Neurophilosophy, Laelaps, Not Exactly Rocket Science, A Blog Around the Clock (BoraZ also has the best Twitterer category locked in), Skulls in the Stars, Observations of a Nerd, Mauka to Makai, The Scientific Activist, and A Primate of Modern Aspect.
The Primate Diaries has also been selected in the categories of Research Blog of the Year and Blog Post of the year for my piece: "Does Taking Birth Control Alter Women's Sexual Choices?"
It's often heard during award season that it's an honor just to be nominated, and this has never been more true than in this case. My fellow finalists represent the absolute best science writing on the net and I'm thrilled to be in their company.
Out of more than 400 nominations, a panel of judges selected these top blogs (and the many more that I haven't listed). To vote for the winner you need to be registered at Research Blogging so head on over to sign up and vote. To read some of my earlier research blogging click on the tag above or visit my Research Blogging profile here.