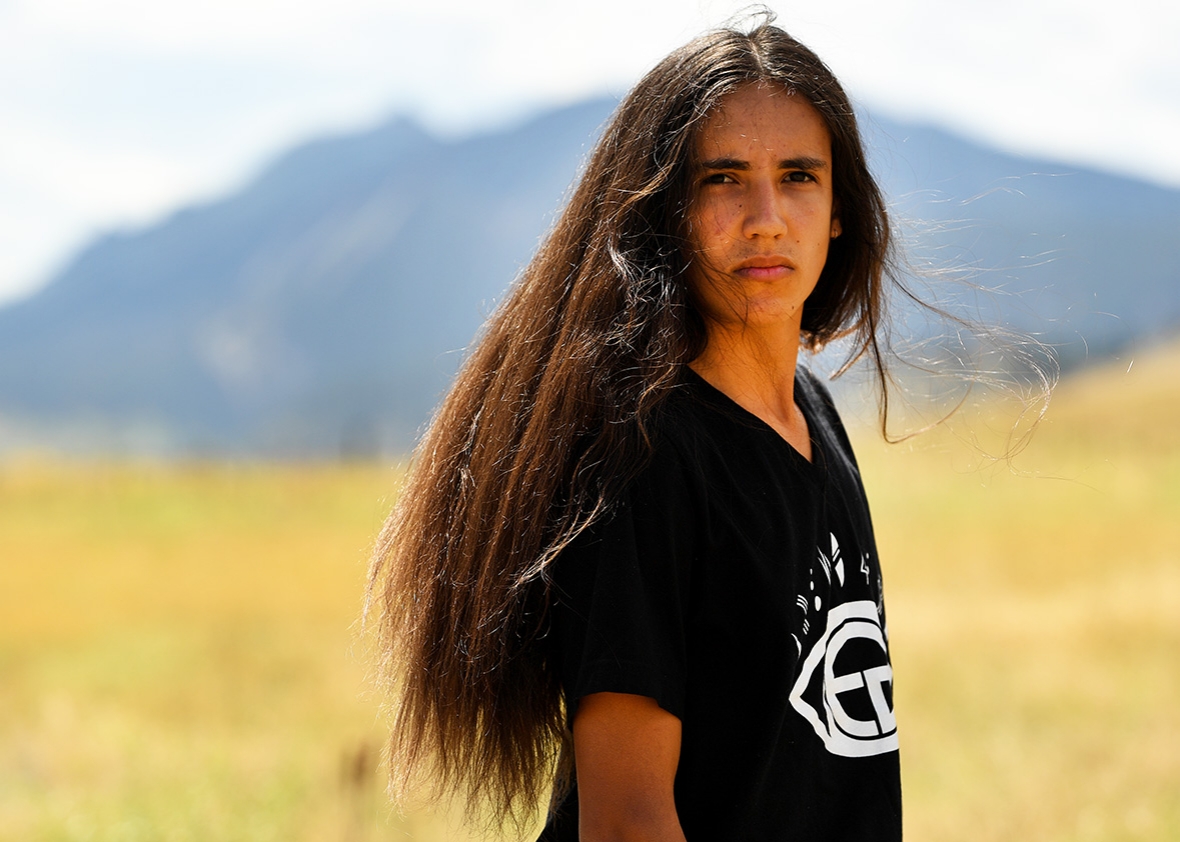 To be fair, only one of them is known to be photogenic1. Bizarrely, according to Slate, the young plaintiffs "range in age from 9 to 20"2. Brian reports but doesn't comment on the weirdness of having 9-year-olds suing in the courts. Are we really to believe that a 9-year-old has sufficient command of the issues? It seems utterly weird to me, more of a piece of performance art than a real thing, but the USA is a funny place. Apparently,
climate change violates their constitutional rights to life, liberty, and property by causing direct harm and destroying so-called public trust assets such as coastlines.
This sounds like just the sort of judicial overreach that got Trump elected; not a point Brian considers. Coastlines, assuming they are "public trust assets", aren't your property so even if they were destroyed that wouldn't violate your right to property. And of course they won't be destroyed, they'll just migrate inland. The invocation of "liberty" is, umm, I was going to say bizarre but I've used that already, perhaps I'll just say hard to understand. And "life"? Cars kill many many more people in the USA than climate change presently does, or even than would in the future for any plausible forecast. So should they not sue to ban cars instead? No, of course not. Firstly, it would be doomed, because USAnians like cars even more than they like guns-n-pizza. And secondly, because there's a trade off: cars kill people, but they also provide benefits that people like. Burning fossil fuels is exactly the same, although perhaps that's hard for a 9-year-old to understand.
Continuing,
the children and their lawyers say these government actions are willfully prioritizing short-term profit, convenience, and the concerns of current generations over those of future generations. The plaintiffs state that the government and these companies have continued to prioritize these short-term gains for more than five decades with full knowledge of the extreme dangers they posed.
I'm not sure this makes sense. They claim the government and the Evil Corporations have been prioritising short-term gains - let's say "short term" means "decadal", shall we, since they provide no clear definition themselves - for the last five decades at least. And that "short termism", iterated for at least five intervals of short-term time, has clearly brought great material prosperity. So it can't really be considered a short-term strategy. And are the winsome teens proposing to give up that prosperity? Of course along with that prosperity has come many problems, not uniformly distributed along with the prosperity, and not by any means restricted to the USA, though I'm not sure the court case considers harm to non-USA-type folk to be terribly important.
This in turn is just the to-the-present-day version of the familiar problem: that all the standard scenarios say that our descendants will be richer - in a material sense; they are responsible for their own metaphysical welfare; though I suppose they won't be too happy if we f*ck over all the wildlife - than we are. So you can call it "short termism" if you like, but other people will call it "making us all richer". Since these are the people who disagree with you, why do you think this is likely to convince them?
The fight to Do Something about GW is multi-faceted, and although my preferred route would be to convince people it is a good idea to Do Something (well, a carbon tax in fact, though I confess my efforts to persuade people of the bleedin' obvious have not been successful so far) rather than sue them into doing something3, I can't complain too much if other people prefer the grand theatre of the court system. And standing unbending on the Moral High Ground is so much more satisfying than arguing for a carbon tax. And I don't suppose 9-year-olds are going to really understand the complexities of the process anyway. But I do wonder if now is a great time to be doing this. The case, inevitably, will go to the supreme court if it isn't dismissed earlier. And so will concentrate the minds of Trump, and his advisors, on making damn sure that those he appoints will not pass this case. You'll likely say - correctly - that he doesn't need any more pressure to appoint the sort of judges who would oppose cases-like-this; but in that case, what's the point, other than a few feel-good headlines?
Notes
1. I lie; see https://www.ourchildrenstrust.org/us/federal-lawsuit/4. See-also this pic - is that a familiar green hat I see in the background?
2. Ah: "...and Dr. James Hansen, acting as guardian for future generations." Oddly, neither Slate or Brian mention that.
3. Similarly, Brexit, where I'd rather the losers didn't try to "win" through the courts.
4. From where I find the judgement itself (Brian's link didn't work for me). I wrote this post from Brian's post and the Slate article; I suppose I'm going to have at least pretend to read a vast slab of legalese now.
The judgement
I pressed "post", as noted above, before reading the judgement. Some of it is interesting. For example, This lawsuit is not about proving that climate change is happening or that human activity is driving it. For the purposes of this motion, those facts are undisputed.3 It is good to see that, although "climate change is happening or that human activity is driving it" is one thing "those facts are undisputed.3" is somewhat different, as you'll see if you follow footnote 3. Which is:
For the purposes of this motion, I proceed on the understanding that climate change exists, is caused by humans, and poses a serious threat to our planet. Defendants [state] that "[c]limate change poses a monumental threat to Americans' health and welfare by driving long-lasting changes in our climate, leading to an array of severe negative effects, which will worsen over time."... Obama declared "[n]o challenge ... poses a greater threat to future generations than climate change." ... When asked... intervenors declined to take a clear position.
So while I'm not entirely happy that the addition of "and poses a serious threat to our planet" occurs only in a footnote, and I'm not totally happy with the failure to resolve that against the rather stronger assertions form the teens; I do admit they have Obama on their side. And the bit about the other side shuffling their feet, looking embarassed, but not actually finding anything coherent to say, is nice.
The bit where it gets bad is the immeadiately following:
The questions before the Court are whether defendants are responsible for some of the harm caused by climate change...
which appears to totally fail to understand that this has to be a cost-benefit problem. Burning fossil fuels has costs. It also has benefits, otherwise people wouldn't do it (duh). If the case really is that badly one-sided then it is doomed to fare badly further up the chain.
Plaintiffs adequately allege injury in fact
I kid you not, the judge has accepted Plaintiff Zealand B. alleges he has been unable to ski during the winter as a result of decreased snowpack. as an example of "injury in fact". What a bunch of special snowflakes these people are.
Refs
* Basic Geo-Engineering or Cosmic Rays Bite the Particulates - Eli
* Trump could face the 'biggest trial of the century' — over climate change - WaPo