As we all kinda knew in advance, 2016 turns out to be a record warm year. If you read UKMO you get Provisional full-year figures for global average near-surface temperatures confirm that last year, 2016, was one of the warmest two years on record, nominally exceeding the record temperature of 2015 but that's because they don't handle the Arctic very well, and the Arctic was very warm this year. NOAA is a bit more forthright (or see Moyhu): With eight consecutive record warm months from January to August, the globally averaged temperature over land and ocean surfaces for 2016 was the highest since record keeping began in 1880, according to NOAA scientists. During the final month, the December combined global land and ocean average surface temperature departure from average was the third highest on record for any month in the 137-year record. If this was some kind of record-setting attempt we'd all be saying "Yeah Global Temperature!" But that's probably not a very sensible reaction. Aanyway, man+dog has posted that, is there anything else to say?
Sea ice is looking exciting. For the moment the most wow view is the global one:
This has lasted long enough now to be hard to see as a minor temporary blip and might almost be considered a bit worrying.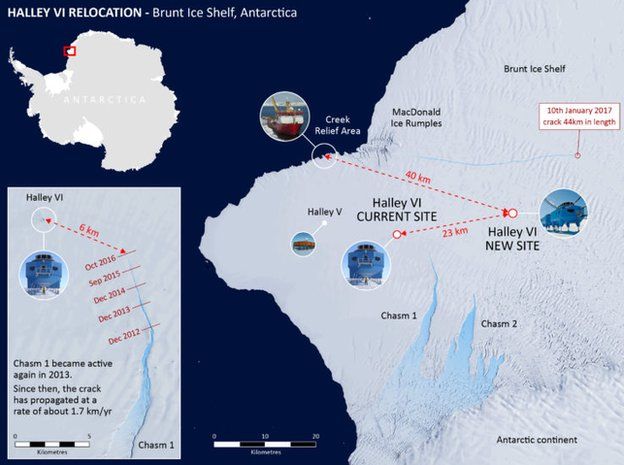 In other news, Halley VI, having moved, is in some danger of having to move again due to yet another bloody crack in the Brunt Ice Shelf. Note: I think the blue line purporting to be the crack on the pic is just drawn on. There's some nice drone footage of said crack in the article. Having to shut down the base for the whole winter is a pain.
Meanwhile, just exactly in Cambridge, it is really quite cold: ducks standing on the ice weather. But we've been rewarded with some good sunrises and sunsets. The rosy fingers of dawn, as I put it to Miranda, who totally failed to recognise the Homeric allusions.
Update: scraped from via fb, from SR
It just struck me that he is probably right, that diagnosing the slowdown (not, of course, shutdown) from the temperature pattern is more useful than the rather flaky measurements. His link is: http://www.realclimate.org/index.php/archives/2015/03/whats-going-on-in….
Refs
* 2016 Temperature Records - RC by Gavin.