DRAMA-LLAMA-DING-DONG!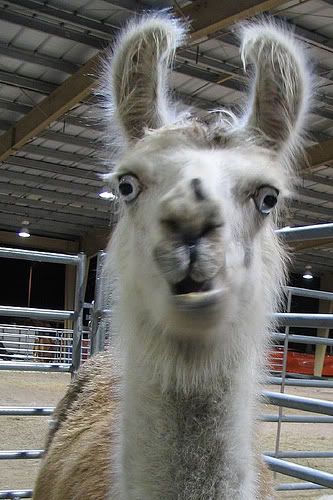 Just an observation. Move along, unless youre bored on a Sunday afternoon.
So you all know how I 'debated' Charles Jackson a few months ago? Like over 9,000 hours of presentation and Q&A? Well, I answered a lot more Qs after the Q&A, after we had officially 'stopped'.
A nice young man came up, a little sheepishly, and as delicately as he could, asked me how I could be 'good' without his God. He was very concerned that this question might offend me, and kept gushing about how nice I was and such, so I was happy to give him a nice answer, and not the usual 'So the only thing keeping you from raping babies is the possibility that some creepy god is watching and will be pissed at you? LOL Pervert!'
The nice answer, for me, is The Golden Rule plus an addendum, "Do unto others as you would have them do unto you. And when in doubt, ask." The possibility that my actions would cause another person pain or hardship is far more of a deterrent to me, than the idea my actions might cause a god, that may or may not exist, to be upset. While how I think someone might feel might not be how they actually feel, I am quite certain they are a real person with real feelings that I need to take into account.
So naturally, when Mooneytits hypocritically shoved PZ under the bus in 'Unscientific America', the emotion I imagined PZ feeling reminded me of how I felt when Caseytits misrepresented me and ERV irl, with the added bonus that Mooneytits had to be a backstabber to do it.
My conclusion was obvious, if Mooneytits would do that to PZ, he would do it to any of us. Only a complete fool would attempt to have a real conversation with this hack now.
But whats still puzzling to me is "Why didnt he throw all of us under the bus?" Why only PZ, over a very you-only-understand-this-if-you-read-SciBlogs event? The only answer I can think of is Mooneytits has some sort of petty vendetta against PZ, for something, because nothing else makes any sense.
1. If 'New Atheists' are harming science literacy, why pick Crackergate as an example?
Crackergate makes no sense in context of 'UA'. PZ reacted to a theistic bruhaha as an atheist. While the theists in question would make stupid claims that can be tested and established false by science, 'science' had nothing to do with that encounter, other than the fact PZ is a scientist as a profession.
A better example would be things PZ has said about Creationists. Mooney would have had years and years and years of blog posts, interviews, debates, presentations PZs done to harvest quotes illustrating how mean PZ is to Creationists, as a scientist, which Mooneytits asserts makes dumb roobs scardeded of science.
But the thing is, lots of us (atheist scientists) are mean to professional Creationists. Mooneytits could have picked on PandasThumb (where PZ was a founding member). He could have picked on any of Oracs rants against Egnor. And lord knows he could have picked on me.
But he didnt.
Mooneytits chose to misrepresent PZ on the topic of Crackergate. Huh?? It doesnt make any sense.

2. If bloggers are 'so uncivil', and scardeding people away from science, why only use PZ as an example?
Following #1, it makes no sense to connect a bloggers response to a theistic lynch-mob to science literacy. It would have made more sense, if we are talking about civility, to pick on someone like me. My nickname for an HIV Denier, Rebecca Culshaw, before I moved to ScienceBlogs, was Cunt.
Thats it.
Just plain ol Cunt.
I saw her face, thats the nickname that popped into my head.
Btw, shes an unemployed Cunt now, LOL! Didnt even try to get tenure. BAWW! Matheses be hard, huh Blondie? LOL! Fucking loser!
See? That would have been a much better example of how naughty and uncivil and anti-PC scientists can be when they blog, thus 'lurkers' get turned off of science.
Another fine example would be Orac, who mercilessly (YAY!) goes after anti-vaxers, alt-med woo peddlers 'curing cancer', etc. This merciless stance can be interpreted by 'lurkers' as an old fuddy-duddy scientist picking on young mothers and their children, thus, turning them off of science...
... But Mooneytits didnt choose to pick on me, and he is quite smitten with Orac.
"I think it's definitely a response to the science, which has consistently shown no correlation," says David Gorski, a cancer surgeon funded by the National Institutes of Health who in his spare time blogs at Respectful Insolence, a top medical blog known for its provaccine stance. A hardening of antivaccine attitudes, mixed with the despair experienced by families living under the strain of autism, has heightened the debate--sometimes leading to blowback against scientific researchers.
...But if the Internet has made it easier for pockets of antiscience feeling to grow and flourish, scientific authorities also deserve some of the blame. "I don't think they woke up that this was a serious problem until maybe 2008," David Gorski says about the growing antivaccine sentiment. George Washington University's Hotez notes that "the office of the surgeon general, the secretary of Health and Human Services, and the head of the CDC have not been very vocal on this issue." True, the CDC, the Food and Drug Administration, and other governmental organizations feature accurate and up-to-date information about vaccine risks on their Web sites. But that is very different from launching a concerted communications campaign to ensure that the public retains faith in vaccination.
Wait, wut?
PZs blog is "the online clearinghouse for confrontational atheism", while Oracs blog is "a top medical blog known for its provaccine stance"?
PZ is castigated for accurately describing an insane lynch-mob as "demented fuckwits", while Orac having a whole category of 'antivaccination lunacy' and calling anti-vax claims 'thermonuclear stupid' are fine and dandy like sour candy?
But just to make this point about Mooneytits 100% clear, in his vaccination article, he could have called out Orac for being too mean. But he didnt. Mooneytits throws some guy, Stephen Cochi, and the CDC under the bus for not being civil enough for his pristine standards:

Some outspoken scientists may have actually increased the polarization on this issue. For example, calling those against vaccines "scientifically illiterate"--or, as CDC vaccine expert Stephen Cochi reportedly put it to one journalist, "junk scientists and charlatans"--may just lead to a further circling of the wagons.
Some outspoken scientists. But not Orac scientists. Even though Orac scientists say the same things and worse.
... wut??
The only explanation I see is that Mooneytits misrepresented and attacked PZ in 'UA' for purely personal reasons.
It would be interesting if Mooneytits grew a penis and maybe a testicle or two and admitted that.