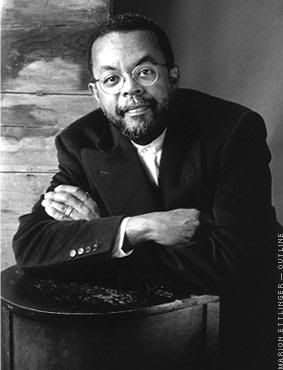 Cambridge authorities are now dropping the disorderly conduct charge against the country's leading African-American scholar, Harvard professor Henry Louis Gates, Jr. (see right), after he was arrested in his own home when police confused him with a burglar. This was after Gates showed both his Harvard ID and Driver's License that gave proof of address.
Probably the best reaction to this story came from Al Sharpton who stated:
I've heard of driving while black, and I've heard of shopping while black. But I've never heard of living in a home while black.
Gates is asking for a formal apology. Personally, I would like to see the arresting officer, Sergeant James Crowley, face a disorderly conduct charge himself for abusing his authority. Apparently, the officer objected to Gates getting upset and accusing him of racial bias. But I'm sure he would have responded the same way with Steven Pinker or Alan Dershowitz.
In light of this arrest and Obama's recent speech before the NAACP, Cornel West and Carl Dix discussed race and politics and how to reinvigorate Frederick Douglass' legacy in the age of Obama.
[Video below the fold.]