Benjamin Franklin once quipped, "Where there's marriage without love there will be love without marriage." His affairs are well known in American history, however this founding father may have been stating a truth extending to evolutionary history as well.
Christopher Ryan (author of the forthcoming Sex at Dawn) offers some thoughts on the role of novelty in the sex lives of our favorite primate. He suggests that men are drawn to variety in sexual partners while women are drawn to variety in technique:
When researchers decided to look at this issue to develop a Sexual Boredom Scale, they found that for men, sexual boredom was correlated with variety in partners (or lack thereof), while for women, it was more related to variety in activity. In other words, women were more likely to be satisfied by changes in the sexual what, while men (gay or straight) were more likely to respond to a changes in the sexual whom. It's a simple, unavoidable truth almost everyone knows to be true, but few dare to discuss: variety and change are the necessary spice of the sex life of the male of our species.
Ryan goes on to suggest that these attitudes today are the result of our evolutionary legacy. While I'm willing to agree with his basic conclusion about males (the data from biology and anthropology strongly suggest that males are concerned more with quantity than quality) his post overemphasizes male sexuality at the expense of females (though he says more will follow). Afterall, since statistics suggest that women are more likely to be in committed relationships at any one time than men are, if men are seeking additional partners they're more likely to find someone that's already involved.
According to The Janus Report on Sexual Behavior 35 percent of men (1 in 3) reported at least one case of infidelity with their spouse, but 26 percent of women (1 in 4) also did. However, these figures need to be viewed with some skepticism since men are more likely to exaggerate their number of sexual partners while women are more likely to understate them. It could very well be that, for every Fred Astaire swinging away on the dance floor, there's a Ginger Rogers following him step for step.
Just as multiple partners may be a part of male sexual strategy, so too could it be for females. As David Geary writes in Platek and Shackleford's Female Infidelity and Paternal Uncertainty, an average of 10% of children around the world are produced through "extra-pair copulations."
Because men vary in quality . . . and are readily available in multi-male, multi-female communities, women have the opportunity to cuckold their social partner and can sometimes benefit from doing so.
While the evolutionary strategy of males has often been the pursuit of multiple sexual partners, female strategy has often been one of increasing the genetic diversity in their offspring. If they're also able to have that child raised by an unsuspecting partner who isn't the father, or even gain support from multiple fathers, so much the better.
In the comments on Ryan's post many people expressed their outrage that any infidelity could be "justified" by showing it has roots in our evolutionary history. However, considering that the evolutionary proscription against infidelity is, 1) a female having to share her mate's resources with unrelated offspring or, 2) a male investing in offspring that aren't his, such emotional baggage over infidelity doesn't make a whole lot of sense in the age of contraception. Nevertheless, old habits die hard (and ancient instincts especially).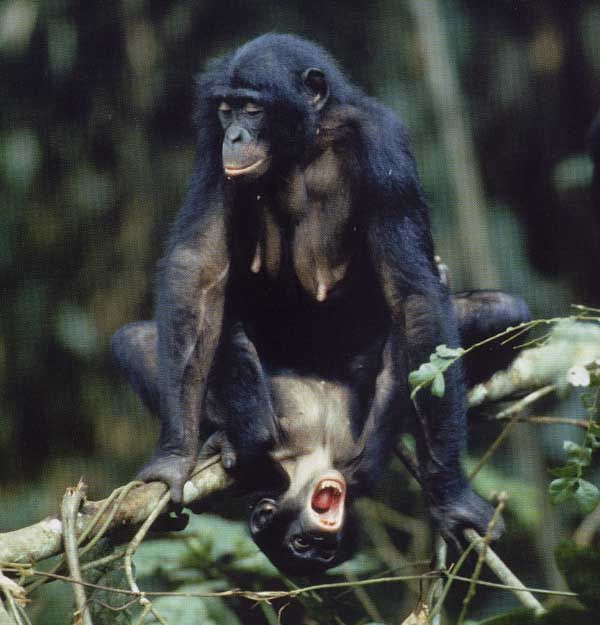 To understand human mating we have to understand the mating system of our species. Chimpanzees and bonobos (who share around 99% of our DNA) have what's referred to as a multimale-multifemale mating system. Females have sex with multiple individuals in their troop and make positive choices about which males they're most interested in. The evolution of sexual jealousy is seen in nascent form in our evolutionary cousins when a low-ranking chimpanzee is caught mating with a female that a higher ranking male is sweet on. The forest isn't at peace for some time afterwards. In bonobos the situation is a little different. Females largely call the shots and have been known to harass males (and other females) for mating with their preferred partners. Throughout the primate world males also compete with each other in what biologists refer to as "sperm competition." Large amounts of ejaculate will be produced in order to "wash out" a previous males' contribution. Chimpanzee and bonobo males are extraordinarily well endowed in the testicle department as a result. A large testicle-to-body size ratio is therefore a strong predictor of a multimale-multifemale mating system.
In contrast to this, gorillas live in a single male-multifemale mating system and the large bodied males have testicles so small that anatomists have reported difficulty in even finding them. This is because there was no selection pressure from the gorilla mating system to produce a large amount of ejaculate (but this doesn't mean that gorilla females always mate exclusively with their "harem leader," with predictably jealous tantrums if the alpha male discovers the tryst). Gibbons are monogamous "lesser" apes and likewise have relatively small testes for their body size. In all of these cases the mating system of the primate species in question can be predicted based on male testicle size.
So this leads to the obvious question: are humans more like chimpanzees and bonobos or more like gibbons and gorillas. Unequivocally, (and as you would expect from the genetic evidence) human testicles are more like chimps and bonobos. In fact, in their analysis of the seminal protein genes SEMG1 and SEMG2 (genes that code for semen coagulation or "mating plugs" found exclusively in multimale-multifemale systems) Sarah Kingan and Steve Dorus found a direct correlation between the average number of sexual partners that females of a species will have and the selection for this gene in males. Humans lie closer to chimpanzees and bonobos at both of these loci and this strongly suggests that humans evolved with a multimale-multifemale mating system.
The anthropological literature also shows this pattern in that 83% of all societies are classified as polygynous (one male marrying multiple females) and that infidelity in both sexes is fairly commonplace. In many societies women adopt a strategy defined as "polyandrous motherhood" in which females will have children by several men and receive support from each. As Miriam Zeitzen writes in her book Polygamy:
While a woman may not have several simultaneous husbands, she may have several simultaneous recognized fathers to her children, thus effectively managing several men at once. Because these men typically have different lineage affiliations, their children have access to different kinship networks, thereby optimizing the woman's and her children's access to resources.
Primatologist Sarah Blaffer Hrdy has done a good deal of work on this very topic and her books The Woman That Never Evolved and Mother Nature are must reads for anyone interested in the evolution of human sexuality.
After looking at the various arguments supporting an ardent strategy for human males Ryan concludes his post asking the following question:
If men evolved over millions of years to seek sexual novelty (thus avoiding genetic stagnation in small groups of foragers in a sparsely populated planet), is it fair to condemn them now for responding to these ancient, evolved appetites?
It's a fair question, but one that needs to be asked both ways. For every man that wants to justify his dalliance with the secretary, he should also ask himself whether he's prepared to help raise the milkman's son?
While it's certainly not the case that all men or women will cheat on their partners, it does appear that sex is the primary cause of a happy or unhappy relationship. According to an ABC News Poll of American sexuality men are more likely to have sex outside of their relationship to fill a sexual need while women will in order to fill an emotional need. Satisfaction in their sex lives is also the best predictor of a happy relationship:
Regression analysis finds that Americans' satisfaction with their sex lives is a significant predictor of their satisfaction with their marriages or committed relationships. . . . While directionality is hard to establish, it seems more plausible that satisfaction with sex fuels satisfaction with marriage than the reverse. That's because more people are very satisfied with their marriages than are very satisfied with their sex lives. If satisfaction with marriage drove satisfaction with sex, this gap would not exist.
While Benjamin Franklin moved to France to spice up his love life, for those who aren't satisfied -- but don't want to lie to their partner -- there is a growing movement of people looking for alternatives to a cheating culture. Books on open marriage and polyamory are regular features at major bookstores across the US and Europe. If indeed multiple partners are the norm for our species, openness and honesty about a person's needs is clearly the best approach. Claims to moral outrage appear to be falling on deaf ears as humans in modern societies are moving closer to the kind of sexuality that existed in our species for millennia; that is, before civilization imposed religious strictures on who was allowed to bonk whom. I'm eagerly looking forward to Ryan's book (co-authored with his wife Cacilda Jethá) where I trust they'll elaborate on the strategies for women in human mating systems.
References:
Kingan, S., Tatar, M., & Rand, D. (2003). Reduced Polymorphism in the Chimpanzee Semen Coagulating Protein, Semenogelin I Journal of Molecular Evolution, 57 (2), 159-169 DOI: 10.1007/s00239-002-2463-0
Dorus, S., Evans, P., Wyckoff, G., Choi, S., & Lahn, B. (2004). Rate of molecular evolution of the seminal protein gene SEMG2 correlates with levels of female promiscuity Nature Genetics, 36 (12), 1326-1329 DOI: 10.1038/ng1471