[Update: see comments. We're having some dispute about whether to bet on the monthly averages (the scientifically respectable thing to do) or daily min (the wildly exciting popular choice). I need to bother work out the numbers. Until then, you'll have to be patient (2011/3/31; I've adjusted the posting date from 2011-03-22 to push this to the head of the queue)]
But not very different. Neven reminds me, again, that I promised to put up a slightly longer-term bet; see This year's sea ice and in particular this comment and reply.
Neven offers:
I'd be willing to bet 50 euros on a record low within the next three melting seasons. And with record low I mean absolute daily minimum extent based on data as reported by IJIS.
Well, we need not worry about the amount for the moment, instead I'm trying to set the terms of the bet (for amounts, it will be word-of-honour for anything down at the "trivial" end and something a little more formal if you want to go above £1,000).
I dislike daily values; monthly means are better, and are less likely to be influenced by oddities, and more likely to be consistent between series. I'm happy to use IJIS though.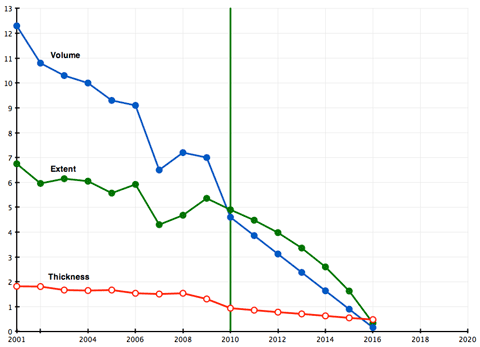 Otherwhere, Gareth predicts the end of summer sea ice in 5 years, based on extrapolating thickness trends, and I've taken the liberty of ripping off his image. This I don't believe at all, and if anyone is prepared to bet on no (or essentially no) summer ice by 2016, I'll be very interested.
Anyway, here is the pic I'm basing my judgement on:
(this is a mod of one from a previous post). Black line is just the obs. Green line is trendline using all the data that far (so it is a straight line into the future). The other lines are a bit more complicated, and I keep forgetting what they are: the blue line is the trend, using data only as far as the point on the x-axis, but taking the trend to where it would be in 2010. The red line is the same as the blue, but using only the 10 years before that point. And lastly the one that matters is the purple line, which is the trend to 2013, again using the previous 10 years, though displaced off (so the point at 2013 is drawn from 2001-2010 data; the point at 2012 from 2000-2009, etc).
Using last-10-years is being pessimistic (or from my point of view, erring on the safe side) but based on that, the chance of something beating 2007 and setting a new record low within the next 3 years (including 2011) seems quite good. So I'm not betting on that; after all, remember that what we're aiming for is a bet that both sides regard as a sure-fire win for them :-). So, based on those lines, and needing the usual error margin of 0.5, which I'll multiply by sqrt(3) since there are 3 years, I think a "fair" (ish) bet would be on the ice going below 3 (whatever the units are, I forget) any time during the next 3 years. Anyone interested, or care to dispute my numbers?
Days vs Months
[Added in update, 2011/3/24 22:00]
Clearly, people would rather be betting on a record *daily* low, whereas I'd rather think in terms of monthly averages. My justification for that is that it reduces the statistical noise, and so allows for smaller uncertainty margins. Though I admit I haven't looked at the day/month differences. I suspect that really it shouldn't matter too much: ice can't vary much on a daily basis; it isn't possible to have some vast down-spike on just one day (barring an unlikely compression event). Conversely, if you believe in a record daily low, then you ought to believe in a record monthly low, too.
Refs
* IJIS / JAXA ice extent which DA notes (prematurely, but probably correctly) has just peaked this year.