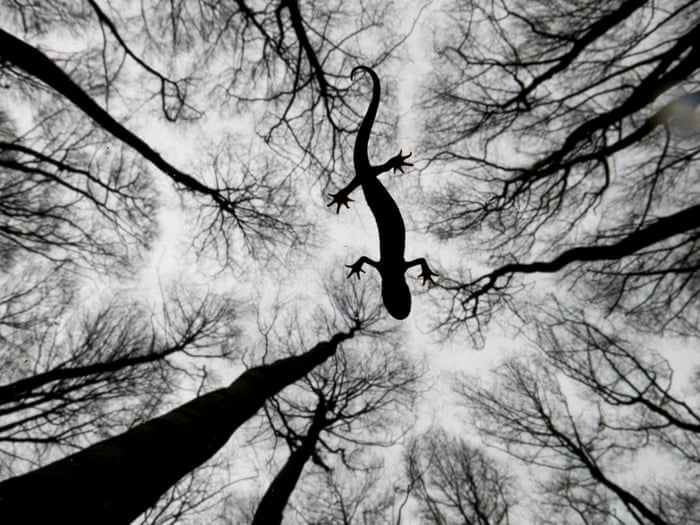 It (it? Philippe Verdier, possibly-ex-weatherman) is all a bit silly, but here's a snapshot from the Torygraph if you like. Its the same old stuff: We are hostage to a planetary scandal over climate change – a war machine whose aim is to keep us in fear... I received a letter telling me not to come. I'm in shock... This is a direct extension of what I say in my book, namely that any contrary views must be eliminated. Apparently the IPCC "blatantly erased" data that was contrary to their conclusions. Yawn. [Update: yup, definitely ex.]
Oh, the picture? That's from The Wildlife Photographer Of The Year 2015 (or direct). As in 2014 the judges clearly picked the wrong best pic.
Far more interesting are rumours of aliens around a distant star but, fun though it is while it lasts, its going to turn out to be mundane. Though it does have echoes of the intro chapters of a couple (couple? Many) sci-fi novels I've read. [See-also: Dynamics of CATS.]
Back to the less interesting, Tamino has another in the Exxon series; this one features Congress critters.
Far more interesting is Timmy (well, and some of BP's words; you can read them direct if you're ideologically opposed to Forbes) on fracking and its impact on the oil industry:
worries over climate change mean that we're most unlikely, in any reasonable period of time at least, to use all of those reserves and resources that we already know about... oil is not a resource that is going to run out. It does not therefore become ever more expensive off into the future. But it's fracking that is the real game changer here... The standard economic description of the oil market is one where both demand and supply are inelastic... Inelastic supply meeting inelastic demand means wild price swings. It's this that fracking changes... it isn't really a natural resource extraction method... it is a manufacturing process... As you know, the strength of manufacturing productivity has led to a trend decline in the prices of goods relative to services. A fascinating question raised by fracking – and its manufacturing-type characteristics – is whether it will have the same impact on the relative price of oil... The net effect of all of this is that we should expect oil to be much less variable in price in the future. And we should also expect it to be going down in price into the future.
With some interesting caveats re the shale producer's exposure to finance costs, and speculation about the role of current low interest rates. And the interesting observation that It is inconceivable that the reduced dependency of the US on oil imports won't affect its relationship with some of the key oil producers; and the revere, on China's part?
Refs
* Hersham boys
* Two pints of lager and a packet of crisps, please
* The Lone Ranger - I'd forgotten, as wiki says, some fragments of lyrics were deemed to have "drug" and "homosexual" references - errm, well, its a bit stronger than "deemed".
* December will be magic again with LOL cats.
* The Economic Proof That The FDA's Drug Regulation Makes Us All Poorer - Timmy