One last thing for sea monster week... but don't get your hopes up too much. We looked earlier at the Moore's Beach (or Santa Cruz) sea monster, a carcass that was identified as that of a Baird's beaked whale Berardius bairdii. I mentioned the fact that the skull was retained by the California Academy of Sciences. Well, here it is...
As in all beaked whales (or ziphiids), the skull bones posterior to the external nares are elevated, forming a crest that Moore (1968) termed the synvertex.
In most beaked whales, the anterior margin of the synvertex extends dorsally so steeply that it's perpendicular to the long axis of the rostrum (in some taxa, the very top of the synvertex overhangs the base). Berardius differs from other ziphiid taxa in that the anterior margin of the synvertex is inclined at an angle of about 45°; relative to the long axis of the rostrum.
This is a primitive condition and - in part - explains why Berardius is thought to be among the most basal members of Ziphiidae (Lambert 2005, Bianucci et al. 2007). Berardius also differs from most other ziphiids in having its mesorostral gutter partially filled by an ossified mesethmoid, and by possessing a rounded lump (formed from the interparietal or frontals) on the vertex (in between the nasals and supraoccipital). All of these features are clearly observed in the skull shown here.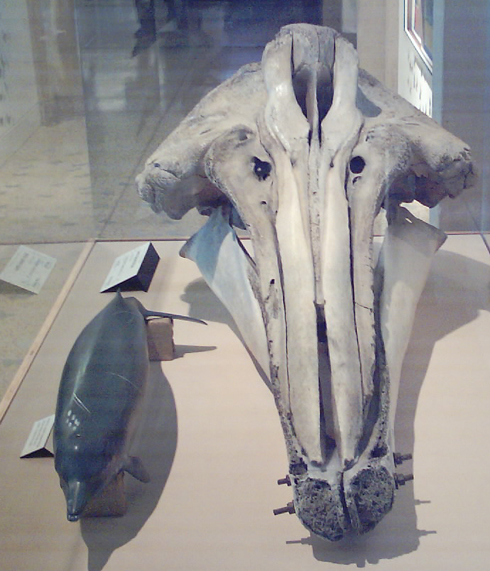 Of course, the apically located, laterally compressed tooth pairs of Berardius are also diagnostic, but we can see that the tips of the Moore's Beach animal's dentaries are damaged, and as a consequence the teeth are entirely absent (so far as I can tell). I wonder why: did someone remove them from the skull before the CAS prepared it?
The images were kindly provided by Thomas J. Gehling, who took them in 2004, and are used with permission. Thanks Thomas.
Refs - - Bianucci, G., Lambert, O. & Post, K. 2007. A high diversity in fossil beaked whales (Mammalia, Odontoceti, Ziphiidae) recovered by trawling from the sea floor off South Africa. Geodiversitas 29, 561-618. Lambert, O. 2005.
Systematics and phylogeny of the fossil beaked whales Ziphirostrum du Bus, 1868 and Choneziphius Duvernoy, 1851 (Mammalia, Cetacea, Odontoceti), from the Neogene of Antwerp (north of Belgium). Geodiversitas 27, 443-497.
Moore, J. C. 1968. Relationships among the living genera of beaked whales with classifications, diagnoses and keys. Fieldiana : Zoology 53, 209-298.