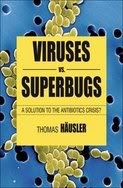 On a recent episode of the drama House, the medical team finds that a patient improves from his illness when he's infected with a particular species of bacteria, Legionella pneumophila. Though mysterious at the time because the cause of the patient's illness was unknown, it was later determined that the patient was infected with naegleria, an amoeba. Legionella is an intracellular bacterium that just happens to naturally live in amoeba. Therefore, when the patient was co-infected with the amoeba and Legionella, the Legionella killed off the amoeba--using one microbe to attack another.
This strategy will sound familiar to those versed in the history of microbiology. Before the advent of antibiotic drugs, one method used to treat bacterial infections was to attack them with another microbe as well: with viruses called bacteriophage. In a new book, Viruses vs. Superbugs, Swiss journalist Thomas Häusler details the extraordinary history of this treatment method.
Introduced in 1915, this treatment was used for a time in the United States. However, the widespread acceptance of antibiotics essentially eliminated the use of phage therapy as a treatment for bacterial infections in this country. Nevertheless, phage therapy flourished in the Soviet Union, particularly in Georgia, where it has been used routinely throughout the last century--and continues to be employed today.
Phages have a number of advantages over conventional antibiotics. As Häusler notes, they are an "intelligent drug:" phages are highly specific for certain species of bacteria. This is both an advantage and a disadvantage when using the viruses as medicine. If a patient has an infection with methicillin-resistant MRSA, for example, a phage can be selected to target that specific bacterium, leaving the rest of the host's natural bacterial flora untouched. Therefore, the side effects that other antibiotics cause due to their broad spectrum--notably, diarrhea and other digestive effects--can be avoided. However, this brings in an added complication not seen when using antibiotics: a "matching" phage needs to be determined for each strain of bacteria. Though this is somewhat akin to determining antibiotic susceptibility for an infecting bacterium, the panel of phage from which to select from is much, much larger than the selection of antibiotics, and the treating doctor needs to have 1) access to the phage, and 2) the know-how to grow them up correctly for treatment. Additionally, the bacterial species in which the phage are grown can affect the effectiveness of the therapy--these aren't something one can just pull off a shelf and pop in a patient's mouth.
Because of this and (and many other factors that Häusler discusses), the efficacy of phage treatment has been difficult to establish. Providing this type of treatment takes not only proficiency in disease diagnosis, but also laboratory skill to determine, and then cultivate, the correct type of phage that will treat the infection. As one can imagine, therefore, difference in skill in these latter steps can result in large differences in the effectiveness of the treatment. This is one factor that is a major hindrance to approval of the treatment in the modern United States--the use of these live, potentially finicky cultures as cures, and the inability to employ one universal formulation makes approval difficult (though I disagree with Seed's characterization of phage drugs being "squelched" by the FDA--it's simply a lot more complicated than that).
Häusler does an excellent job of discussing not only these limitations, but also explaining ongoing research attempting to work around these problems: research such as that done by Vincent Fischetti of Rockefeller University, who has worked to isolate phage lysins--the proteins that actually kill the bacteria--and use these as specific treatments. (He has lysins that work with anthrax, Streptococcus pyogenes and others; click on the picture on his webpage to watch the lysins actually destroy the bacteria). By isolating the bacteriophage lysins and using them as drugs, this eliminates much of the guesswork involved in phage therapy (and ethical and safety concerns that make using a live virus as a treatment daunting). Will they be as effective as live phage, though--and how many lysins will be needed to treat, for example, all strains of MRSA? That remains to be seen, but it's a novel approach to an old therapy.
Overall, Viruses vs. Superbugs is a fascinating, and layman-friendly, book. Though I've emphasized a bit of the science here, Häusler discusses much more of the personalities involved in the research and developments in the past century of experimentation with--and therapeutic treatment using--phage therapy. Many people have devoted their lives to the study of phage, and stuck with it through political instability, lack of pay and resources (including heated buildings), and other hardships that would send most scientists packing. It's a fascinating journey, complete with friendships, intrigue, personality clashes, even murder--and ultimately, the possibility of redemption and more widespread acceptance of their life's work.
Will phage therapy help us win battles against bacteria that are resistant to multiple antibiotics? Häusler paints an optimistic picture, laced with a heavy does of realism. There are many obstacles, such as those I mentioned above. Additionally, because of the spotty record of efficacy of phage therapy here in the United States, many scientists remain highly skeptical of the use of phage, despite the enthusiasm and confidence of Georgian scientists (who have used and refined the treatment essentially continually since its initial description). With antibiotic resistance increasing and no breakthroughs on the horizon, we are increasingly finding that beggars can't be choosers. Phage therapy may not be ideal, but if harnessed correctly, has great potential. The coming years will show whether it will become another weapon in our arsenal against bacteria, or merely a footnote to history. Either way, Hausler's book is a fascinating documentation of the history of phage therapy to date.
For more information, check out Häusler's website, which he hopes to make into a "clearinghouse" of information on the topic.