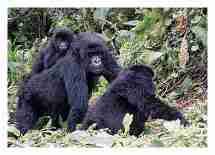 Longtime readers know of my fascination with Ebola. Much of it is fueled not by the fact that it's a major killer of humanity, because it's not: in 30 years, it's been responsible for a bit less than 2,000 human infections, and ~1,200 deaths. Bats have long been suspected to be a reservoir of the virus, and recent studies have confirmed that they can carry the virus.
With at least one strain of Ebola (Ebola Reston), we know that our primate cousins are more severely affected than we are. This strain has been found to infect captured primates brought into the United States from the Philippines, proving highly lethal to the affected ape species but causing only sub-clinical infections in humans. Ebola in wild African apes was first documented in 1994, when an outbreak occurred in chimpanzees in Ivory Coast. Since that time, reports of deaths from Ebola in wild apes have circulated during several human outbreaks of the disease. A recent paper again highlights the horrible effects Ebola has wreaked upon our native primate species, and suggests that living in groups may have made them even more vulnerable.
It's been known for several years that Ebola is decimating great apes in Africa. Many populations of gorillas and chimpanzees that have been under surveillance by primatologists for years have all but disappeared. Previous studies of this phenomenon have focused on numbers of apes pre- and post-outbreak, but the current study is the first to try and figure out just what is going on within the gorilla populations during the outbreak. To do this, the authors used two different models of viral transmission, investigating which was more important in maintenance of the epidemic: transmission to apes from the reservoir species, or transmission of the virus from ape to ape.
The investigators use variations on a SEIR model, which stands for Susceptible, Exposed, Infectious, and Removed. This is a pretty typical mathematical model, which breaks the population up depending on their status with regard to the microbe in question. When a new infection enters a population, all of the population will be susceptible. As individuals are exposed to the infectious agent, they may then become infectious, spreading the microbe to others in the population. If they recover from the infection, immunity will generally result; if they don't recover, then obviously they've succumbed to the infection. Either way, this results in their removal from the model, as they're unable to further contribute to the maintenance or spread of infection. Of course, this is a highly simplified version of reality (and I'm even simplyfing the explanation of the model; if you look at figure 1 of the paper for the model schematic, you see arrows all over the place), but it's a common starting point in the creation of a mathematical model of disease. The two models they used were SEIR2 (which assumed significant ape-to-ape transmission of the virus), and a second model called Spillover2 (using the assumption of frequent contact of apes with the Ebola reservoir, and less emphasis on ape-to-ape spread).
When they examined the fit of the different models to the data, they found that they couldn't rule out either model. This was somewhat novel, as previous research had suggested multiple introductions of Ebola from the reservoir, rather than sustained ape-to-ape spread.
They also found that the epidemic hit hard and quickly. Deaths began in December of 2003, peaked in May of 2004, and the epidemic finally ended at the end of that year. However, 95% of the affected gorillas had already disappeared by 6 months into the epidemic, in June 2004. And, as the title of the paper suggests, the central finding of their study was that living in groups put apes at a higher risk of death from Ebola during this outbreak than those who were solitary (95% vs. 77% for solitary animals). Additionally, they mention that almost all the gorilla groups disappeared as a unit, while only one was partially affected, suggesting rapid and efficient spread within a group.
From this, they suggest that infection pressures similar to those demonstrated in this paper may have also affected early hominid social groups. I think this is an interesting area, but a bit too sweeping of a conclusion to take. One thing that makes Ebola so fascinating is that it's fairly unique among pathogens, so to extrapolate back to our early ancestors the conclusions of this singular study of infection with one pathogen in one area of the world in one population of apes is an over-reach, in my opinion. Still, certainly the interplay of microbes and host on the foundation and function of a society is an area that's ripe for further investigation.
References
Cailaud et al. 2006. Gorilla susceptibility to Ebola virus: the cost of sociality. Current Biology. R489-R491.
Rouquet et al. 2005. Wild Animal Mortality Monitoring and Human Ebola Outbreaks, Gabon and Republic of Congo, 2001-2003. EID. 11:283-90. Link.
Image from http://www.raydoan.com/images/6308.jpg