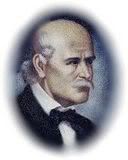 You may or may not be familiar with the name Ignaz Semmelweis. It's not one that's typically taught to school children, like Koch or Pasteur may be. He even tends to get glossed over in upper-level biology courses. But Semmelweis was an important figure in the history of microbiology (indeed, I picked his work as the greatest experiment in my field). Here's what I wrote about him in that post:
Semmelweis was a physician in Vienna in the 1840s, with an interested in "childbed fever," a leading cause of mortality in women who'd given birth. During this time, he noticed that the mortality rate from this disease in a hospital division where medical students delivered babies was 16%, while in a division where midwives delivered them was ~2%. It was also known that childbed fever was rare when women gave birth at home. Semmelweis thought there was something the med students were doing that served to raise the rates of childbed fever in those divisions.

In 1847, Semmelweis' friend, another physician, died due to a wound acquired while performing an autopsy. Semmelweis examined the tissues of his friend, and noticed the pathology there was similar to those in women who'd died of childbed fever. According to history, this led to his "eureka" moment: medical students performed autopsies, and midwives did not. The students must be bringing some contagious agent from the autopsy room back to the delivery room.

To test this, Semmelweis instituted a procedure, requiring students to wash their hands in a chlorine solution before entering the maternity ward. Mortality dropped dramatically, and Semmelweis extended the procedure to include surgical instruments as well. However, colleagues scoffed. Semmelweis actually lost his job, and took a position in Budapest--where he again instituted his handwashing protocol, with similar incredible results. Sadly, he died in 1865 in an asylum, disgraced.
Of course, many of you realilze that IDers love to tell the stories of scientists who were persecuted and scorned when they first proposed their idea, only to have history vindicate them. They compare their own ID supporters to Galileo, Barry Marshall, and other noted scientists (and, of course, Dembski's been called the "Isaac Newton of information theory,") and like to pretend that, like these esteemed scientists, history will give them the last laugh. Well, it seems that Semmelweis also has become something of an iconic figure to some who support "intelligent design." More after the jump.
I first ran across this comparison in the comments of a quote-mining post at Uncommon Descent. A commenter there suggested that the genius of science is that it is self-correcting, and another commenter noted:
I just got done reading a mini-biographical sketch of Semmelweiss, the physician responsible for identifying the fact that a microscopic pathogen (then considered a fairy-tale by science because we didn't yet have the ability to see them) was responsible for the deaths of millions of women after childbirth. It was nauseating and sad to read the descriptions of the opponents of his theory, who couldn't be troubled to wash their hands after dissecting corpses before delivering babies. Semmelweiss suffered discharge and ignominy but was ultimately vindicated. How many women died while this self-correction took place? It doesn't bear contemplation.
she continues,
What is tragic to me about this example is the way it so perfectly illustrates the stupidity of the arrogance associated with the notion that at any given time, our knowledge of natural processes is practically complete. The students and surgeons whom Semmelweiss took to task, begging them to wash their bloody hands before touching women in childbirth, were outraged at the inconvenience of the called-for measure, and certain that his silly notions of transmissible illness were just fairy stories. After all, everyone knows that...(fill in blanks with certainty of choice) Of course when pressed, scientists always rush to assure us of the deep deep humility and intrinsically provisional nature of scientific knowledge. But in practice, of course, a long history of terrifically wrong and confidently made pronouncements has been precisely recorded.
And, of course, evolution is just the latest in the line of "terrifically wrong and confidently made pronouncements" by scientists.
Doing some googling, I see this isn't the first time the example of Semmelweis was used to suggest that scientists are currently wrong about ID and ID advocates:
Did Semmelweis's peers have scientific justification for their sarcastic dismissal of his work? Hardly. His findings simply did not fit their very limited and naïve view of things. It was only after Louis Pasteur's germ theory of disease received wide acceptance that anyone recognized the brilliance of Semmelweis's insights. Likewise, it might take some time before science comes to an appreciation of a William Dembski.
However, there is a glaring difference in the story of Semmelweis and that of Dembski, Behe, Gonzalez, or any other ID advocate. The treatment that Semmelweis received from many peers was horrible, indeed, but the reason his ideas eventually prevailed is because they were supported by the evidence, and specifically, because he took the time to create and test an intervention (handwashing) that he could document repeatedly as being successful. He had a hypothesis, he tested it, he reported his data, and he was right in the end. His ideas weren't accepted based solely on his own hunches or beliefs, and they weren't accepted due to a massive public relations campaign aimed at getting handwashing into medical school curriculum. Creationists can beat the drum of "scorned" scientists whose ideas were later validated until they turn blue, but it won't change the fact that the only reason the ideas were accepted is because they were followed with evidence. All ID has is a bunch of sound and fury, signifying nothing.