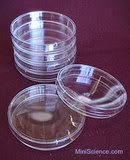 Speaking of microbiology basics, along comes an article in the San Diego Union-Tribune about the petri dish, a staple of microbiology labs everywhere:
Before 1877, scientists exploring the nature and mechanics of microscopic life had a real problem. Bacteria used for study were typically cultured or grown in bottles or bowls of broth. Koch greatly improved the situation by developing ways to grow microbes in gel, which allowed researchers to separate and investigate individual types of bacteria.

But practical problems remained. It was hard to manipulate bacterial colonies through the small openings of bottles. Worse, there was the issue of contamination. Nothing stayed sterile, pure.

Enter Petri, whose lasting and eponymous contribution to science was the invention of a shallow, cylindrical glass dish with a transparent lid.
More below the fold...
It's amazing sometimes how the simplest things have made such huge differences in science. I mentioned previously the death of microbiologist Esther Lederberg, whose contributions to the field included the technique of replica plating. Here, a piece of fabric is placed over the colonies growing on the agar, lifted up, and laid down on a second (and third, fourth...) agar surface, so that the colonies can be amplified repeatedly (and different mutations can be screened for, etc.) This itself seems like such a simple thing, but it really helped to drive the field forward. Such was the case with the Petri dish as well:
"The discovery was the lid," said Moselio Schaecter, a microbiologist and adjunct professor at UCSD and San Diego State University. "The way (many earlier scientists) had worked was with plates stacked with glass rods separating them, the whole thing put under a glass bell. It was about as awkward as could be. You couldn't keep anything from becoming contaminated."
The article contains a nice overview of not only the history of the Petri dish, but also novel current uses (examining drug toxicology in cultured liver cells, for instance) and potential future uses (fake meat, anyone?). There's also the suggestion that the Petri dish may lose its usefulness one of these days:
Shugang Zhang at the Massachusetts Institute of Technology's Center for Biomedical Engineering argues that the two-dimensional dishes limit what scientists can learn about - and do with - three-dimensional life.

"The time has come to move on," he said.

Zhang and colleagues have done so, culturing stem cells on tiny three-dimensional scaffolds composed of protein nanofibers, each 5,000 times smaller than a human hair and containing pores up to 20,000 times smaller than the eye of a needle.
They suggest that computers will eventually replace the dish:
Some observers of the biological sciences say it may be possible, perhaps even probable, that the petri dish will ultimately disappear altogether, that computer models will replace live cultures.

Computer modeling has come a long way, agreed Potter at Georgia Tech. "We use it ourselves. But one of the reasons we still use petri dishes is to answer the questions modelers don't know.
Exactly--and this is why live cultures are still so important. Models are a great way to explore things, but they're only as good as the data that they're built on. If this is incomplete or lacking, the model will be much less robust. We're still only scratching the surface as far as understanding pure cultures of microbes, much less how they interact with other organisms in their environment--and to really dig into this, we need live cultures. I doubt that I'll see the disappearance of the Petri dish during my career.
Image from http://www.miniscience.com/kits/LAB1A/Petri-dish.jpg