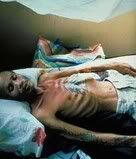 Mycobacterium tuberculosis infection is as old as civilization. The bacterium infects approximately a third of the world's population--roughly 2 billion individuals. It's estimated that 8 million new cases are contracted each year--around a new infection every second. ~2 million individuals die as a result of TB every year. The bacterium also plays a prominent role in the history of microbiology: it was on March 24, 1882, that Robert Koch announced his discovery of the causative agent of the dread disease tuberculosis:
"If the importance of a disease for mankind is measured by the number of fatalities it causes, then tuberculosis must be considered much more important than those most feared infectious diseases, plague, cholera and the like. One in seven of all human beings dies from tuberculosis. If one only considers the productive middle-age groups, tuberculosis carries away one-third, and often more."
Unlike many other feared infectious diseases of Koch's time, TB still remains a significant killer worldwide, and its effect has only been exacerbated by the AIDS epidemic. However, a concentrated effort is being made to again attract attention to this bacterium.
The epicenter of new TB infections remains in Africa. However, India is also hard-hit: approximately a quarter of new TB cases today come from this country. Additionally, as mentioned, TB has surged due to the HIV epidemic. Typically, only approximately 10% of those infected will ever show clinical symptoms of disease; the rest are infected asymptomatically. One can transition from an asymptomatic to a symptomatic infection due to suppression of the immune system; therefore, clinical TB is common in carriers with HIV co-infection. Indeed, in some areas, the majority of their TB cases are in individuals who are HIV-positive.
What's worse is that in the country with the highest rate of HIV-positivity, South Africa, a deadly new strain of TB has been identified. I mentioned here an outbreak of highly drug-resistant TB (so-called "XDR-TB") that had caused an outbreak in the country. Now it's spreading, putting neighboring countries--and indeed, the world, as most of the TB diagnosed in the US was contracted elsewhere--at risk.
The whole situation is, admittedly, depressing. But there are some bright spots. For one, most TB is treatable. However, the bacterium is extremely slow-growing, so treatment regimens take many months (and a variety of drugs) to complete. Still, those who are symptomatic are just the tip of the iceberg--to really make inroads, we need more effective education and prevention. The current vaccine simply isn't effective enough, and while progress has been made on a novel vaccine, it's still not ready for prime-time. In some areas, a diagnosis of TB carries with it significant social stigma, to the extent that people flee rather than be treated when they're told they have TB.
Nevertheless, there are people working to reduce the impact of TB. StopTB.org has a wealth of resources about the bacterium, the disease, and policy aimed at reducing it, including this sheet that lays out 3 key areas where work is needed: 1) investment of funds; 2) research into new TB drugs, diagnostics and vaccines; and 3) education and empowerment in areas that are hard-hit by the bacterium. The page is necessarily simplistic, but it's a good place to start for an overview of what needs done. They also have a BBC-produced movie that may be of interest to readers: Kill or Cure:
The documentary's primary focus is on DOTS [Directly Observed Treatment Short-course] in Rajasthan, India and on TB/HIV in Malawi, with scientific commentary provided by Dr. Douglas Young, chairman of the Stop TB Working Group on New Vaccines. But a strong sub-theme running throughout the film, and which is explicitly articulated by Young as a final note, is the urgent need for new tools -- drugs, diagnostics and vaccines -- in order to turn the tide against the epidemic. The documentary therefore provides a true 360-degree view on the contemporary challenges of TB control, and can be a powerful advocacy tool for all Stop TB partners.
Finally, TB is relatively rare in the US (compared to worldwide figures, anyway). Still, "rare" for TB amounts to ~15,000 cases diagnosed in the US in 2003, and it's estimated that over 10 million carry the infection. Because of its low priority in the US, it has been highly vulnerable to cuts in funding from the government, even though it's been pointed out that's bad policy:
"Funding for TB control is like keeping the New Orleans levees in good repair to prevent flooding. When we let our guard down, the disease predictably moves in and quickly," said Norman H. Edelman, M.D., chief medical officer of the American Lung Association.
To counter this, Sen. Barbara Boxer of California (a state hit heavily by TB due to its large immigrant population) and Republican Gordon Smith of Oregon introduced the Stop TB bill this past week. It proposes funds to support StopTB's goals and 10-year TB plan. WIll its bipartisan introduction be enough to push it through? Politicians are notorious from not learning from history, and for being penny-wise and dollar-foolish, particularly when it comes to support for public health. As always, you can try to educate your own senators about the importance of this problem by finding their contact information here. With a problem this massive, every little bit helps.
Image from http://www.redcross.org/static/file_cont1743_lang0_764.jpg