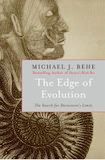 You've probably already seen a few reviews of Michael Behe 's new book, The Edge of Evolution. I've barely cracked open my review copy yet, but I already know that one example that features prominently throughout the book is malaria (hence my interest in it, moreso than any more "irreducible complexity" or bad math). However, Nick's already managed to take away some of my interest even in the malaria angle, dang him. More below...
One of Behe's arguments, much like in Darwin's Black Box, centers on "irreducible complexity" in the construction of cellular flagella (and adds eukaryotic cilia into the mix this time 'round). His argument is, essentially, that there are a host of proteins that must function together for cilia formation--and it's not just the proteins that make up the cilium itself, but also the proteins that transport the building blocks responsible for its formation ("IRREDUCIBLE COMPLEXITY SQUARED!", as Behe calls it). The complex that transports these cilia building blocks--the intraflagellar transport (IFT) system, Behe claims:
...exponetially increases the difficulty of explaining the irreducibly complex cilium. It is clear from careful experimental work with all ciliated cells that have been examined, from alga to mice, that a functioning cilium requires a working IFT.
So, no working IFT, no functional cilia, right? However, Nick brings up a paper (hand-waved away by Behe) which found that one species of organism lacked genes for the IFT, but produced cilia anyway. Back to Nick:
Oh, I almost forgot the best part: Which apicomplexan critter is it that builds cilia despite Behe's declaration that "a functioning cilium requires a working IFT"? Why, it's Plasmodium falciparum, aka malaria, aka Behe's own biggest running example used throughout The Edge of Evolution. Yes, it's the very critter about which Behe wrote on page 237,

"Here's something to ponder long and hard: Malaria was intentionally designed. The molecular machinery with which the parasite invades red blood cells is an exquisitely purposeful arrangement of parts."

But not, apparently, the parts which Behe thought were required for cilium construction. If there is an Intelligent Designer up there, I suspect He's having a bit of a chuckle right now.
Classic.