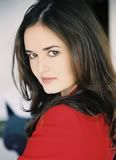 Yesterday I reviewed Danica McKellar's forthcoming book, Math Doesn't Suck. When I contacted the book's publicist about receiving a review copy, I also inquired about an interview with Danica, and she graciously agreed. Perhaps this will cover some topics brought up in the comments section of my book review as well, as she discusses her motivation for writing the book, and what she hopes girls get out of it (in addition to a number of other topics!) Enjoy, and thanks again to Danica for taking the time to address my questions.
Q: First, I'm curious about your goals in writing the book. I read the blurb on the back, but could you discuss in your own words what you're hoping will result from its publication?
A: I'd like to show girls that math is accessible and relevant, and even a little glamorous! This society constantly bombards us with damaging social messages telling young girls that math and science aren't for them. I want to show them that yes, math is for them, and my goal was to write an entertaining book that presents math in a fun teen-magazine style, to keep this subject in as non-intimidating and non-stuffy an environment as possible.
I want to see girls embrace math who never thought they could, and for them to understand the importance of developing a strong mind. Math is a fabulous mind strengthener - it's like going to the gym, for your brain! Most of all, I'm hoping to help girls strengthen their fortitude and feelings of self-esteem through finding the courage to tackle the often-challenging subject of mathematics. I want them to feel empowered; if they can do math, they can do anything!
Q. In the book's introduction (and in many places throughout), you emphasize brains over beauty, and improving confidence by building your mind rather than obsessing about physical appearance. Yet many of the examples used in the book reinforce stereotypes--loving diamonds, shoes, make-up, and shopping, for example. Are you sending mixed signals here?
A. The fact that it's not a mixed signal is exactly the central message of my book: Girls can enjoy being "girly" and "fabulous" alongside developing their brain - and in fact, in the book I develop the thesis that their brain happens to be their most important tool in becoming a fabulous young woman someday. They're not at odds; they can fit perfectly together. And the more they can be seen to fit together, the more girls will be attracted to math.
The media tells girls that math/science lovers are nerdy white males with pocket protectors, etc, and that girls ought to focus on looking like the women they see in magazines. While that's clearly a superficial goal, let's face it, things like makeup and hair products and fashion can be a lot of fun. Why should I be telling girls they have to shun all of that fun in order to develop their minds? It doesn't make sense, it certainly doesn't sound appealing, and it's not even realistic. I think most women would agree that it's fun to feel attractive and hip.
I don't want girls to feel like they are boxed in by any stereotypes - nerdy, superficial, or otherwise. Let them define the young woman they want to be, and if being attractive and fashion-savvy is one of their goals (which is indeed what they are taught by every advertising campaign that includes a picture of a woman), then the most empowering thing I can do for girls isn't to try to re-steer the ship, but rather to show them how being smart is an essential element to the young women they are in training to be... It can absolutely all work together. After all, keeping up with that shopping habit will be expensive, so they better study math and science so they can get a great job someday with a killer salary!
Q. What can be said to middle school girls, who tend to lose interest in math at that age?
A. Middle school girls tend to be extremely responsible, certainly more so than boys at that age, and they respond well to what they know is good for them. So in addition to showing them how math is used in day-to-day life, I'd explain this to them: Studying math is one of the best "brain exercisers" there is. Studying math not only prepares you for math/science careers, if that's what you choose to do, but it also quite literally makes your brain stronger. It's like going to the gym... for your brain. With a strong brain developed from studying math, you'll be better equipped to do whatever you want later on. And to top it off, smart is sexy!
Q. Do you think there are factors about how math is presented that inherently cause boys to be more interested than girls?
A. Math is often explained in terms palatable with activities historically popular with boys, like percents in the context of baseball averages. While there are plenty of sports-loving girls out there, those examples are still aimed mostly at boys... probably because they are written mostly by men.
Q. In addition to answering questions about math on your website, you serve as the national spokesperson for St. Jude's "Math-a-thon," which raises money for St. Jude's cancer research and treatment. How did you get involved there, and what have been your responsibilities?
A. Knowing my math history, St. Jude asked me to be the spokesperson for their "Math-a-thon" program - I guess it was about 2 years ago. Math-a-thon is like marathon, only instead of getting sponsored "by the mile," kids get sponsored "by the math problem" from a math workbook that St. Jude publishes. Math-a-thon combines two wonderful things - it engages kids to practice math, and it raises money for a wonderful hospital that helps kids recover from cancer. After asking me to be their spokesperson, they look me on a tour of their hospital and research facility, and I was even more impressed with the incredibly nurturing environment they create for the young cancer patients and their parents. It's so amazing that they give this kind of care at absolutely no cost to the kids' families! I'm very proud to support Math-a-thon and St. Jude, and I encourage all schools to consider integrating this wonderful program into their schedules.
In addition to talking about the program in various interviews, about once a year I fly out to the hospital (in Memphis, TN) to make promotional materials to help encourage teachers and schools to participate in the program - PSAs, videos, photo shoots for promotional pamphlets, etc.
Q. On a personal note, let me point out to readers who probably best remember you as Winnie Cooper from The Wonder Years that you headed off to UCLA after the show ended, graduated summa cum laude as a math major, were a coauthor on a published math theorem, and continue to advocate for females in math and science education. (And, of course, you're still acting on top of all of this). This is quite a contrast to many celebrities today, where superficiality seems to rule the day. How did you manage to stay so grounded and become an accomplished scholar to boot, when the transition from child actor to adult seems to go so badly for so many?
A. I attribute much of my staying grounded to my parents, who always made sure to emphasize the importance of schoolwork. Acting was treated as a hobby, and not as the thing that made me "special." I think a lot of poor kids who are child actors get praised again and again for their acting, and aren't praised or encouraged in other areas. So when their acting jobs stop, they feel that they don't have anything else to offer, and their self-esteems simply tank. I love my parents very much, and am so grateful to them for always reminding me what was really important in life: being a good person, developing education and intelligence, and making a contribution to society whenever you can.
Image from http://www.stanford.edu/group/gender/People/images/McKellarHeadshot.jpg