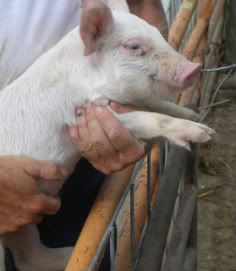 As I've mentioned, this has been a busy year. In the span of 3 months, 3 small grants were funded; enough to keep me busy for the next year. Though my training prior to arriving here was almost exclusively in bench microbiology (mostly molecular microbiology/molecular epidemiology), I knew when I took my current job that I wanted to expand that and go beyond just examining whatever samples someone else had on hand, and set up my own studies. Being Iowa, a big focus of our work is rural health and agriculture, so this has taken me out to cattle and pig farms--previously with a technician who worked for me, and a large animal veterinarian who we work with. This summer so far it's been just me, my grad student, and our summer interns (including some who'd never been on a farm before)--pictures included after the jump.
For our first farm, the farmer/owner was too busy to help us (understandably so; it was just him and a helper to take care of the entire farm, which included pigs, cattle, and crops). So he left us 10 sows that he'd put in crates for us to swab, and 24 young pigs (~12 weeks old and roughly 40-50 pounds) in a mostly fenced-in area. (I say "mostly" because there was one corner where the pigs were small enough to squeeze under, so we had to "guard" that corner to make sure none escaped). I wish I'd had a video camera (or more time to take photos, period)--myself and 3 grad students chasing around two dozen very fast piglets with cotton swabs for the better part of an hour.
Earlier this week in another part of the state we did get the assistance of the farm owner, who was a great sport. He rounded up the sows for us, and even hand-delivered the piglets, so things went much quicker than playing catch-the-pig. His whole family even consented to swabbing--including his dog.
Most importantly, though, I think the students learned quite a bit about the realities of field work (including the potential to get covered in shit during sampling). We ran the study out of my trunk, and so they got to not only take samples (including nasal swabs from the pigs, and nasal and pharyngeal swabs from the farmers) but also get trained in informed consent and the basic logistics of conducting a field study...and we had some fun along the way.
Tracy's first encounter with swine: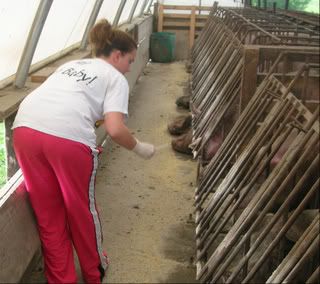 The running of the piglets: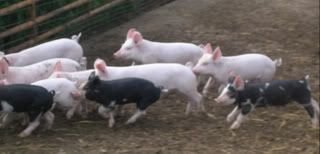 Phil tries his hand:
...and Eric...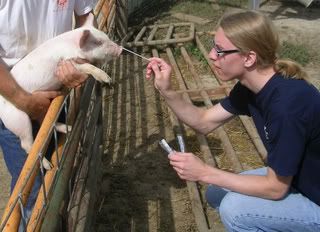 ...and Abby (who earned the title "pig whisperer" after our first farm adventures)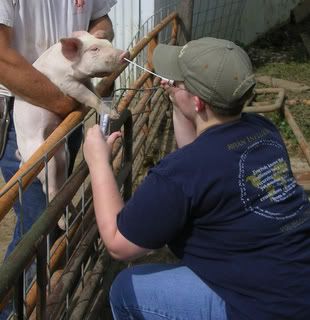 Lisa models the latest farm fashion:
Phil and I swab the sows: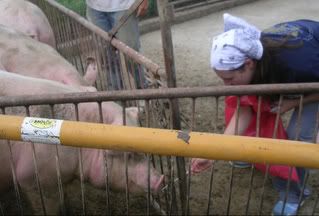 Only about a dozen more farms to go...