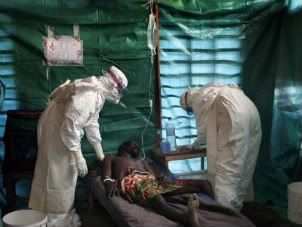 Few things can take me out of blogging hibernation (especially when the next grant deadline is Monday...) However, one of those things that I'll carve out time to write about is an interesting, hot-off-the-presses Ebola paper, and especially one describing a new strain of the virus--and there just happens to be such a paper in the new edition of PLoS Pathogens. Details after the jump...
Previously, 4 types of Ebola viruses had been identified. Ebola Zaire has typically been the worst as far as fatality rates (around 80-90%), with Ebola Sudan coming in close behind (roughly 50-70%). The other two types are both more rare and, to date, far less lethal. Ebola Reston was discovered in monkeys imported into the U.S. for biomedical research, and hasn't caused any known disease in humans (although several workers exposed to the infected animals did develop an antibody response to Ebola Reston, showing they had apparently been subclinically infected). Only one case of infection with the Ivory Coast strain of Ebola has been found to date: a scientist who had done a necropsy on an Ebola-infected chimpanzee later became ill. This was in 1994, and represents the last time a new Ebola subtype has been described.
However, there were rumblings of this new species of Ebola last year when I blogged about an Ebola outbreak in Uganda. This outbreak likely started in late August or early September of 2007, and was declared over in February 2008 after causing 149 suspected cases and 37 deaths (25% mortality, although the figure of 36% is given in the paper due to ongoing studies).
However, when researchers stepped in to investigate this outbreak, they noticed something funny. Antibody tests were coming back positive, but the initial tests looking for virus using a sensitive real-time PCR assay were negative. Using a less specific PCR assay, they carried out some preliminary work looking at a different area of the virus (the L gene), and found that its sequence didn't match any of the known Ebola types. To confirm this, investigators used "pyrosequencing" to determine the nucleotide sequence for more of the genome--a rapid method that gave them most of the viral genome in just a few days. From the draft genome, they were able to develop new primers specific for the novel virus strain (designated "Bundibugyo Ebolavirus") and therefore, have a new PCR test specific for this emergent Ebola strain.
They also compared Bundibugyo to other Ebola subtypes, and found that it was most closely related to the Ivory Coast species. This is interesting, as the area of Uganda where this outbreak took place was near the DRC border, and Uganda borders Sudan as well--and yet the Bundibugyo subtype was fairly distantly related to the (geographically more proximal) Sudan and Zaire strains. This despite the site of isolation of the Cote d'Ivorie strain being, by my very crude estimation, about 2400 miles away from Bundibugyo--just showing again how little we know about Ebola virus ecology. This brings up all sorts of unanswered questions--what other Ebola strains are circulating in Africa? Will we eventually find all of the current subtypes (and more new ones?) in fruit bats, as we have for Ebola Zaire and the other filovirus, Marburg? Why does the Bundibugyo type seem to cause less mortality in humans than the Zaire and Sudan strains? Would we see a similar phenomenon if the Cote d'Ivorie strain were to cause a large human outbreak? As always with filovirus research, this new paper brings up more new questions than it answers.
Jonathan S. Towner, Tara K. Sealy, Marina L. Khristova, César G. Albariño, Sean Conlan, Serena A. Reeder, Phenix-Lan Quan, W. Ian Lipkin, Robert Downing, Jordan W. Tappero, Samuel Okware, Julius Lutwama, Barnabas Bakamutumaho, John Kayiwa, James A. Comer, Pierre E. Rollin, Thomas G. Ksiazek, Stuart T. Nichol (2008). Newly Discovered Ebola Virus Associated with Hemorrhagic Fever Outbreak in Uganda PLoS Pathogens, 4 (11) DOI: 10.1371/journal.ppat.1000212
Image from http://www.javno.com/slike/slike_3/r1/g2008/m02/y164330786683117.jpg