This is Emily: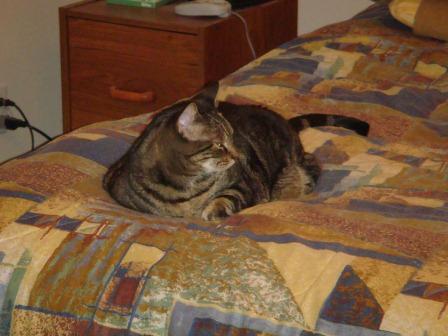 She sure does look comfortable, doesn't she? And why shouldn't she be? In a tour de force of inductive reasoning she figured that today would be like the previous 364 consecutive days, at least to the extent that I wouldn't even consider stuffing her into a box and bringing her out to my car.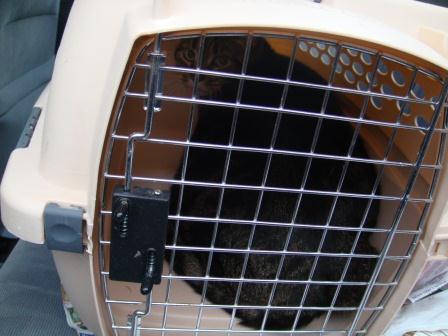 But she was wrong.
"Why is God angry?" she asked.
I explained that while this sudden intrusion into her happiness may seem incomprehensible form her limited, feline perspective, she should remember that I can see the big picture. I understand, in a way that she cannot, that this highly short-term suffering is necessary to permit greater flourishing in the future. In the meantime she should know that I, as a merciful God, suffer along with her.
At which point she decided to show me precisely what I was shoveling. (I'll spare you the photo.) The joke was on her, of course, since that little stunt meant she would need a bath when we got home.
No doubt you have guessed where we were going. It was time for her annual check-up.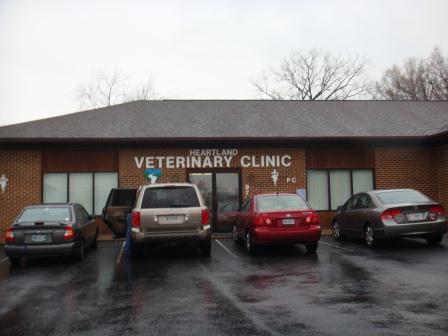 It was mostly dogs at the vet that day. While in the waiting room listening to Emily's anguished meows, I witnessed this little stand-off: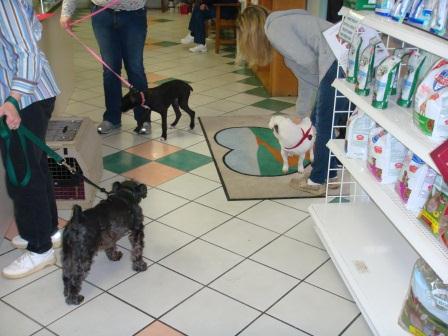 Smoky the schnauzer there was not at all pleased with all the company. He was growling and snarling, but no one else seemed to care.
A short-time later this little fellow emerged from one of the examination rooms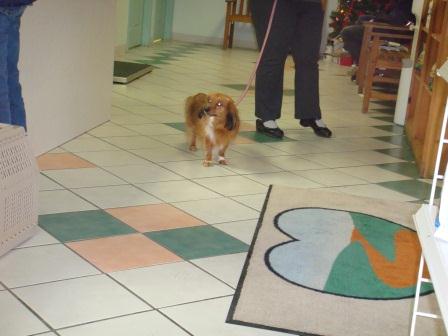 His indignities were done for the day, and he stared longingly out the door while his owner settled up.
Pretty soon they called for Emily and we entered one of the examination rooms. You might think that, with all the trouble Emily gave me about going into her carrier in the first place, she would be eager to walk on out as soon as I opened the door for her. But no! Suddenly she decided she liked the carrier just fine.
So we disassembled it and went in from above. The technician weighed her (she's tipping the scales at fifteen pounds these days), and then, noting Emily's advancing age, recommended that it might be a good idea to do a blood panel. I assured her that Emily would simply be delighted to give up some blood, and the technician promptly disappeared with her into the back.
A few minutes later they returned. The technician placed Emily on the examination table and then told me the vet would be in soon. I was content to wait patiently, but Emily decided it was time to make herself scarce. She jumped to the floor and went looking for a place to hide. This was the best she could do:
Sadly for her, the vet found her there. She got Emily up on the table and put her through a number of humiliations, such as having her heart listened to: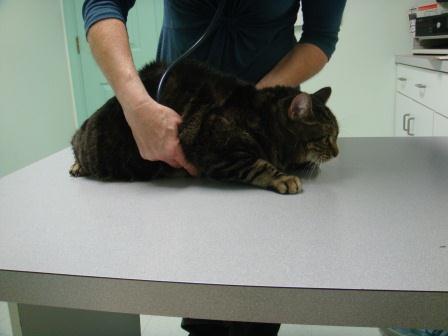 By now Emily had gone completely to her happy place, and was mostly just waiting for it to be over. Notice her skill at being completely motionless: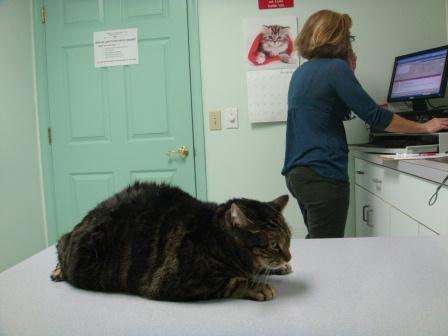 Then it was back in the box in preparation for the trip home: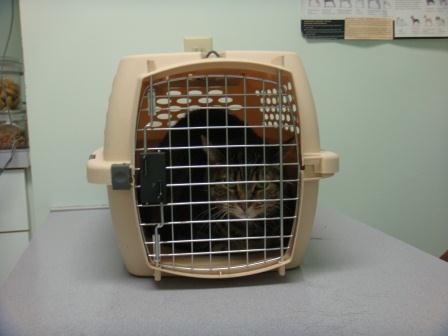 In the meantime, Zeus, a boxer/bulldog mix, had come in. He was making friends with anyone who got close to him: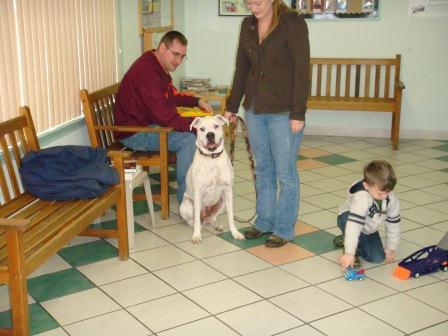 After getting Emily home, I brought the carrier into the bathroom. This time she walked out of the carrier on her own, but I had cleverly closed the door to keep her from leaving. That struck her as ominous, so she once more looked for a place to hide: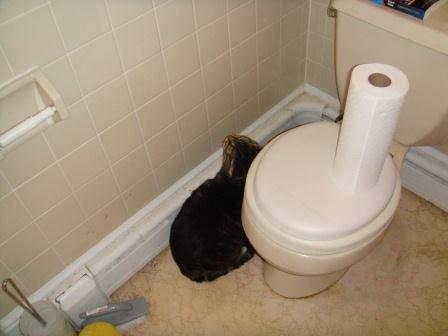 I put some water in the tub. I put some shampoo in one hand and picked up Emily, as gently as possible, with the other. Then we all got into the tub. She tried to impress me with how loud she could be, but after a few perfunctory struggles she seemed resigned to her fate. I had her pretty well scruffed, and she figured out quickly that she wasn't going anywhere.
Roughly twenty seconds later the nightmare was over. I let her go, and she promptly jumped out of the tub. She was sopping wet, but clean and smelling like Head and Shoulders. I dried her off with a towel as best I could and then let her out of the bathroom. She kept flicking her paws and lapping up the water as best she could. It was very cute: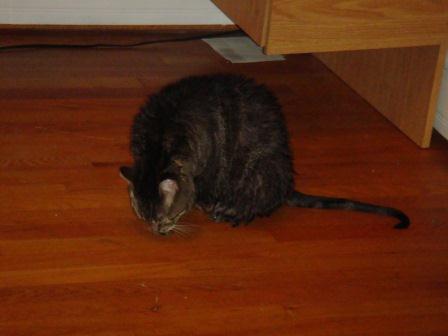 At this point I had to start preparing for the day's next adventure. I was spending the evening with some friends, in honor of the second night of Hanukkah. I decided to make Kasha Varnishkes, a classic Jewish side dish I discovered by googling "Jewish side dishes."
If you're unfamiliar with the dish, it's basically buckwheat groats, onions and bow tie pasta, with some seasoning. Preparing it required a trip to the supermarket to pick up a few ingredients I needed, especially the buckwheat, onions and pasta. I had hoped that Emily would mostly be back to normal when I returned, since she tends to live very much in the moment. Alas, her instinct after stressful events is to find a place to hide. When I got home I found she had chosen the darkest, dirtiest corner of the basement for that purpose:
Oh well. Best just to leave her alone. I prepared my side dish. I have never made this recipe before, but I think it worked out OK: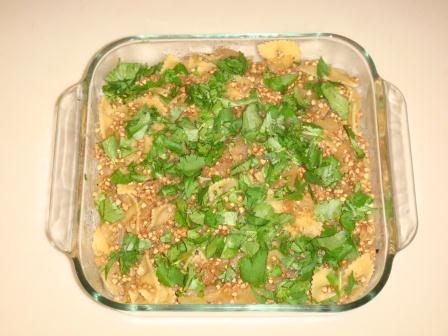 That's cilantro on top. Parsley is more traditional, but I think cilantro tastes better. If anyone is familiar with this dish, perhaps you could tell me what the buckwheat is supposed to taste like. I left things a bit crunchy, but I think perhaps I should have cooked it longer. Whatever. It was pretty tasty and people seemed to enjoy it.
I spent several hours with my friends before returning home. I am happy to report that I found Emily, still somewhat damp, right back in her favorite hang out spot.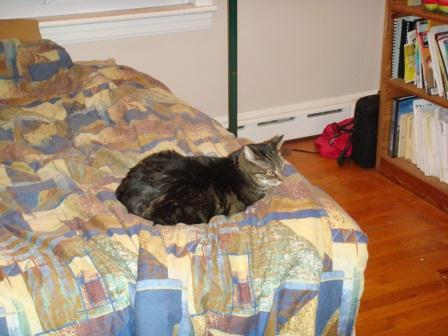 She seemed happy to see me and started purring vigorously when I pet her. So it looks like all is forgiven, and hopefully we won't have to do this again for another year.