The official publication date for the BECB (that's the big evolution/creationism book for those not up on the local slang) was April 10. Alas, as the tenth drew near I was dismayed to find that the book was only available for pre-order. My previous two books were both available two to three weeks prior to their official release date, you see. Then the tenth arrived, and I found that Amazon had the book listed as out of stock, with an estimated delivery time of one to three weeks. Drat. I sent an e-mail to my publisher, but, alas, have not yet received a reply. Today, however, I see that the book is listed as in stock, but with the possibility that your order will require one to two extra days to process.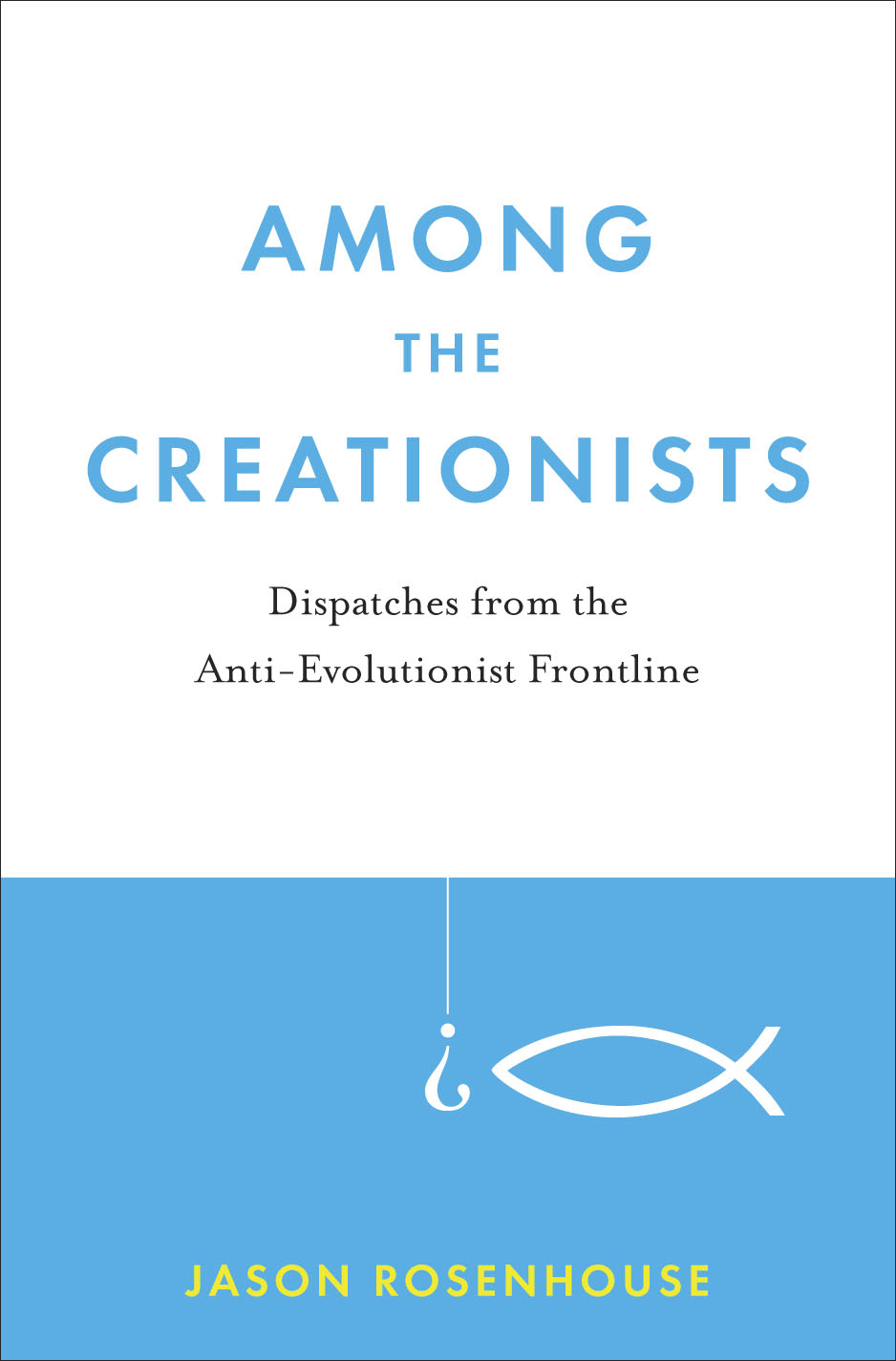 Close enough! So, with great fanfare, let me announce that my new book Among the Creationists: Dispatches From the Anti-Evolutionist Frontline, published by Oxford University Press, is now available in print form. (E-versions have been available since February.) The book has three main purposes. First, it is a collection of stories and anecdotes from my experiences attending creationist conferences over the last ten years. Second, it is an exploration of how creationists and ID proponents view this issue. And third, it is a discussion of broader topics in science and religion that arose naturally from my experiences with the creationists. Though I certainly leave no doubt regarding where I stand on a variety of contentious issues, the book is almost completely non-polemical. So go buy multiple copies and let me know what you think!
The back cover has blurbs from Eugenie Scott, Jerry Coyne, Paul Gross and Barbara Forrest, and they have my deepest thanks for their kind words. I have transcribed their endorsements below the fold.
Fascinating creatures, these creationists. Rosenhouse holds a magnifying glass to the various varieties of the species as he strolls through the thickets of confusion known as creationist conferences. Conversationally, he draws you into a world experienced by few secularists. His anecdotes are entertaining -- but also instructive about science, religion and philosophy. An enjoyable read, whether or not you know anything about the creationism/evolution controversy.




--Eugenie C. Scott, Executive Director, National Center for Science Education and author of Evolution and Creationism: An Introduction.
Those of us who battle creationism usually wage war on the Internet on paper, or in the courtroom. Rarely do we get to know our adversaries as people. Jason Rosenhouse is the rare exception. Equipped with remarkable empathy and a deep knowledge of evolutionary biology, he wades into creationist meetings, trying to understand the mindset that leads people to oppose one of the best supported ideas in science. The upshot is a remarkably readable chronicle that at once gives penetrating insights into the psychology of creationists while handily refuting their arguments.




Jerry Coyne, Professor of Ecology and Evolution, University of Chicago, and author of Why Evolution is True
From the plain foolishness of equating `Darwinism' with every social evil, to the serious implications of naturalism as viewed by theists, the author reports, documents and then offers humane and honest judgment on the validity of the arguments. Serious evolutionists will find endless utilities on this handsomely written work.




--Paul Gross, University Professor of Life Sciences, emeritus, University of Virginia, and co-author with Barbara Forrest of Creationism's Trojan Horse.
This is a terrific book. Rosenhouse's incisive but accessible analysis of the never-ending problem of creationism treats the theological and scientific contortions of its promoters with both humor and pathos. His firsthand familiarity with rank-and-file creationists has enabled him to craft a response that combines a truthful account of how utterly misguided they are scientifically with a respectful recognition of their humanity.




-Barbara Forrest, Professor of Philosophy, Southeastern Louisiana University and expert witness for the plaintiffs in Kitzmiller v. Dover.