I'm back in Virginia again, after another successful trip. This time I was mostly in Kentucky, visiting various friends.
It's a shame that nowadays Kentucky is known primarily for bourbon, horse racing and creationism, since it's really a very beautiful state. Among my ports of call was Morehead, KY to visit my friend Robin. She's in the math department at Morehead State University. She showed me around the area, including a stop at this lake, right on campus: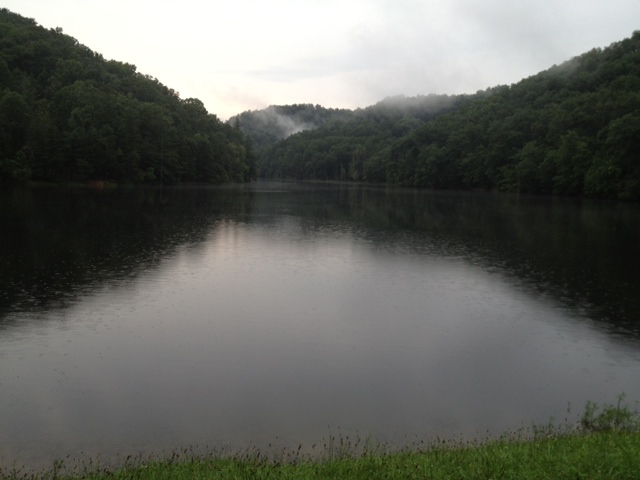 Not bad, but it was just a warm-up for what came next. Robin took me out to Lockegee Rock, in the Daniel Boone National Forest. It was probably for the best that she didn't tell me where we were going. Getting there involved a hike through the woods, which were muddy and slippery because it had poured rain earlier in the day. Then we came to some impressively vertical rocks that we proceeded to climb up. At this point I asked Robin, with some dismay, if we were planning to return the same way we were about to go up. Turns out we were.
Happily, though, it all looked worse than it actually was. And if you make it to the top of the rock you are rewarded with this: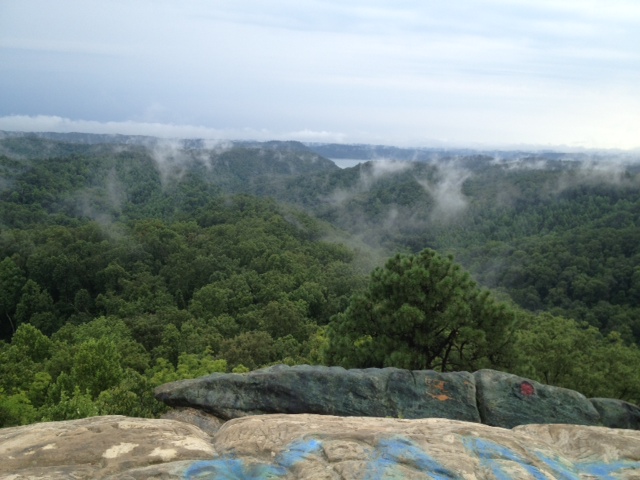 That's pretty spectacular, and I assure you the photo doesn't do it justice.
Speaking of spectacular, Robin's an excellent chef and insisted on serving me a home-cooked meal. So, taking a page out of Jerry Coyne's playbook, here's what we had for dinner the first night I was there: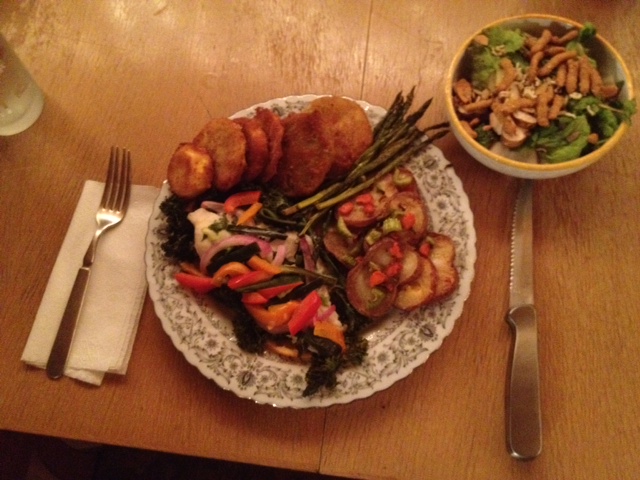 That's catfish served on a bed of kale surrounded by a variety of other veggies, a mixture of fried green tomatoes and fried squash, asparagus, and baked, thinly-sliced potatoes. Yum!
Oh, and I made the salad.
See what I mean by a successful trip?