My cat, Emily, tends to get a bit sulky when I leave her for long periods of time. So when I returned home from New York the other day, having been gone for a week, I was not surprised when she did not greet me at the door. Par for the course, I thought. She'll appear on her own in five to ten minutes.
When fifteen minutes went by and she still had not appeared I decided to go hunting. My first pass around the house was unsuccessful. Emily was not in any of her usual hiding places. Then I heard meowing. It was weird since it sounded like it was coming from directly underneath the floor. I went down to the basement, and sure enough, I found my cat: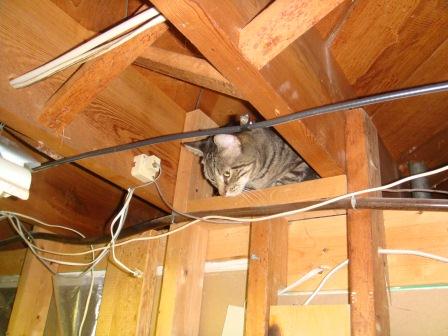 How did she get up there? Here's a wider shot, to give you some idea of the heights we're talking about: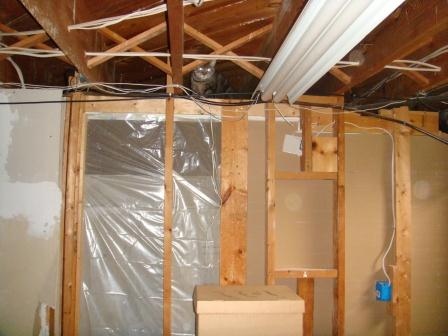 So, again, how did she get up there? I freaked out when I figured what must have happened. I'm currently having my main, upstairs bathroom completely redone, and much of the initial demolition work was completed while I was away. That included ripping out the old tub and removing the old tiles from the wall. That means there was probably a big hole in the wall for part of the time I was gone. Emily must have climbed in to investigate, and then got trapped when my contractor, oblivious to her presence, put in the new tub.
I no longer think that's what happened, but more on that in a moment. Emily didn't seem panicked at all, and she wasn't sitting in her own filth or anything like that. When I held out some food to her, she took it, but it did not seem like she was starving. So I decided she could not have been up there for very long.
That was some relief, but how to get her down? She could probably have just jumped, since the ceiling really isn't that high, but she seemed very reluctant to do that. She kept meowing at me and sticking her paw out. That box you see at the bottom of the second photo was part of a tower I built for her to climb down, but she mostly just gave me a "What's that for?" look. The armstrong approach -- in which I grab her by the scruff of the neck and yank her out -- was always an option, but I was hoping for something less drastic. Then I remembered there was a small panel in one of the upstairs closets that allowed access to some of the pipes. I removed that panel, and moments later Emily's little face appeared from underneath the floor. I looked despairingly at all the pipes between her and freedom, but I needn't have worried. She bent and twisted and turned and flexed and eventually did a little cat pull-up to extricate herself. Then she meowed triumphantly and acted as though this was her plan all along.
That takes care of that, I thought. I closed up the panel and the closet, and since the hole in the bathroom wall no longer existed I figured that was the end of it.
The following day my contractor arrived. Emily immediately ran away, since she always hides from noisy strangers. Whatever, I thought, let her hide. Then I heard a sound coming from the basement. The best description I can give is that it sounded like a cat climbing up a wall. I went downstairs, and sure enough Emily was back in her little nook. There's a table she could have used to get part way up, and from there I think she pretended that those wooden beams were trees.
This must be why people have their cats declawed.
For now I'm simply leaving that panel out and the closet door open. That way she can come and go as she pleases. I think when things get back to normal she won't be climbing up there any more, since that's the sort of place she only goes when she's hiding from especially scary strangers. Otherwise I guess I'll have to concoct some sort of barrier to keep her out of there, since I sure don't to have to leave that closet door open all the time.