Jerry Coyne is is on tour for his new book Fact Versus Faith: Why Science and Religion Are Incompatible. That title's a little vague. What do you suppose the book's about?
It turns out that he was making a stop in Washington DC. Since that's not so far from my digs in Harrisonburg, I decided to go. Then again, much as I love Jerry, DC is far enough so that I wouldn't make the drive just to see him. So I found someone to proctor the exam I was giving in my summer course, and decided to make a whole day of it.
Of course, since this is a post about Jerry Coyne, I feel honor bound to show you what I ate. So my day started with lunch at DC Noodles, one block from the U Street Metro stop (on the green/yellow line):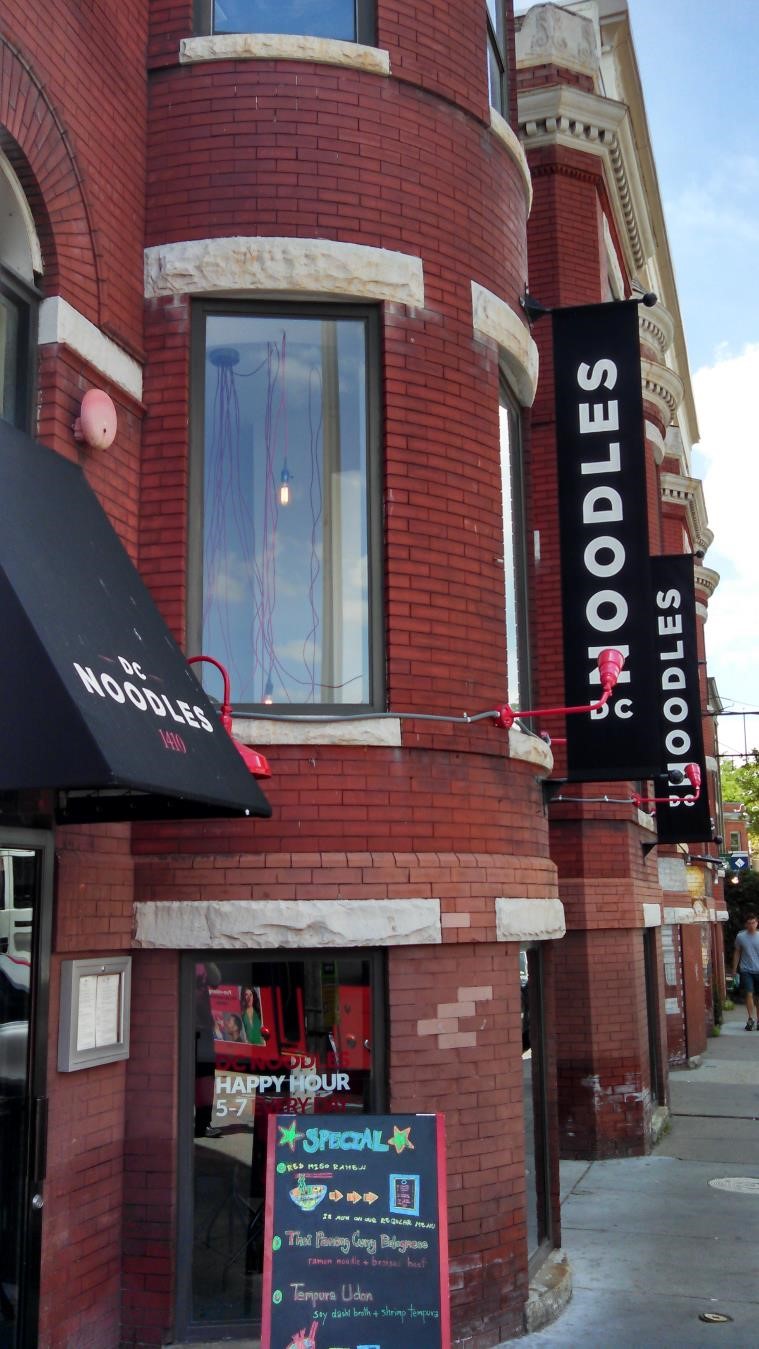 It's a really excellent Asian-style noodle shop. Check out this magnificent bowl of soup I had: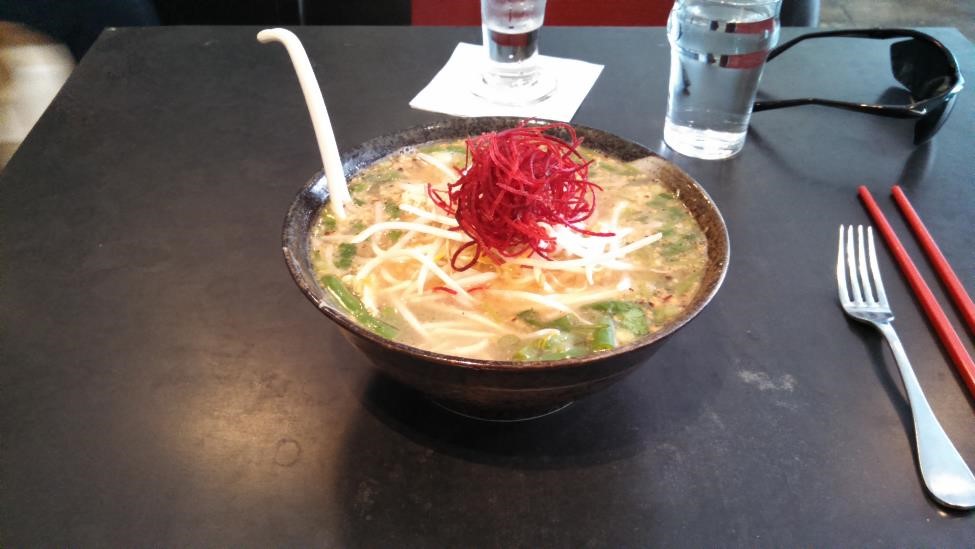 Yum! I chose well. Another good thing about DC Noodles is that if you walk one more block you come to this: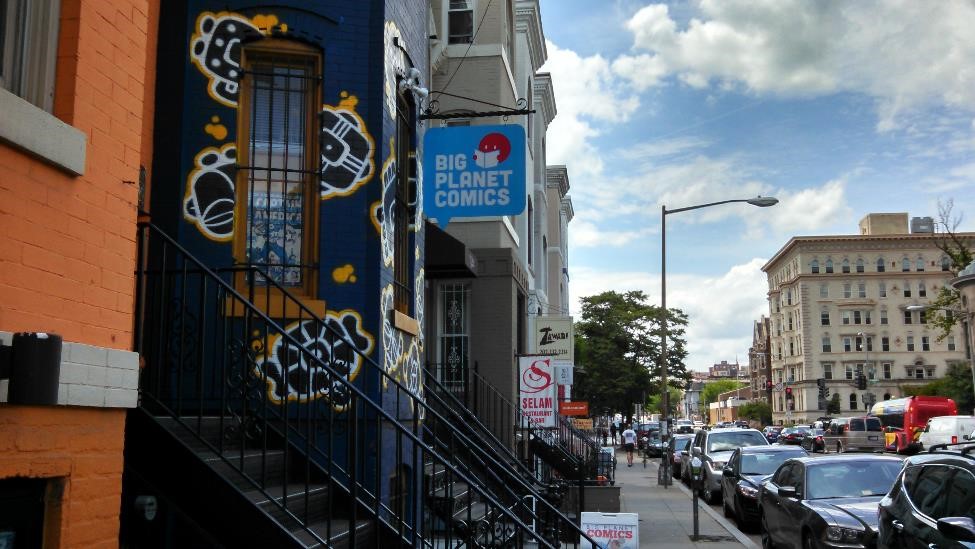 See how skillfully I planned my afternoon! Killed close to an hour browsing. Added to my Spider-Man collection, and made a few impulse buys.
I decided to continue with the bookstore hopping, so next up was Second Story Books, near Dupont Circle: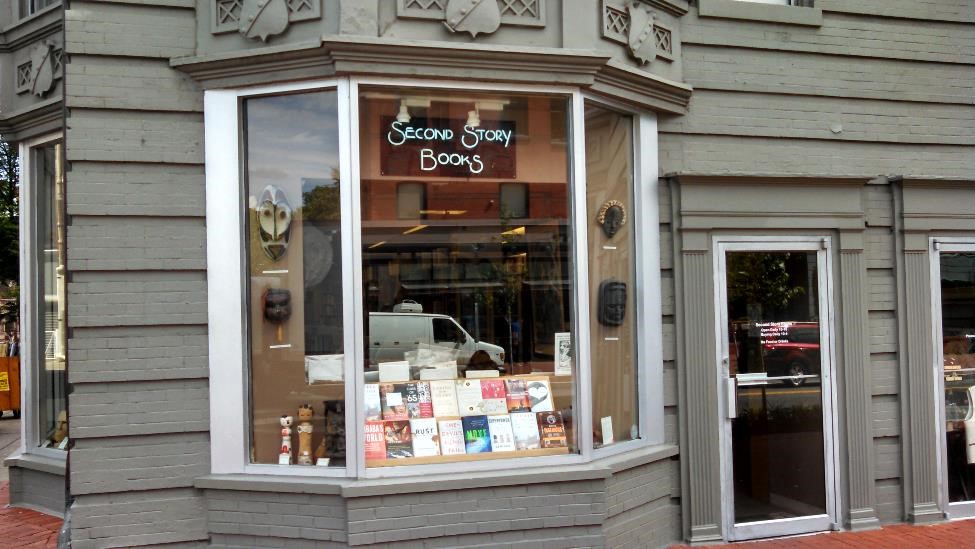 They're especially good with math, science and philosophy. My kind of place. Found a few items I just had to have.
Of course, this was all just a warm-up for the main event. As the evening drew near, I worked my way up to my third bookstore of the day. Politics and Prose was hosting Jerry:
I love Politics and Prose, but it's a pain to get to. The nearest Metro stop (Van Ness, on the Red line) is a good mile walk. So walk I did!
Then it was time for the big event. It was a decent-size crowd, and largely supportive.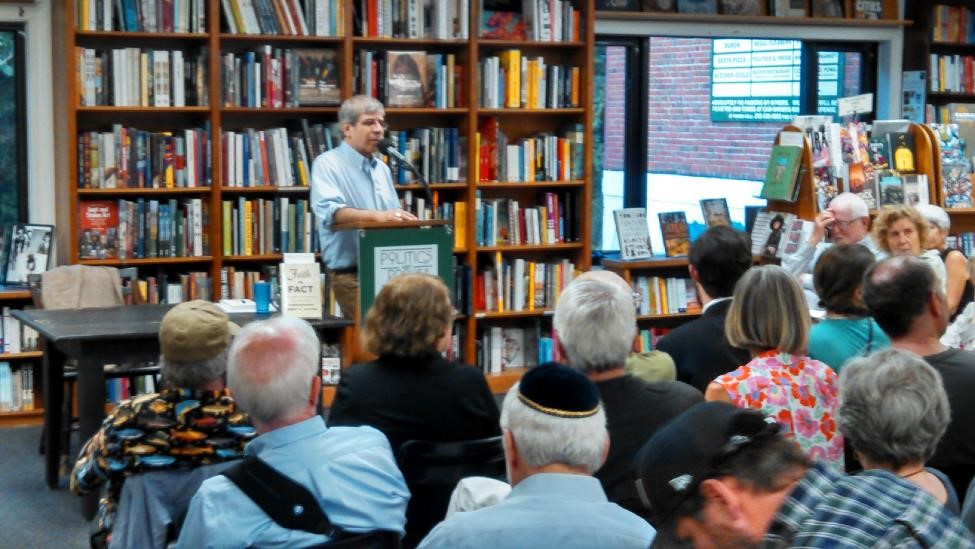 Jerry certainly was not hurting for autograph seekers. This fellow shown here was a high school student who credited Richard Dawkins and him with sparking his interest in evolutionary biology and atheism.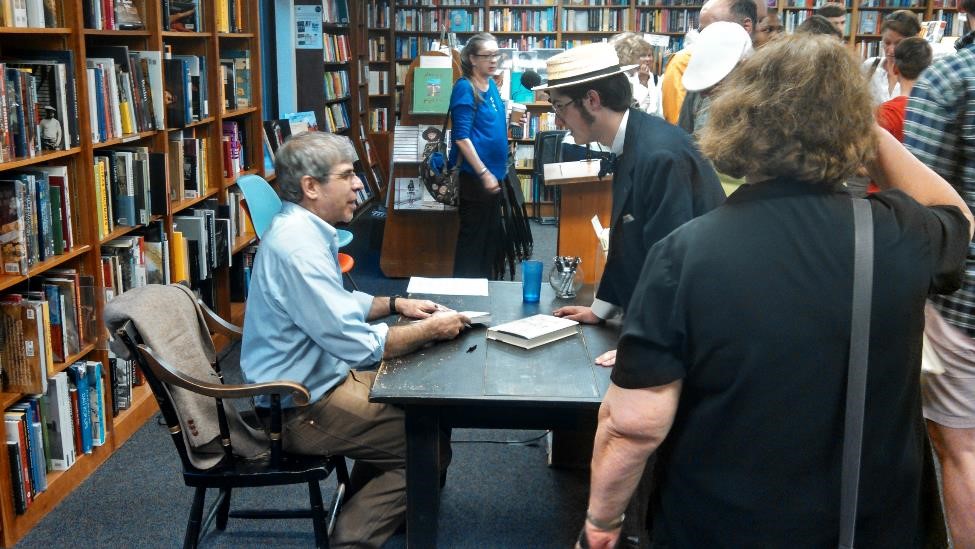 So how did the presentation go? Pretty well, I think. Jerry quipped at the start that his editor told him to talk about how the book came to be, rather than what was actually in the book. If you want to know what's in the book, you have to buy it and read it. So he talked about his experiences presenting evolutionary biology to students and to the public, and about the many times when people told him they could not accept evolution for religious reasons. He emphasized that science and religion have different approaches to knowledge, and that while science's methods are reliable, religion's methods are not. He also talked a bit about the doleful consequences of an excessive respect for faith, such as exemptions for people who deny medical care to their kids for religious reasons. He suggested that it should not be considered a compliment to describe someone as a "person of faith."
As I said, the audience was generally supportive. But not completely! The older woman sitting next to me kept shaking her head and muttering angrily every time Jerry said something juicy. There was no shortage of people at the microphones to ask questions. There were only two who were miffed though, and they both made similar points. The first was a nurse who talked about how often faith had helped her patients pull through. She referred to studies that had shown that patients who asked their doctors to pray with them before surgery had better results than those who did not. She also made the point that faith was important to her work, saying that she had faith that she was doing the right thing. She went on for a while, eventually building up to the idea that it was not really faith that was a problem, but narrow-mindedness on both sides. I suspect she had some firm ideas about who was being narrow-minded in this discussion.
The other challenging question came from an older man wearing a yarmulke. (If you look carefully you can pick him out in one of the pictures.) If I understood him correctly, he said he did not believe in God, but he found value in Jewish tradition and eventually became a rabbi. To me it sounded like he was talking about cultural Judaism, but then he started going on about the value of faith in ways that made it hard for me to understand his point. I got, though, that he felt Jerry had a very narrow idea about what faith was.
Jerry was a little less sure-footed in dealing with the critics. It seemed to me he got a little too exasperated with them, especially the nurse, when humor and a light-touch would have been more effective. One point he made though, that I agreed with, was that his critics were using "faith" in contexts where something like "confidence" would have been the better word choice. Thus, the nurse didn't really have faith that what she was doing was correct. Rather, she had confidence that she was correct, and this confidence was based not on faith but on experience, and the experiences of her colleagues.
So, that's the precis. I haven't had a chance to read the book yet, but I'm looking forward to doing so. After the talk I chatted with Jerry for a few minutes. He chided me for not blogging as much as I used to. I also got to meet his sister, who lives in Fairfax, VA. It was a lot of fun, and I'm glad I went.
By the time the talk ended I was ready for dinner. I selected the Taj of India restaurant in Georgetown. No small trip when you're starting from Politics and Prose, but well worth it. They make the best chicken vindaloo I've ever had. Good thick sauce, hot enough so you know it's vindaloo, but not so hot that you can't eat it. Alas, I was so engrossed in my dinner that I forgot to take pictures. So you'll just have to imagine it.
And that's it. But since this is a post about Jerry Coyne, I feel I have to include a cat picture. So here's Emily anticipating that I was about to sit down at the computer, making sure she had a front row seat.