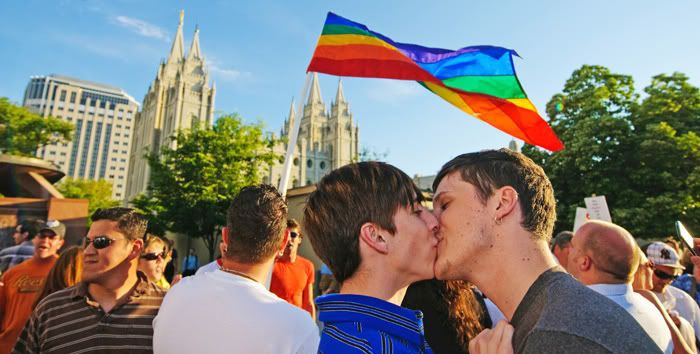 A gay couple kiss in front of the Salt Lake City Mormon Temple /
David Daniels
For the second time gay activists and allies held a kiss-in at Temple Square in Salt Lake City. The action held this morning was to protest the arrest of two gay men two weeks ago who showed "inappropriate" public affection on LDS Church property.
According to The Advocate:
Aune, 28, and Jones, 25, told the newspaper that they were walking back to their nearby home in the evening when they crossed the plaza holding hands, then stopped to kiss on the cheek. Several security guards arrived and told the couple that public displays of affection are not allowed on church property.

When Aune and Jones protested, they were handcuffed, and police were called. Aune and Jones were barred from LDS Church headquarters campus for six months.
The LDS Church claimed that the couple were engaging in obscene and lewd behavior. However, the police report states only that the church security guards reported they "observed Matt and Derek kissing and hugging on their property."
In the 1950s, in order to get around desegregation laws, racist Southern legislators would sell public land to private organizations in order to exclude black citizens. In a similar move, the Salt Lake City Council sold the Main Street public plaza to the Mormon Church in 2003. The Church then instituted a series of moral restrictions about what would and would not be acceptable under the watchful eye of Joseph Smith and his fellow polygamous patriarchs.
The LDS Church is framing this as an "equal opportunity" ban on affection. But in an interview with Aune the issue appeared to be far more about who was doing the kissing:
As Aune pressed officers to explain, the couple says as many as half a dozen security officers responded to the call. In between security officers allegedly telling the couple their behavior was "unnatural" and "just wrong," the pair were split up. Jones says he was forced to the ground on his stomach and handcuffed and that Aune was also detained and cuffed. Both, he said, were searched by church security.
This ban on affection is rather ironic considering the Mormon church originally moved out to Utah in part to avoid the legal proscriptions on polygamy in New York where Joseph Smith began his evangelizing. When the state of Utah threatened the LDS Church to end their practice or lose their religious exemption status the Church patriarchs miraculously received a "revelation" against multiple wives. A similar vision occurred in the 1970s when the federal government forced the LDS Church to eliminate their racist policies against blacks. Now they are attempting to hold on to their homophobia while the world changes around them. Unfortunately for them, magic underpants or no magic underpants, the Mormons are going to have to face the reality that civil rights trump their religious intolerance.
Video from today's action hasn't been posted yet, but last week's protest was covered by the local media in Salt Lake City.