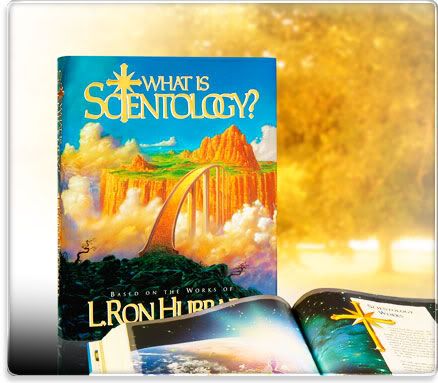 Earlier this week a classified Scientology contract was leaked (full pdf document here), revealing the paranoid nature of the Church. The document is entitled Application, Declaration and General Release Declaration of Religious Commitment and Application for Membership in a Scientology Religious Order and for Active Participation on Church Staff. This contract must be signed by anyone who wishes to engage in "active participation as a staff member within the Church of Scientology" as a Class V Org member.
Among the items they must agree to are:
8. I am not related to or connected with any intelligence agency, either by past history or immediate familial connection.

9. I do NOT have a parent or a guardian who is an antagonist of the Scientology religion, or of any organization devoted to Scientology applied religious philosophy.

10. I am not seeking a staff position to obtain material for dissemination to the public via press, radio, television, motion picture or other media. I do not seek to obtain data for any other organization or to disrupt the Church organization.

11. I do not have personal debts of a magnitude such that efforts to satisfy them would immediately disrupt or cause me to pull back from my commitment to the Church.
The document continues by insisting that the following points be individually signed, making clear that the Church is not obligated to follow state or federal labor practices:
I FURTHER UNDERSTAND THAT ALL CHURCH STAFF MEMBERS INCLUDING MYSELF, ARE MEMBERS OF A RELIGIOUS ORDER; THAT THEY SERVE PURSUANT TO THEIR RELIGIOUS OBLIGATIONS AND NOT IN CONTEMPLATION OF RECEIVING ANY COMPENSATION WHATSOEVER, AND IN DOING SO THAT THEY ARE FORSAKING ALL COMMERCIAL AND FINANCIAL MOTIVATION. PLEASE INITIAL __

EACH CONSIDERS HIMSELF/HERSELF A VOLUNTEER TO CREATE A BETTER WORLD, AND UNDERSTANDS THAT HE/SHE IS NOT AN EMPLOYEE, I.E. IS NOT ENTITLED TO RECEIVE SECULAR BENEFITS SUCH AS A MINIMUM WAGE OR OVERTIME COMPENSATION. PLEASE INITIAL __
As if that weren't enough of an incentive to join, the document then goes on to warn the applicant of what will happen if they break their agreement:
7. BREACH OF COVENANT. If a staff member . . . breaks his agreement either by leaving staff before completing his commitment [either 2 1/2 or 5 years] or by violating his good standing as a Scientology staff member so that he is dismissed in accordance with policy, he or she shall remit forthwith to the Church a penance for violation of this covenant in accordance with the ecclesiastical policy of the Church if such person is declared a "freeloader". [...]

9. ENTIRETY OF COVENANT. The Church shall not be obligated to honor any verbal promises or any other terms or conditions not specifically covered in this Covenant. This Covenant forms the entirety of the Church's agreement with the Church staff member, and promises no specific counselling, training, posts or other benefits to any Church staff member.
So the Scientologists make you honor your promise to shill for them and receive nothing in return (and then pay a "penance for violation" if they are in any way dissatisfied with you) but they don't have to honor any of their promises to you. How nice of them. Then, in the event that you might be dissatisfied with how they exploited you and kicked you to the curb, they make clear that any legal action is off limits:
B. I HEREBY RELEASE AND DISCHARGE THE RELEASES from all actions, claims or demands I, my heirs, distributees, guardians, legal representatives or assigns ever had, now have or may hereafter have for injury or damage resulting from or any way connected with my membership in the Scientology Religious Order, active participation on Church staff or association with the Releasees. [...]

I AM AWARE THAT THIS IS A RELEASE OF LIABILITY, COVENANT NOT TO SUE AND INDEMNITY AGREEMENT BETWEEN MYSELF AND THE CHURCH AND/OR ITS AFFILIATED ORGANIZATIONS AND/OR OTHER INDIVIDUALS, AND I UNDERSTAND AND AGREE THAT BY PLACING MY SIGNATURE AT THE END OF THIS DOCUMENT I SHALL BE BOUND BY ITS TERMS. PLEASE INITIAL __
So how about it? Want to be a Class V staff member in the Church of Scientology? Sign below in the comments to complete this legally binding agreement. May Supreme Galactic Overlord Xenu grant you a pleasant audit.