As a species we are consumed by love. Ask yourself, how many cultural productions (films, stories, songs, dances, arts) do not have love, the loss of love or the absence of love as their central theme? Would you be satisfied with what was left over? That fact that love has so much power over us is just one reason why evolutionary research is so fascinating.
A well-worn trope of human culture is mens obsession with female infidelity. Othello. Madame Bovary. Desperate Housewives. These are just three Western examples of this concern that are paralleled in nearly every society throughout time. Such powerful and universal human emotions suggest a biological commonality that can be revealed through a scientific lens.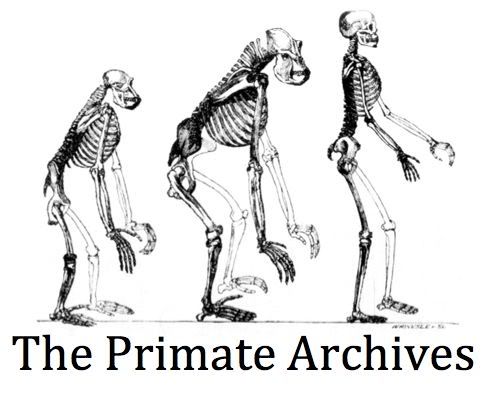 Past research has shown that women alter their sexual preferences based on where they are in their menstrual cycle. Women tend to be more prone to initiate sexual encounters during their ovulatory period when sex could result in reproduction. Further, in studies based on modern Western societies, women are more likely to fantasize about having sex (and make those fantasies a reality) with a man other than their current partner during this most fertile phase of their cycle.
A study published in Hormones and Behavior demonstrates that this increased sexual proceptivity is apparent simply by looking into a woman's eyes. Using 14 women (7 on birth control and 7 not) Bruno Laeng and Liv Falkenberg from the Department of Psychology at the University of Tromsø, Norway have shown that women's pupils dilate more widely to photos of men they were sexually attracted to during their period of greatest fertility.
The researchers had the women look at a computer screen during three different periods of their menstrual cycles to view photos of individuals of sexual significance (their boyfriend or a favorite actor) as well as individuals of unknown sexual significance (their favorite actress, a Norwegian weatherman or an elderly politician). Each time the photos appeared on the screen the women's pupil size was recorded using an infrared eye-tracking device. The authors determined that:
The findings confirmed the presence of cyclic differences in papillary diameters while watching facial portraits of sexually interesting individuals. Remarkably, the participants using contraceptive pills did not show cyclic fluctuations of pupil sizes.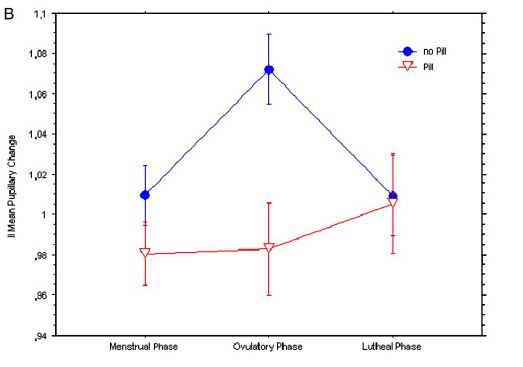 Pupillary change highest during fertile phase in women not on birth control.
Image from
Laeng and Falkenberg (2007)
The results suggest that using birth control flattens the responses by releasing higher levels of progesterone and suppressing estrogens during the fertile period. Also, testosterone, which peaks at midcycle and is directly related to sexual motivation, is suppressed in women on the pill and could negatively influence women's sexual desire (indeed, reduced libido is one of the common side effects of taking birth control).
Of the subjects not on birth control, the study found that women's pupils grew largest during their fertile period when viewing pictures of their boyfriend. A close second was the women's favorite actor.
Assuming that a favorite actor represents the most likely candidate for an extra-pair sexual encounter, an increased response to such a target of interest would be entirely consistent with previous reports that women (at least, in Western societies) report to be more prone to fantasize or have sexual intercourse with a man other than their current partner during the fertile phase of the cycle.
From an evolutionary perspective this is sometimes represented as the selective advantage between dads and cads. During most of their cycle women tend to be most attracted to men who demonstrate good paternal characteristics --- tender, patient, attentive, loyal --- qualities that are often present in individuals with lower levels of testosterone. However, during their peak of ovulation, women on average are more attracted to muscular and/or assertive men who are statistically more likely to make poor long-term partners. Not coincidentally, these are also individuals with higher levels of testosterone.
The arms race between male and female sexual strategy is one of maximizing individual reproductive success. It should come as no surprise that these strategies sometimes differ. For women the strategies are to either choose a partner with phenotypes indicative of high status in order to directly benefit their child or to choose a partner who will assist in child-rearing to ensure that child's survival. However, as primatologist Sarah Blaffer Hrdy has suggested with what she terms "Female Plan B," why not have both? Choose a man who will be a devoted partner and assist in childrearing, but then have a child with a different man who has the genetic qualities promoting high status. If the woman can get away with it, the dad will then help to raise the cad's bastard (there was a time when that term had serious negative connotations for any children labeled as such).
This has been demonstrated in gibbons, a monogamous "lesser ape" native to Asia and the Indian subcontinent. In a study published in the journal Ethology, 12% of the otherwise monogamous females engaged in extra-pair copulations, or matings with individuals who were not their partners. This is somewhat lower than the current statistics for Western women, of whom 26 to 70 percent engage in extra-pair copulations depending on the country. The differences aren't so much important as is the fact that this is a common strategy in females of both species. Females, like males, will use flexible strategies to ensure their reproductive success, regardless of the negative stereotypes our culture places on one rather than the other.
While the sample size in this study is extremely low, similar findings have been found in other studies that all speak to a common factor. Together they reveal something about the unconscious motivations in human sexual behavior. So that flicker of delight you see in your girlfriend's eyes while watching Ocean's 13, the slight dilation of her pupils that seems a little bit larger than usual during a certain time of the month, that's our evolutionary legacy playing itself out today in our living rooms. But don't panic guys, according to Laeng and Falkenberg's study women are still mostly interested in the man they're with. Just make sure you continue to earn that interest.
For more on this topic see my post: Does Taking Birth Control Alter Women's Sexual Choices?
Reference:
LAENG, B., & FALKENBERG, L. (2007). Women's pupillary responses to sexually significant others during the hormonal cycle Hormones and Behavior, 52 (4), 520-530 DOI: 10.1016/j.yhbeh.2007.07.013