What do the following countries have in common?
Bahrain, Burma, China, Iran, Libya, Morocco, North Korea, Oman, Saudi Arabia, Somalia, United Arab Emirates, Uzbekistan
If your answer is that they're some of the most corrupt, authoritarian nations in the world you'd be correct. If you associated them with significant human rights abuses, you would also be spot on. If you learned that they also reject the international convention that bans landmines, chances are you would not be surprised. Joining them, however, is none other than the United States.
In a recent press conference, State Department spokesperson Ian Kelly explained that the Obama administration will be continuing the Bush policy of rejecting the ban because "we would not be able to meet our national defense needs, nor our security commitments to our friends and allies if we sign this convention" (see video and transcript below).
Also joining the United States in rejecting the ban, which more than 150 other nations have already signed, is Israel. Both of these countries have also refused to ban cluster munitions (bombs that explode to release hundreds of tiny bomblets, many of which fail to explode on impact).
The reporter that asked the question of Kelly was incorrect however, there are currently 37 countries that are not signatories to the ban.
According to the Landmine Monitor Report of 2009, put out by the International Campaign to Ban Land Mines (ICBLM) which won the Nobel Peace Prize for their work in 1997, there have been more than 73,000 casualties as the result of land mines in the last decade:
Landmine Monitor has identified at least 73,576 casualties in 119 countries/areas in the past 10 years. The total number of survivors worldwide is not known but is estimated to be in the hundreds of thousands.
Their report indicates that 71% of these casualties were civilians and nearly half occurred in just four countries: Afghanistan, Cambodia, Colombia, and Iraq. The United States has been in armed conflict with three of these nations and, in the fourth (Columbia), the U.S. supplies them with more military aid than any country other than Israel ($3 billion since 2005, with $824 million in 2009-10 alone).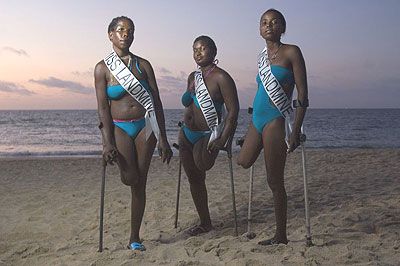 Contestants from the controversial
Miss Landmine Competition
pose for the camera.
However, there is some good news. Last year the United States spent $83 million to fund international landmine action. Unfortunately, at the same time that the U.S. was assisting the victims of these weapons, Landmine Monitor documented that in excess of 10 times that amount was being spent to stockpile even more:
The army had requested a total of $1.1 billion for research activities and eventual production of 1,325 IMS units [a new series of landmines called the Intelligent Munitions System] between fiscal years 2006 and 2013, including $307 million for research and $792 million for production.
In response to this decision by the Obama administration, Jody Williams, ICBLM founder and co-recipient of the 1997 Peace Prize, wrote an op-ed in the Los Angeles Times condemning the hypocrisy of Barack Obama to accept the Nobel Peace Prize himself while continuing this shameful policy:
I voted for Obama. I wanted to believe that his soaring rhetoric might actually be turned into a revival for the U.S. on issues of multilateralism, international humanitarian law and, of course, human rights. But at the moment, I'm quite disillusioned.

This administration has seemed all too willing to put aside human rights in the service of political expediency. Its response to Iran's postelection crackdown on nonviolent protest was wishy-washy; its response to the illegal Honduran coup has been weak, ineffective and completely disregarded a huge spike in human rights violations there. Then there was Obama's decision not to meet with the Dalai Lama to avoid upsetting Chinese leaders before his recent visit there.

If human rights are of so little importance to the president and his administration, why would they worry about international humanitarian law? Is that the unspoken reasoning behind land mine policy? Or is it reluctance to ruffle military feathers as Obama today announces what is expected to be a huge increase in the number of U.S. troops in Afghanistan?
The ICBLM has a People's Treaty to sign and urges people to get involved so that those countries who haven't signed onto the ban will be pressured to do so.
---------------------------------
TRANSCRIPT
QUESTION: What about the U.S. signing on to the land mine ban?
MR. KELLY: Our - we - this Administration undertook a policy review and we decided that our land mine policy remains in effect.
QUESTION: Why?
MR. KELLY: Why? Well --
QUESTION: Well, why do - I think we're one of only two nations and Somalia is about to sign it, right? I mean --
MR. KELLY: Yeah.
QUESTION: So we're going to be the only nation in the whole world who doesn't --
MR. KELLY: Well --
QUESTION: -- believe in banning land mines. Why is that?
MR. KELLY: Yeah, I'm not sure about that, but we made our policy review and we determined that we would not be able to meet our national defense needs, nor our security commitments to our friends and allies if we sign this convention.
QUESTION: Was that made public by - did you make a statement to that effect? Because I never heard it.
MR. KELLY: I don't know the answer to that, Robert. It's possible. We didn't make a statement on it.
QUESTION: So what are you planning to do at the conference, then, when you --
MR. KELLY: Well, we're there as an observer. I mean, clearly, we have - as a global provider of security, we have an interest in the discussions there. But we will be there as an observer, obviously, because we haven't signed the convention, nor do we plan to sign the convention.
QUESTION: So that's official? The review is finished and we - and the U.S. will not sign the convention?
MR. KELLY: The policy review resulted in a recommendation to maintain the policy towards land mines, towards the convention. That was --
QUESTION: When was that decision made?
MR. KELLY: I don't have that information, Indira. I'm not sure when it was done.
QUESTION: Okay.
MR. KELLY: Fairly recently, I think, though.