In light of the recent discussion on animal testing and animal rights I thought a few additional points would be valuable. It is a fact that animal testing leads to some necessary medical advances that save lives. Anyone who would say differently doesn't have the slightest clue what they're talking about and should be dismissed out of hand. The question is an issue of how many, especially given the ethical concerns. It is also a fact that the vast majority of animal testing serves more peripheral goals, categorized as applied studies that include cosmetic, chemical and pharmaceutical testing, and that there is a strong financial incentive to maintain the status quo.
For example, a few years ago The Independent published some facts and figures concerning vivisection in the UK:
The medicine

All drugs licensed for use in Britain have been tested on animals.
The Association of the British Pharmaceutical Industry estimates it takes between 10 and 12 years to develop a new medicine and costs £350m.
The industry invested £3.2bn in UK research in 2002, accounting for nearly a quarter of all industrial research and development.
Pharmaceutical exports were £10.03bn last year, a trade surplus of £2.6bn.
Some 70,000 people are employed in the pharmaceuticals industry, with 250,000 other jobs in related industries.
Twelve of the medicines most prescribed by GPs were created in Britain.
In its defence, the pharmaceutical industry estimates that individual medicines now cost 12 per cent less in real terms than they did 10 years ago. But the total NHS drugs bill has more than doubled from £3bn to £6bn.

The cosmetics

Testing of cosmetics on animals was outlawed in Britain in two phases between 1997-98.
Campaigners say animal research for cosmetics is now done overseas, much in the US.
Household products are still tested on animals in Britain. In the Draize Eye Test, irritants are dripped into the eyes of rabbits.
Non-toxic procedures account for 82 per cent of all animal tests in Britain.
Of toxicological tests last year, 61 per cent were for pharmacological safety and efficiency.
The Medical Research Council applies the three Rs in funding animal research: reducing the number used in study, replacing animals in experiments, and refining tests to minimise suffering.
Estimates show 38,000 animals are killed in the EU in cosmetic tests. As of 2013, marketing animal-tested cosmetics will be banned in Europe.
The statistics on primates in particular can be seen in the following graphs from the 2006 BUAV report (pdf) based on information from the Home Office: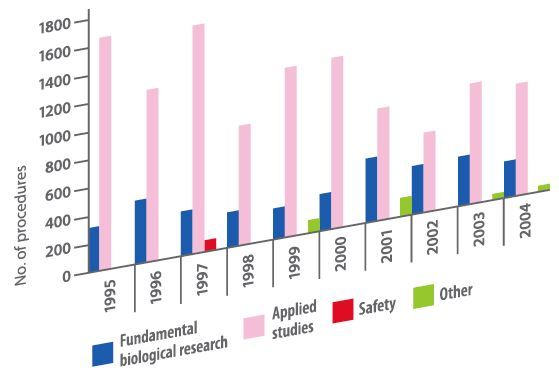 Numbers and types of procedures on new
world monkeys, Britain, 1995 - 2004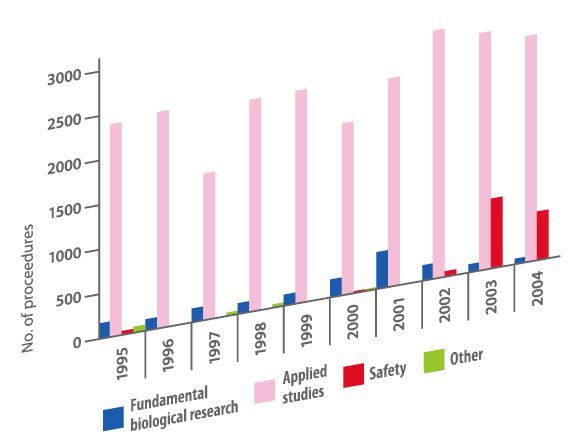 Numbers and types of procedures on old
world monkeys, Britain, 1995 - 2004
The regulations on animal testing in Britain and the European Union are far more stringent than in the United States. What we should do about this is an important public policy issue and needs to be discussed without resorting to an "Us vs. Them" mentality.
I congratulate Janet Stemwedel for working to create dialogue on this issue. If more people (on all sides) would consider how to reach a common ground, rather than insisting that there can only be one way to move forward, I think we can create a sensible animal testing policy. My own view is that we should eliminate all testing on Great Apes as soon as possible as proposed under the bipartisan House Bill HR 1326 The Great Ape Protection Act that is currently before the House Committee on Energy and Commerce. We should also conduct a review on the use of primates in general, the same way that the European Union has been engaged in for the last couple of years.
I have been informed on this issue by the same researchers that originally inspired many of us to enter a career in science in the first place. Below are just a few quotes from some these scientists.
Humans--who enslave, castrate, experiment on, and fillet other animals--have had an understandable penchant for pretending that animals do not feel pain. On whether we should grant some modicum of rights to other animals, the philosopher Jeremy Bentham stressed that the question was not how smart they are, but how much torment they can feel. Darwin was haunted by this issue:

"In the agony of death a dog has been known to caress his master, and every one has heard of the dog suffering under vivisection, who licked the hand of the operator; this man, unless the operation was fully justified by an increase of our knowledge, or unless he had a heart of stone, must have felt remorse to the last hour of his life."

From all criteria available to us--the recognizable agony in the cries of wounded animals, for example, including those who usually utter hardly a sound--this question seems moot. The limbic system in the human brain, known to be responsible for too much of the richness of our emotional life, is prominent throughout the mammals. The same drugs that alleviate suffering in humans mitigate the cries and other signs of pain in many other animals. It is unseemly of us, who often behave so unfeelingly toward other animals, to contend that only humans can suffer.
Carl Sagan and Ann Druyan, Shadows of Forgotten Ancestors, pp. 371-372.
The speciesist assumption that lurks here is very simple. Humans are humans and gorillas are animals. There is an unquestioned yawning gulf between them such that the life of a single human child is worth more than the lives of all the gorillas in the world. The 'worth' of an animal's life is just its replacement cost to its owner -- or, in the case of a rare species, to humanity. But tie the label Homo sapiens even to a tiny piece of insensible, embryonic tissue, and its life suddenly leaps to infinite, uncomputable value.

This way of thinking characterises what I want to call the discontinuous mind.
Richard Dawkins, "Gaps in the Mind," In The Great Ape Project, pp. 81-87
Then ask yourself why those apes are on exhibition in cages, and why other apes are being used for medical experiments, while it is not permissible to do either of those things to humans. Suppose it turned out that chimps shared 99.9 per cent of their genes with us, and that the important differences between humans and chimps were due to just a few genes. Would you still think it is okay to put chimps in cages and to experiment on them? Consider those unfortunate mentally impaired people who have much less capacity to solve problems, to care for themselves, to communicate, to engage in social relationships and to feel pain, than do apes. What is the logic that forbids medical experiments on those people, but not on apes?
Jared Diamond, The Third Chimpanzee, p. 15.
We come up, again and again, against that non-existent barrier that is, for so many, so real - the barrier between 'man' and 'beast'. It was erected in ignorance, as a result of the arrogant assumption, unfortunately shared by vast numbers of people, that humans are superior to nonhumans in every way. Even if nonhuman beings are rational and can suffer and feel pain and despair it does not matter how we treat them provided it is for the good of humanity - which apparently includes our own pleasure. They are not members of that exclusive club that opens its doors only to bona fide Homo sapiens.

This is why we find double standards in the legislation regarding medical research. Thus while it is illegal to perform medical experiments on a brain-dead human being who can neither speak nor feel, it is legally acceptable to perform them on an alert, feeling and highly intelligent chimpanzee. Conversely, while it is legally permitted to imprison an innocent chimpanzee, for life, in a steel-barred, barren laboratory cell measuring five foot by five foot by seven foot, a psychopathic mass murderer must be more spaciously confined. And these double standards exist only because the brain-dead patient and the mass murderer are human.
Jane Goodall, "Chimpanzees - Bridging the Gap," in The Great Ape Project, pp. 10-18.