Well, we've done it. Just over one year has passed since we hit 500,000 comments, and now, September 16, 2008, at 8:32 a.m. Eastern Time, we've reached 1,000,000. Hooray!
Check out the ScienceBlogs homepage throughout the day; we'll be rotating some of what we thought were the best of the million.
If you're near a major city (or even a not-so-major city), you may be able to check out of the 15 reader parties that various ScienceBloggers are throwing throughout the world. See the line-up here.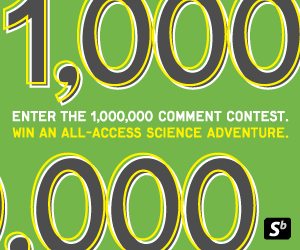 If you leave a comment before September 30, don't forget to enter in the ScienceBlogs comment contest. Top prize is an all-expenses paid trip to the Big Apple for a science adventure.