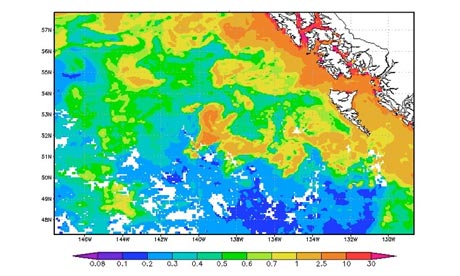 Or Controversial US businessman's iron fertilisation off west coast of Canada contravenes two UN conventions, says the Graun (h/t Timmy).
This is the same bloke who was behind the failed Planktos stuff. If you're deceptive you might call him an environmentalist - but "chancer" would seem closer to the mark.
But I was interested in:
International legal experts say George's project has contravened the UN's convention on biological diversity (CBD) and London convention on the dumping of wastes at sea, which both prohibit for-profit ocean fertilisation activities. "It appears to be a blatant violation of two international resolutions," said Kristina M Gjerde, a senior high seas adviser for the International Union for Conservation of Nature. "Even the placement of iron particles into the ocean, whether for carbon sequestration or fish replenishment, should not take place, unless it is assessed and found to be legitimate scientific research without commercial motivation. This does not appear to even have had the guise of legitimate scientific research."
That seems to be doing its best to imply that what has been done is illegal. But is it? (Update: via mt, Nature says No and I'll trust them on this point). The WAPO says he is doing it "perhaps illicitly" - obviously it wasn't worth their while to bother check whether its licit or not, so they thought they might as well throw in the allegation and see if it would stick. I've found at least one piece of fringery that calls it "hugely illegal" but I don't trust them at all. The Graun continues with someone called Silvia Ribeiro "of the international technology watchdog ETC Group" saying It is now more urgent than ever that governments unequivocally ban such open-air geoengineering experiments which strongly suggests to me that they aren't illegal, or they wouldn't be trying to get them banned (update: and you definitely should not trust ETC).
More seriously: people - well, scientists - are being veery cautious about iron fertilisation. With the amount of money potentially available from carbon credits, it isn't strange that entrepreneurs, who are by their nature far less cautious, indeed risk-takers, are sniffing around scenting dosh. Though without any kind of accredition, it isn't clear to me why anyone would pay for this as a credit, when they may not get anything recognised out of the far end.
Refs
* OIF Accusations Fly at CBD COP11 - Geoengineering Politics
* Is the iron fertilization project off Haida Gwaii a science experiment, business opportunity, or uncontrolled geoengineering?
* Geoengineering and Carbon Sequestration
* Schoppmann Declined Role in Haida OIF Scheme