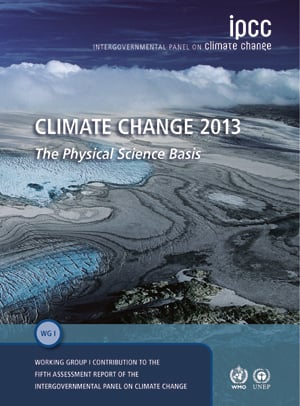 The AR5 draft is now available from http://www.climatechange2013.org/report/review-drafts/. W00t! In the style we've come to love so much from the IPCC it sayeth:
The final draft Report, dated 7 June 2013, of the Working Group I contribution to the IPCC 5th Assessment Report "Climate Change 2013: The Physical Science Basis" was accepted but not approved in detail by the 12th Session of Working Group I and the 36th Session of the IPCC on 26 September 2013 in Stockholm, Sweden. It consists of the full scientific and technical assessment undertaken by Working Group I. The Report has to be read in conjunction with the document entitled "Climate Change 2013: The Physical Science Basis. Working Group I Contribution to the IPCC 5th Assessment Report - Changes to the underlying Scientific/Technical Assessment" to ensure consistency with the approved Summary for Policymakers (IPCC-XXVI/Doc.4) and presented to the Panel at its 36th Session. This document lists the changes necessary to ensure consistency between the full Report and the Summary for Policymakers, which was approved line-by-line by Working Group I and accepted by the Panel at the above mentioned Sessions.
(My bold). So that's a pain up the f*ck*ng arse then - anything I want to read I have to first check they haven't revised? Spare me. Note, though, that the revisions seem to be of the sort Trickleback Figure 4.4 The trends numbers need to be removed to avoid the excessive significant figures, and ensure compatibility with numbers provided for SPM, which are given for different likelihood statement. The uncertainties are likely not very likely, so is confusing! Joey Comiso to provide revised figure, with trends given to match numbers in the SPM - i.e. the tedious process of aligning stuff, so I doubt I have to care very much.
Oh, but before I leave off insulting them: what kind of idiot puts up a document of such obvious public interest and then writes on it "Do Not Cite, Quote or Distribute"? Will someone please fire the IPCC press office and get them someone competent.
I decided to read Chapter 4 (obs; cryosphere) and specifically the Antarctic stuff. And specifically the mass balance of Antarctica, since I used to know about that a bit. So I'm looking for the text supporting:
The Antarctic Ice Sheet has been losing ice during the last two decades (high confidence). There is very high confidence that these losses are mainly from the northern Antarctic Peninsula and the Amundsen Sea sector of West Antarctica, and high confidence that they result from the acceleration of outlet glaciers. [4.4.2, 4.4.3, Figures 4.14, 4.16, 4.17]
That's interesting to me, because when I started (and arguably when I stopped, around 2007) the overall mass balance of Antarctica was unknown, including its sign. That's because in general you were trying to difference two large numbers (accumulation at the top, against loss form the edges) and the uncertainties in either were bigger than the difference. For comparison, AR4 said:
Taken together, the ice sheets in Greenland and Antarctica have very likely been contributing to sea level rise over 1993 to 2003... Estimates for the overall mass balance of the Antarctic Ice Sheet range from +100 to –200 Gt yr–1 (–0.28 to 0.55 mm yr–1 SLE) for 1961 to 2003, and from +50 to –200 Gt yr–1 (–0.14 to 0.55 mm yr–1 SLE) for 1993 to 2003. The recent changes in ice flow are likely to be sufficient to explain much or all of the estimated antarctic mass imbalance...
So what has changed? Well page 4-28 says:
Since AR4, satellite, airborne and in situ observations have greatly improved our ability to identify and quantify change in the vast polar ice sheets of Antarctica and Greenland. As a direct consequence, our understanding of the underlying drivers of ice-sheet change is also much improved
Hmm, OK. But in detail? There are three methods: mass balance, altimetry, and GRACE (I last wrote about GRACE in 2009 I think). "The mass budget method (see Glossary) relies on estimating the difference between net surface balance over the ice sheet (input) and perimeter ice discharge flux (output)". They discuss the net sfc mass balance, and provide numbers. Oddly, they don't provide any numbers for the discharge side. Also, if you look at Table 4.A.3 "Sources used for calculation of ice loss from Antarctica" you'll find that they've used GRACE overwhelmingly.Aside from which there are two others: they also used "Shi et al., 2011" but as they say "Methodology and error budget incompletely described" and also it arrives at an uncertainty of 5 Gt/yr, which is implausibly precise, so forget that. And they used Rignot et al. 2011c. That uses the std-ish long trail of stuff (ice velocities, corrections for grounding line movement, etc. etc.) to get you as far as ice discharge rates. And that leaves you with an overall value that makes the mass balance negative. I'd be slightly iffy about whether the values are really known closely enough, but the point (in Rignot too, since they use it) is that it agree with GRACE, so So There we've got close enough and can stop now.
But overall, it looks pretty clear that the main advance has come from using GRACE. Which is really funky and fairly direct, so good. Note, BTW, that although I've been somewhat sniffy in my I-used-to-know-this-stuff way about the absolute value of the contribution from Antarctica, this isn't desperately important - what matters is the change over time, and everyone agrees (now, unlike AR4) that this is leading to SLR.
Refs
* Victor Venema at "Variable Variability" is collecting other (generally more temperate) reviews of AR5.
* A Reconciled Estimate of Ice-Sheet Mass Balance