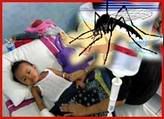 So far this week, I've mostly been talking in generalities--the introductions to the topic, or how the animals we eat or other types of human behavior can put us at greater risk for the emergence of such diseases. Today I want to talk about a more specific example: an ongoing outbreak of a virus called chikungunya.
Chikungunya (from the Swahili word for "stooped walk," or "that which bends up" depending on who you believe, referring to the posture of a person suffering from the disease) is an arbovirus: a virus that is transmitted by insects. In this case, the insect in question is the mosquito, including the nortorious disease vector Aedes aegypti, which can transmit dengue and yellow fever in addition to chikungunya and other diseases. The virus is considered to be "emerging" because, though it was identified in the 1950s, it appears that the virus is spreading into new geographic areas; so it's not its novelty, but the extension of its range that is the issue.
Chikungunya isn't a higly fatal virus, but it is frequently debilitating. After an incubation period of around a week, the patient suffers from sudden onset of a high fever, chills, and headache. Joint pain can be significant, and may persist for weeks. A rash may be present, and in rare cases (more common in children than adults), a hemorrhagic fever manifestation may occur. And while the virus is endemic in many areas of the world, it is not generally as much of a problem as the other Aedes-carried diseases.
However, when it causes an epidemic, it doesn't mess around. This is what's happened recently on the French island of La Reunion (located in the Indian Ocean near Madagascar). Though it's been reported that the outbreak is in decline, the numbers over the past several months are pretty staggering. Of a population of around 770,000 on the island, somewhere between 110,000-218,000 people (depending on whose estimates are used) have contracted the virus in the last year, with up to 155 deaths. At the beginning of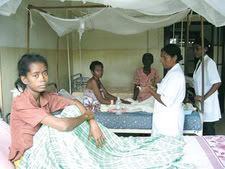 February, new cases were coming in at a rate of 47,000 a week--down to just over 4000 now. This marks the largest outbreak of Chikungunya since we've been studying the virus. Other countries in the region, including Seychelles and Mauritius, have also suffered outbreaks, and reports of a similar disease in several regions of India (a map of suspected cases can be found here) suggest that it's likely chikungunya is doing damage there as well.
The reservoir of Chikungunya is unknown; indeed, it's not known if there even is a non-human reservoir. It certainly seems to be maintained well enough within the human population: people become highly viremic (have lots of virus in their blood), the mosquito takes a blood meal, and passes along the virus in its next bite. This doesn't rule out a reservoir species, but it does show that one isn't necessary for outbreaks. This is why chikungunya has the potential to be such a problem: how many viremic people would it take to enter a country and allow the virus to become established in a new area? What if there are American tourists on La Reunion or other islands in the area who are infected--possibly even asymptomatically--and return to America with enough virus in their blood for a hungry mosquito to pass the infection along? Could we see a new West Nile in America, another arbovirus creeping across the United States?
As with many arborviruses, it's largely the control of the vector species that results in control of the disease. Indeed, French president Chirac has sent in ~4000 people in an effort to eliminate mosquito breeding grounds on the island. A vaccine for the virus was also developed by American scientists in the 1980s, but due to the relative rareness of the disease, its low death rate, and its absence in many of the wealthier countries (and hence, difficulty getting a pharmeceutical company interested in further development), the research was largely dropped, although obviously these recent outbreaks have revived interest. In the meantime, the French government is taking a lot of heat for their handling of the outbreak, with some referring to it as "their Hurricane Katrina." And while a mass vaccination campaign would have been unlikely even if the outbreak had been caught early on, the French government is now spending $110 million (US dollars) in health and economic aid--likely much more than would have been spent if they had hit early before the virus spread throughout the population. Let this be a lesson for the US or other countries, should Chikungunya or similar pathogens again reach our shores.
Images from http://www.kompas.com/photo/metro/Chikungunya.jpg and http://www.lexpressmada.com/img/illu/ill20061502_23.jpg