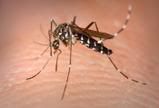 I wrote about an emerging mosquito-borne virus with the strange name of chikungunya in a pair of posts last year. This is a virus that was first discovered more than 50 years ago, but as far as arthropod-borne viruses ("arboviruses") go, it's been a minor player for most of that time, as other arboviruses such as yellow fever, dengue, and West Nile caused more disease and death than chikungunya. However, the virus began to rapidly spread beginning in ~2004, causing around a quarter million infections on the island of La Reunion in the Indian Ocean before moving on to cause smaller outbreaks in neighboring countries.
Where else has chikungunya landed? More after the jump...
In 2006, it moved into India, and has since spread there. Good estimates are difficult to come by, but reports suggest that there were more than a million cases there in 2006 alone. This year, the virus caused an outbreak in Italy (where Revere, the lucky bastard, recently got to travel, and describes the outbreak).
This outbreak--the first in Europe--started back in June of this year, when a traveler returned to Italy from India. He had a fever during a visit to his cousin, who then also became ill. Eventually the virus spread to individuals who had no contact with either the index case or his family, and as of September 1st, there were 130 confirmed cases and one death due to the virus.
In my original post on chikungunya, I noted that La Reunion was a tourist destination, and asked:
...how many viremic people [harboring virus in the blood] would it take to enter a country and allow the virus to become established in a new area? What if there are American tourists on La Reunion or other islands in the area who are infected--possibly even asymptomatically--and return to America with enough virus in their blood for a hungry mosquito to pass the infection along? Could we see a new West Nile in America, another arbovirus creeping across the United States?
We've seen this now happen in Italy--it just took one tourist to come back and start an epidemic. Of course, in Italy they had a competent vector species--a necessity for the spread of an arbovirus (well, barring potential nosocomial transmission by contaminated needles or other mechanical devices), and the patient returned home while he still was viremic--so local mosquitoes, when taking a blood meal, became infected with the virus, which they then passed to their next victim. This allowed more mosquitoes to become infected, and thereby infect more humans, spreading the virus and prolonging the outbreak.
However, Italy isn't the only place that chikungunya has been imported--and I don't have to travel to Italy to be in its geographic proximity. Yes, Iowa had its own imported chikungunya case earlier this year:
An Iowan traveled to India to visit family and friends in June. Several days after arriving, he developed high fevers and muscle pain. He sought treatment at a local hospital in India. After returning to Iowa, the patient developed a rash and continued to have muscle pains and joint pains. The patient reported extensive exposure to mosquitoes while in India. Due to the clinical presentation and travel history, the University Hygienic Lab (UHL) sent specimens to the CDC for testing. In September, CDC notified the Iowa Department of Public Health (IDPH) and UHL that they had confirmed chikungunya virus.
So, what about spread here in Iowa? It seems that the patient here was likely not viremic by the time he returned: no virus in blood, no infection of the local mosquitoes, no secondary cases, no outbreak. But theoretically, it seems to be possible, even in Iowa. From this EID paper, Aedes albopictus, the "Asian tiger mosquito," has at least been identified previously in Iowa, and this vector can be infected with and transmit the chikungunya virus. It does, however, seem unlikely, as A. albopictus isn't exactly endemic here from what I understand.
In the southwestern US, it's another story--and both A. albopictus and A. aegypti can be found there. The CDC suggests that, despite the presence of vector species, an outbreak due to an imported case is unlikely here, due to social and cultural factors such as window screens and air conditioning, which limit our exposure to infected mosquitoes.
Will it be enough? I know I get eaten alive by mosquitoes every time I'm out for more than a few minutes at dusk during the summer; I don't have any air conditioning; and I keep meaning to repair the hole in my screen door. Granted, I'm also not in the southwest, but we do have West Nile and other arboviruses here. The way chikungunya has spread over the past few years, it seems that it only takes a toehold to spread like mad.
Image from http://en.wikipedia.org/wiki/Image:Aedes_Albopictus.jpg