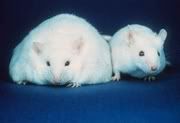 Razib mentioned here an article in the Boston Globe "which profiles researchers who suggest that variation in gut flora (the mix of bacteria) might be the cause of differences in body weight." The comments are somewhat skeptical, and I started to write a comment on the topic but it became a bit unweildly--so I've added it below instead.
As I've discussed previously, figuring out the relative contributions of environment versus genetics in obesity isn't an easy feat. As with so many human diseases/conditions, the "cause" is certainly multi-factorial. It's pretty clear that the genetics of an individual do play some role in their weight, but that doesn't mean that "genetics is destiny." Even in people who seem to be genetically predisposed to obesity, a rigorous exercise routine and careful monitoring of diet can minimize the effect of genetics, and allow one to maintain a healthy weight.
But, as mentioned in the Globe article, there's another environmental factor besides diet and exercise that is increasingly being looked to in obesity studies: microbes. In this one, at least, we have some good animal studies that support the hypothesis: varying the gut flora (or having minimal bacteria, as in "germ-free" mice) has been shown to affect weight gain in many studies (including some carried out by the scientists profiled in the article):
He compared normal mice with guts full of bacteria to a strain of gnotobiotic, or germ-free, mice, which are born without gut microbes and are housed in sterile plastic bubbles. The lab found that while the gnotobiotic mice were able to feast on rodent chow and remain thin, their genetically identical counterparts with bacteria in their guts ate 29 percent less and had 42 percent more body fat. The bacteria made the mice fat.

When the gnotobiotic mice were exposed to bacteria, their guts filled up with microbes and they quickly got fat, reaching the same weight as the other mice in just two weeks.
This makes a lot of sense. While we have our own enzymes and mechanisms to break down and absorb nutrients from food, we're still assisted by our gut bacteria. Lacking bacteria, more nutrients are excreted in waste, resulting in decreased retention of calories and nutrients from each gram of food we eat. Different species of bacteria have different abilities to metabolize the foods we eat; therefore, different "poo prints"--the composition of our bacterial gut flora--can result in different abilities to retain maximum benefits from our diet. The hypothesis is a good one.
However, as Razib notes, a big hindrance to studying this further is that we really haven't a clue about the gut ecosystem (or really, ecosystems, since our "poo print" is somewhat different in each of us). It's estimated that there are at least 400-500 different *species* of bacteria in our gut, and most aren't culturable using traditional methods. It's just not something that we can begin to consider replicating in the lab at this point in time. Molecular studies are being undertaken in order to have a better idea of the diversity in human gut microflora (and how it may affect a variety of conditions, not limited to obesity), but they still suffer from the fact that the gut microflora hasn't been extensively characterized yet. We're likely missing a lot of organisms, simply because we don't know what we're looking for.
Finally, it's not just bacteria that seem to affect weight gain. Indeed, a number of viruses have been suggested to play a role. The best characterized to date has been infection with a serotype 36 strain of adenovirus (a respiratory virus that can occasionally cause serious disease). A new paper even presents a mechanism by which the virus can "make you fat," by reducing leptin expression and secretion (leptin is a protein hormone that plays a role in regulating body weight) and increasing glucose uptake by fat cells.
As I've mentioned many times, these types of infectious etiologies for so-called "lifestyle" diseases or conditions are active areas of research, and remain somewhat controversial. Additionally, the role of the gut flora in obesity has been a bit over-sold at times by folks promoting probiotics, suggesting that taking a supplement of various strains of live bacteria will help you in various ways: reduce weight (and as a result, reduce a number of other health problems), or simply keep you regular (though to be fair, they do have a few small clinical studies under their belt that show efficacy). And while I'm hopeful about the use of probiotics as a treatment, it's still a field that's lacking in a lot of rigorous investigation, and claims of use outnumber real evidence of improvement.
Image from http://gold.uni-graz.at/images/ATGL/fat%20mouse%20www.ccs.jpg