I mentioned we were out camping over the weekend in central Iowa. After our first close encounter, I figured we might as well make a weekend out of it, so Sunday we headed to the Reiman Gardens at Iowa State University (and specifically, the Christine Reiman butterfly wing):
The new 2,500-square-foot indoor Christina Reiman Butterfly Wing is the "jewel" of the Gardens. Designed to look like a butterfly in flight, it is a year-round tropical garden filled with exotic and native butterflies from six continents.
I have tons of pictures, so I'll break them up into a few posts, starting below.
First, a bit about the garden, which is impressive in its own right. This picture isn't one I took (didn't think to take one from the outside), but rather I found it here: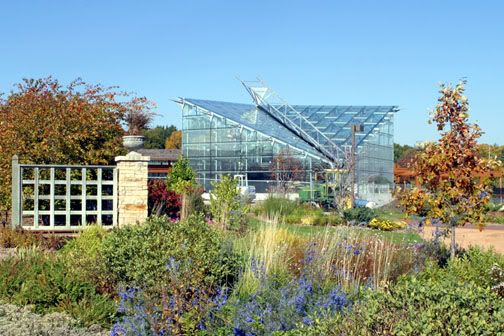 The parking lot is to the right of the picture (I think, if I'm orienting the picture correctly), so walking up to the center you can see the butterflies flitting around in the garden. Then, in the inside lobby, they have the cocoons and chrysalises behind a glass window, so that you can see the butterflies and moths in various stages of development (including ones that had just hatched).
Once inside the garden, you're warned to be careful not to step on any of the butterflies, since they tend to land on the path occasionally. Here's some evidence: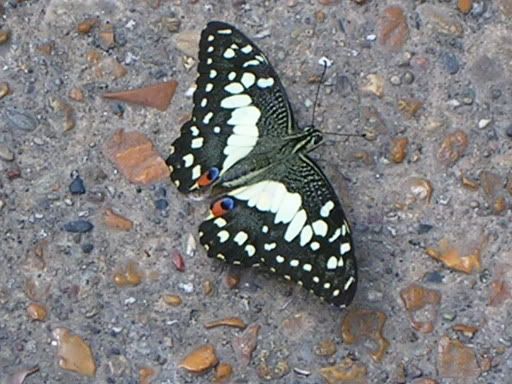 This little guy appears to be a Lime butterfly (Papilio demoleus malayanus), common in Singapore.
They also mentioned that some of them tend to be friendly (so much so that they have someone check you for hangers-on before you head out the door). I couldn't find out what this species was (ideas, anyone?), but it definitely liked humans...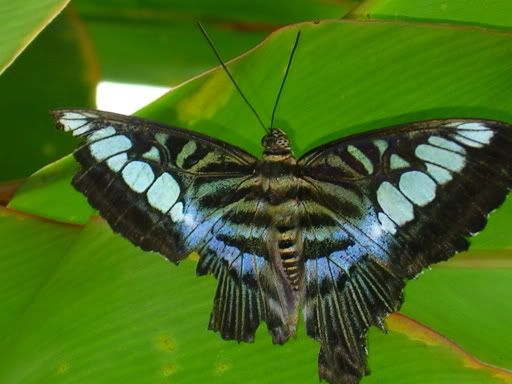 ...including my son: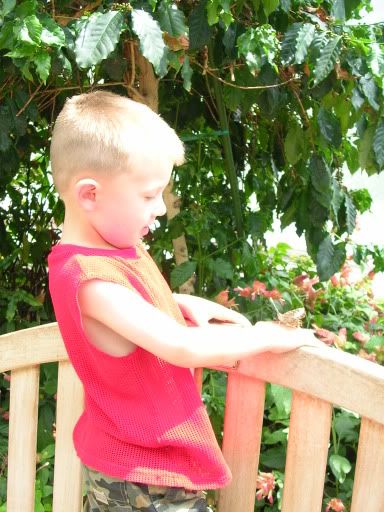 I was quite impressed at how still he was; here's a close-up of it on his hand: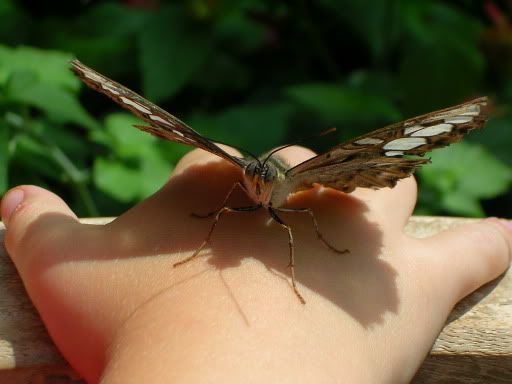 Of course, since one landed on my son, that meant we weren't leaving until one also had landed on my daughter. Finally, one obliged: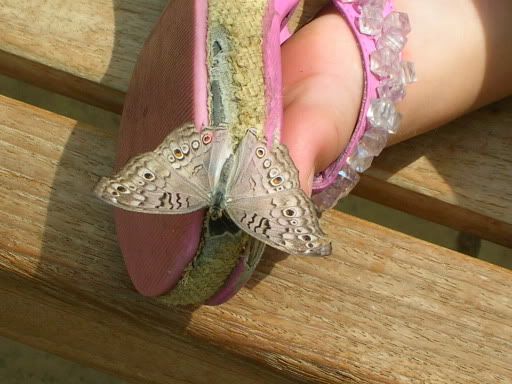 The center listed it as Vindula dejone, and it looks like the female Vindula dejone celebensis Butler pictured on this site documenting butterflies on the Indonesian island of Sulawesi.
And that's only the tip 'o the iceberg...more to come.
Wonderful! I didn't know we had a butterfly garden of this type in the area. Wonder if it is doable as a day trip from KC if I start early.
I've done day trips to Chicago with 2 kids previously, and it's a bit farther than it is from KC to Ames. There's tons of other stuff to see at Reiman Gardens, too...we were just too tired from camping all weekend to hit the actual flower gardens and other areas.