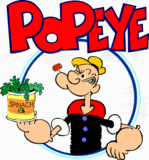 E. coli outbreak traced to tainted spinach
An outbreak of E. coli in eight states has left at least one person dead and 50 others sick, federal health officials said Thursday in warning consumers nationwide not to eat bagged fresh spinach.

The death occurred in Wisconsin, where 20 others were also sickened, said Dr. David Acheson of the Food and Drug Administration's Center for Food Safety and Applied Nutrition. The outbreak has sickened others -- eight of them seriously -- in Connecticut, Idaho, Indiana, Michigan, New Mexico, Oregon and Utah.

FDA officials do not know the source of the outbreak other than it appears to be linked to bagged spinach. "We're advising people not to eat it," Acheson said.
(More below)
The CNN article doesn't specifically say that the E. coli causing disease is serotype O157:H7, but the FDA website gives that information. O157:H7, of course, is the strain that's received the lion's share of attention over the past decade, due to the fact that it's caused large outbreaks and has the potential to be fatal (as it was in one of these recent cases), causing bloody diarrhea and kidney damage. Typically, outbreaks have been due to contamination of foods with manure from cattle (who harbor the bacterium in their feces).
Though 50 cases have been reported thus far, they still don't know a lot about the spinach that's causing the outbreak:
Preliminary analysis suggests the same bug is responsible for the outbreak in all eight states.

The warning applied to consumers nationwide because of uncertainty over the origin of the tainted spinach and how widely it was distributed.

Health officials do not know of any link to a specific growing region, grower, brand or supplier, Acheson said.

He said reports of infections have been growing.

"It's increasing by the day," Acheson said. "We may be at the peak, we may not be."
This uncertainty is why the FDA made the recommendation mentioned above suggesting people simply not eat bagged spinach for the time being.
This isn't the first time that bagged salad products have been linked to an outbreak of E. coli. Spinach was the culprit in a 2004 outbreak, and romaine lettuce sickened people earlier this year. Dateline NBC even did a "Danger lurking in your salad" piece last month.
Does this mean you shouldn't eat bagged salad products? I'd say no more than it should keep you from eating apples, or ground beef, or other foods that have been previously involved in outbreaks of food-borne illness. I eat these bagged salads pretty regularly since they make for a real quick meal, but even though they're pre-washed, I wash them again for good measure. Will this prevent all chance of disease, if the lettuce happens to be contaminated? Nope. Nothing is foolproof, but despite Dateline's story, luckily these types of outbreaks are fairly rare. Small comfort, of course, for anyone who's infected in this manner (or worse, whose child is).
*Bonus question, especially for our resident HIV "rethinkers" who make much of the issue that HIV seems to preferentially infect women. Why is it, do you think, that women are disproportionately affected in this outbreak?
[Edited to add: Mike had the same idea. Be sure to check his post out for some more info on E. coli in general.]
Image from http://www.math.pitt.edu/~bard/bardware/popeye/spinach.gif