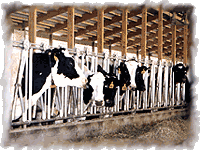 That's certainly the claim in a new New York Times editorial (via The Frontal Cortex). The author, Nina Planck (author of Real Foods: What to Eat and Why), claims that it's as easy as just feeding cattle grass, and poof!--E. coli O157 will vanish.
More on this and why organic farming won't necessarily stop such outbreaks after the jump.
Planck writes:
Where does this particularly virulent strain come from? It's not found in the intestinal tracts of cattle raised on their natural diet of grass, hay and other fibrous forage. No, O157 thrives in a new -- that is, recent in the history of animal diets -- biological niche: the unnaturally acidic stomachs of beef and dairy cattle fed on grain, the typical ration on most industrial farms. It's the infected manure from these grain-fed cattle that contaminates the groundwater and spreads the bacteria to produce, like spinach, growing on neighboring farms.

In 2003, The Journal of Dairy Science noted that up to 80 percent of dairy cattle carry O157. (Fortunately, food safety measures prevent contaminated fecal matter from getting into most of our food most of the time.) Happily, the journal also provided a remedy based on a simple experiment. When cows were switched from a grain diet to hay for only five days, O157 declined 1,000-fold.

This is good news. In a week, we could choke O157 from its favorite home -- even if beef cattle were switched to a forage diet just seven days before slaughter, it would greatly reduce cross-contamination by manure of, say, hamburger in meat-packing plants. Such a measure might have prevented the E. coli outbreak that plagued the Jack in the Box fast food chain in 1993.
The problem is, however, that other researchers tried to reproduce the results from that 2003 study, and got mixed results. I and others did touch on this previousy here, and I'll also quote what I wrote over at The Frontal Cortex:
Not that simple. That's one study-others have found that feeding a corn diet actually decreased O157 survival compared to barley (J Food Prot. 2000 63:1467-74), or that when a long-term diet of hay was fed (greater than a month), the cattle still shed O157 (Appl Environ Microbiol. 2005 71:7974-9.) Another one found diet had no effect on O157 (J Anim Sci. 2006 84:2523-32). If anything's clear, it's that the link between diet and shedding of O157 *isn't* clear, despite what Plank claims.
I have a bit of first-hand knowledge of this, as one of my studies involves taking samples from cattle and growing E. coli out of it. In the place pictured, their cattle almost exclusively graze, supplemented with hay and a bit of corn. (Actually, now that I think about it, I'm not even 100% sure that they give *any* corn...) Anyhoo, we've isolated O157 from some of these grass-fed cows. So certainly, diet isn't a cure-all, and it's not necessarily even beneficial as far as carriage of O157 goes, despite the one paper Planck cites.
I've admittedly not read her book, but the summary of it makes me cringe a bit as a public health professional. Essentially, it seems to be a throwback to the good ol' days of eatin': pour on some more butter and bacon, don't pasteurize your milk (ugh), get your animals good and dirty. And indeed, a lot of posts I've read about this outbreak take a tone similar to hers: factory farming = necessarily bad and a hazard to health. Organic = necessarily good. This was a recent "As a Scienceblogger" question here that I didn't answer, simply because I don't have much of an opinion one way or the other on organic food; I don't necessarily think it's good or bad. I think there are a lot of reasons why it can be good (Janet mentions many of them here), but there are also a lot of reasons why I think it's over-sold and can even be worse for you than "regular" foods (such as some Sandra mentions here). Was this outbreak the result of careless "factory farming"? Was it the result of careless organic farming? (The company it's been traced to, Natural Selection Foods, is an organic farm). The answers are still rolling in, but I think it's a mistake to necessarily deride one form of agriculture or the other as universally being better, when there are positives and negatives about both.
Image from http://www.madison.com/communities/midwestadvocates/library/files/lives…